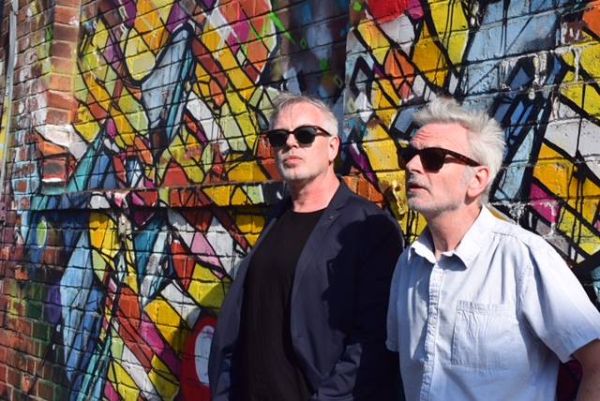 1 January 2019
The Room in the Wood – Photo courtesy of The Room in the Wood
Liverpool-based The Room in the Wood released their The Mars EP on November 23th digitally and on limited-edition CD.
Released via A Turntable Friend Records, this record follows their debut album The Room in the Wood and the Magical Thinking EP prior to that, both of which were released earlier in 2018.
Band members Paul Cavanagh and Dave Jackson are once again working together after a huge time-gap since their post-punk band The Room split back in 1985. After reuniting, this past year has seen them write over 30 new songs.
Featuring contributions by drummer Colin George Lamont (Mark Lanegan, Dave Gahan), this EP was recorded by Steve Powell (Michael Head & the Red Elastic Band) at his Liverpool-based Ark Studio and mastered by Pete Maher (Barry Adamson, The Alarm).
Lead track 'Mars (Won't Save Us)' is a riff-based psych rocker focused on the foolishness of Elon Musk's ideas about colonizing the Red Planet, since Mars has no air. The song is accompanied by a psychedelic video composition by ex-Send No Flowers and Moongoose collaborator Mark Jordan.
'Every Lie' is a bluesy, countrified stomper bemoaning the rise of the populist right, and inspired by the late great Johnny Cash – this is a response to Trump and Brexit. 'Get Clear' a Spanish guitar-tinged ballad extolling the virtues of escaping cult thinking. "Time Machine' is another vaguely sci-fi rumination, wistfully reflecting on the passage of time filtered through the vision of HG Wells.
Dave Jackson has been writing and recording since his teens – with The Room, 051, Benny Profane, Dust, Dead Cowboys, as Dave Jackson & The Cathedral Mountaineers, and also with former Shack guitarist John Head. He has recorded and released 10 albums with these various incarnations, notched up 7 John Peel sessions with The Room and Benny Profane, and has also appeared on the Whistle Test, Janice Long, and Saturday Live.
Jackson has also toured the UK, Europe, and the USA extensively with The Fall, The Violent Femmes, Aztec Camera, The Lemonheads, and The Wedding Present. He currently teaches creative writing at Liverpool John Moores University and has developed his novel Violet City as a low-budget fantasy feature film.
Apart from The Room, Paul Cavanagh has performed as a solo instrumentalist as Cabin in the Woods and as one of Mike Badger's Shady Trio. He worked with The Room drummer Alan Wills at Deltasonic Records with The Coral and The Zutons. Cavanagh has also recorded 4 John Peel sessions and released albums with Top, It's Immaterial, and Moongoose, as well as critically acclaimed singles with Gloss. He also played guitar for Chinese Religion, The Balcony, and Ludus.
The Mars EP will is available across music stores and streaming platforms such as Spotify.
TRACK LIST
1. Mars (Won't Save Us)
2. Time Machine
3. Every Lie
4. Get Clear
CREDITS
Written and performed by Dave Jackson and Paul Cavanagh
Recorded at Ark Studio Liverpool
Steve Powell – recording, mixing and engineering
Pete Maher – mastering
Dave Jackson – lyrics and vocals
Paul Cavanagh – guitar and bass
Colin George Lamont – drums
Mark Jordan video and cover images, using band footage by Yvonne Marsden
Catalogue number: TURN60D