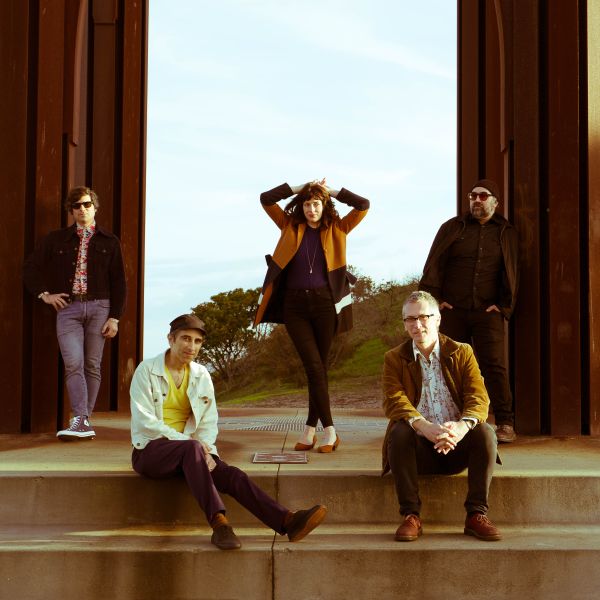 17 September 2020
LATITUDE – Photo Credit: Deeksha Prakash
San Francisco-based power pop five-piece LATITUDE will drop their second album, Mystic Hotline, on limited edition blue vinyl on October 6th via Emotional Response Records. The new LP builds on the foundations of their acclaimed 2017 debut with a triumphant foray into 21st century power pop.
Centered around the engaging vocal performance of Amy Fowler, tight band arrangements, and accomplished delivery, the 10 tracks crackle with proficiency and elan.
Although often drawing comparisons to such pop heavyweights as Blondie, The Nerves, Nick Lowe, and The Pretenders, LATITUDE are far from revivalists, as this album testifies. Mystic Hotline reflects the present darker mood of the country, veering from carefree '60s/'70s pop into more angsty '80s territory.
Big Takeover is pleased to host the video for the more upbeat track "Thursday Is The New Sunday," which revels in languorous vibes and is an ode to lazing about and spending time with loved ones instead of being stressed-out and on-the-go 24/7.
Effervescent to bittersweet synths and jangling guitars flow along while being peppered by a punchy drum beat. A reflective Fowler sings in a lightly wistful tone on the verses and then pushes her words out more urgently on the chorus sections.
The music video keeps the relaxed sonic vibe going, panning through images of delightful hand-drawn animation. A starry night sky with Venus in view also cheekily includes a revolving beer can, while a sweet narwhal calmly frolics with lobsters in the ocean. Gritty city streets are shown, but then also the antidote: a field of green with with newly budding branches…
Fowler gives some details about the making of the video, revealing "The illustrations were all done by myself, my talented husband Joe Armin (who also plays drums in Latitude), and friend/artist Holly Coley (who did all the perty watercolor backgrounds, plus the sea critters)."
"I got the idea to try doing a (ostensibly) simple Monty Pythonesque animation… I'd done lots of video editing and some verrrry simple animations in the past, but nothing as involved as this before, and of course it was much more time-consuming than I first anticipated and ate up many weekends… but stoked that it actually turned out okay. I really wasn't sure if I'd be able to pull it off!"
Pre-Order Mystic Hotline at Emotional Response's Bandcamp