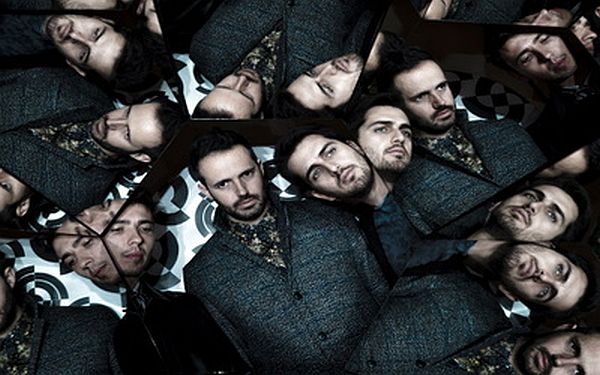 17 September 2020
Secret Sight – Photo courtesy of Secret Sight
The Secret Sight music project dates back to 2014. The Italian indie rock trio of Lucio Cristino (vocals, bass, synths), Tommaso Pompili (guitar, synths, vocals), and Enrico Bartolini (drums, pad) released their debut album, Day.Night.Life that year. The LP was produced by Paolo Rossi (Soviet Soviet, Be Forest, Brothers In Law) and released by Red Cat Records.
It was followed by a long promotional tour around Italy, Austria, and Switzerland. The outfit then bowed their second album, Shared Loneliness, in 2017. That full length was produced by Alessandro Ovi Sportelli (Prozac+, Zen Circus, Baustelle) and also arrived on vinyl, thanks to the precious partnership between the French labels Unknown Pleasures Records and Manic Depression Records.
Secret Sight successfully toured around Italy, UK, France, Germany, Belgium, Austria, and Czech Republic, and then began work on their third album. The result, titled Borders, came out in May of this year via Italian boutique label Seahorse Recordings.
Borders features ten songs that were actually written in the United States, during a long journey across various borders and environments. The LP's lyrics focus on external and inner boundaries, with pulsating drums and powerful tunes. Tales of lonely night trips, the longing for a personal and collective revolution, the struggle to stay connected and awake in a relationship, and the resilience due to survive are recurring themes.
Big Takeover is pleased to host the video premiere for the dynamic and catchy "By The End." The up-tempo and engaging track gets an equally invigorating video, directed by Erika Errante, that mixes footage of the band members (with Cristino singing to the lens) with various artful designs and graphics. The clip was created under quarantine.
Deep blue-hued computer-generated environments sweep by as each member is highlighted in yellow, red, and blue rectangles. They're trapped in an unknown world, reaching out their hands to an entity that wears a mask with three faces on it. How to escape their predicament? Maybe personal connection will win the day… ("By the end / you're not alone / By the end / you believe in life.").