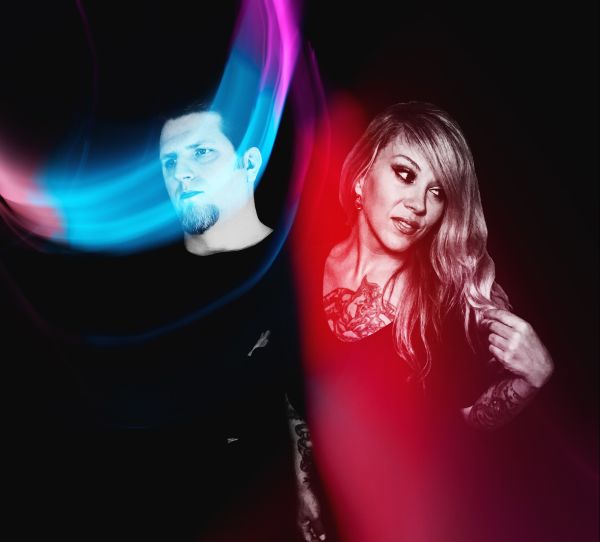 6 February 2020
Whimsical – Photo Credit: Wyatt Parkins
Whimsical is a dreampop/shoegaze band that was formed in the summer of 1999. The music project, with Krissy Vanderwoude and Neil Burkdoll at its core, continues to bear beautiful musical fruit. The duo recently released their third album, Bright Smiles & Broken Hearts, and The Big Takeover hosted its premiere.
Originally from Northwest Indiana, Whimsical released their first full length album, Setting Suns are Semi-Circles, in 2000 via Chicago-based Seraph Records. As the band was finishing their second full length in early 2005, they quietly disbanded.
In 2015, Whimsical's unfinished second album was found and the band was resurrected with the intention of finishing the LP. They signed to Saint Marie Records and released Sleep to Dream in early 2017. Since the release of that album, they self-released an LP of cover songs called Brought to Light, as well as Bright Smiles & Broken Hearts.
Bright Smiles & Broken Hearts was recorded and mastered by Andrew Rose, who has done work with Tear Run Rings. It's an emotionally and lyrically heartfelt and perceptive, as well as sonically vibrant and swirling album that is both deeply personal and universal. Vanderwoude uses her voice and lyrics to tell intimate stories of hope and heartbreak, while Burkdoll creates melodic backdrops to help bring Vanderwoude's words to life.
The Big Takeover is pleased to host the premiere of the video for "Trust," a lyrically poignant track from the album. The clip was directed by fellow musician Andy Jossi of The Churchhill Garden.
Using footage of cityscapes glowing with phosphorescent lights at night and two people indoors, enjoying each other's company, Jossi shows these two people in love who, at the end of the day, both know they are there for each other and can count on one another through the ups and downs of a relationship. Jossi's video exudes the warmth of a relationship built on trust and caring, mirroring the song's lyrics perfectly.
Vanderwoude gives some details about the meaning of "Trust", revealing, "This song is about the beauty of a special bond of trust with someone who goes above and beyond to show that they'll do anything they can to help, remains honest, loyal and genuine, dependable and is someone who can always be turned to and counted on. Building that kind of trust with someone and having that level of assurance, knowing there is always someone around who can be relied upon, is a very beautiful and comforting feeling. After having to deal with betrayal in my life from people I'd have never expected it from, fortunately this song was inspired by my own personal friendship with a very special person! I'm grateful they've given me something to sing about!"
Whimsical will have some new material coming up soon: a remix of "Trust" by the band Airiel, as well as the release of a B-side that was recorded for the Bright Smiles & Broken Hearts album, but pulled at the last minute. 2020 marks 20 years since the release of Whimsical's first album, Setting Suns are Semi-Circles, so they will have a few surprises later in the year for that as well.