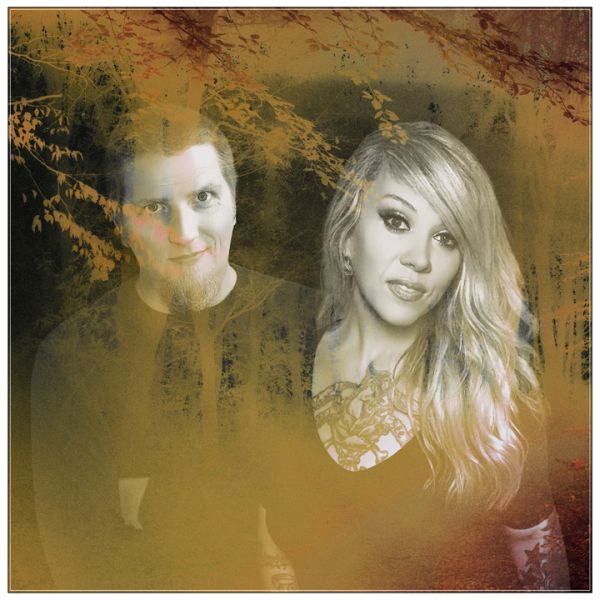 1 November 2019
Whimsical – Photo courtesy of Whimsical
Originally forming in Northwest Indiana in 1999, Whimsical combines all the best elements of shoegaze, dream pop, and indie rock mixed with catchy pop melodics. Krissy Vanderwoude uses her voice and lyrics to tell intimate stories of hope and heartbreak, while Neil Burkdoll creates beautiful sonics to help bring Vanderwoude's words to life.
Whimsical's third full length album, Bright Smiles & Broken Hearts, is set for release on November 5th. The LP takes everything they have learned in the past, while incorporating new production techniques, all while continuing to create distinctively original compositions.
Inspired by big studio productions of the early '90s, the goal was to use the studio as an instrument and to create songs that would be almost impossible to perform live without the help of additional session musicians. It was important for the duo to write songs that had layers and depth to them and combine the results with advancements in technology and new experiences for a fresh and expanded perspective.
Vanderwoude has always been very honest in her lyrics, but Bright Smiles & Broken Hearts really shows tremendous songwriting growth as she struggles with the highs and lows of life. If there's one thing that everyone can relate to, it's human emotion and matters of the heart.
Vanderwoude penned lyrics that tug at those heartstrings and give people songs that they can emotionally connect to and identify with. From feelings of heartbreak to hope, love and loss, and trust and betrayal, lyrically Vanderwoude covers it all on this album.
Bright Smiles & Broken Hearts is the follow-up to their second LP, Sleep to Dream, which was released via Saint Marie Records in 2017. The new album was recorded and mixed at various studios by Burkdoll and mastered by Andrew Rose (Tear Run Rings).
The Big Takeover is delighted to host the premiere of Bright Smiles & Broken Hearts a few days in advance of its official release. Lead single "I Always Dream of You" exemplifies Whimsical's hybrid mood, contrasting dreamier upbeat verses with heavier chorus sections that that give way to an ending that would make any Slowdive fan proud.
The album opens with the hopeful "The Exception", like a glowing dawn that suddenly blazes with brilliant sunlight. A downcast Vanderwoude trepidatiously reveals, "I've had to make mistakes / that have taught me the hard way." The chorus sections burst out in a swirl of guitar embers that wipe away uncertainty, as Vanderwoude declares, "I'll love again…"
On the sonically up-beat pop number "Fragile", Vanderwoude tempers the bright guitars and kicky drum beat with up-front lyrics, admitting, "My heart breaks easy / 'cause it falls so hard." Romping "Earth Angel" drives by with vigorous guitar whirl and kinetic drum beats, all anchored by a supple, but deep bass line.
The more subdued "This is Goodbye" floats on mournful synths press that are weighted down with ponderous drum beats and fired up cymbals scintillation. The lyrics are raw and relateable as Vanderwoude regretfully sings, "All I need is the truth from you / but don't make me a fool / Don't lie to me."
"Trust" swirls with lively and distorted guitar shards, rubbery bass line and an emphatic drum beat, while the fast-tempo "Last Dance" blasts out often with fiery guitar feedback. Sweeping "Remember Me" recalls the shoegaze greats of the '90s UK scene as Vanderwoude's ethereal vocals touch down on the poignant lyrics, "Don't forget me / someday when I'm gone / and you've moved on."
Spare, but alluring album-ender "Solace" is a dream-pop reverie that starts with a heartbeat-like pace and then flows into diaphanous synths expansion. Listening to the song is like gazing up at the star-filled night sky as Vanderwoude extends her vocals like tendrils, softly murmuring, "I close my eyes / I try to dream / Carry me under / Sing me to sleep" over the luminously nocturnal ambience.
Vanderwoude and Burkdoll have poured their hearts and imagination into their captivating new album and it shines through with sincere lyrics, heartfelt vocals, and an enchanting sound.
The CD and download of Bright Smiles & Broken Hearts is available at Bandcamp and the vinyl is available HERE
Bright Smiles & Broken Hearts at Spotify Pre-Save
In addition to her work in Whimsical, Vanderwoudehas lent her voice to songs by Seasurfer, The City Gates, The Churchhill Garden, Airiel, Fir Cone Children, and Black Swan Lane.
Burkdoll has released albums with the bands Loveblind, Dirty Dead, Fatalist, and P.O.O.R., and remixes and production work for Static Daydream8, *Crash City Saints, and A Thousand Hours.
After the release of Bright Smiles & Broken Hearts, Whimsical will soon be sharing remixes by Airiel, Blush Response, The Daysleepers, and The Churchhill Garden, as well as some exclusive B-sides that were not included on the album.