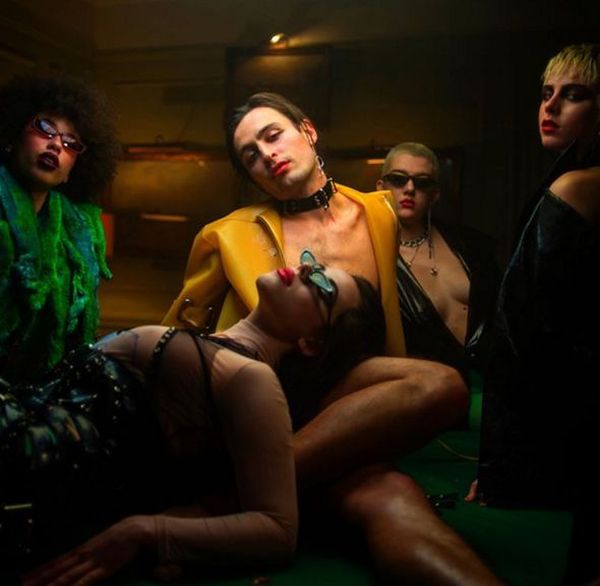 8 October 2018
Sepha – Photo Credit: Josha Eiffel
London-based (by way of Vienna and Berlin) multi-instrumentalist/singer/producer SEPHA. (the nom de plume of Turkish-Irish artist Joey Aybak) is making waves for his genre-bending music that blurs the defined lines between pop, electronic, hip-hop, and singer-songwriter styles.
The Big Takeover is highly delighted to host the premiere of SEPHA.'s cheeky, sexy, NSFW (Well, who knows nowadays… Maybe it's okay!) new video for his recent single "What We Wish We'd Said". Directed by Josha Eiffel, the provocative, erotic, and fun video features SEPHA. as a visiting submissive who is the entertainment for a circle of coolly aloof and alluring dominants residing in a bucolic country house.
The bored beauties lounge around on couches, play cards by candlelight, and feast on sushi, with a dressed-in-bondage SEPHA. as the serving platter. They don't give a fig about these activities and only perk up when a flirtatious SEPHA. begins to spin around a pole set up in the living room.
The seductive rogue delivers a slinky, risqué pole dance, aiming come-hither looks at his hosts. The hot charmer in flame-red body gear finally melts away their icy veneer as they let loose with delighted smiles and shared laughter at his suggestive antics.
The (dis)passionate good time runs rampant through the alt-pop track itself. On the verses, SEPHA. delivers his lyrics in a matter-of-fact tone against the staccato pace of a strutting beat and skittering electronic patter. He soon sweeps to airy highs on the chorus sections with wistfully regretful sighs and bittersweet cries, surrounded by ripe horn blasts and quirky electronic curlicues.
SEPHA. has made a big impact on listeners of his SoundCloud stream and other digital platforms where he's garnered hundreds of thousands of plays for a string of diverse singles. His 2017 debut Dystop. EP has racked up 500K streams across platforms and his next EP, titled Opioid Eyes in a Cattle Farm, which is about the opioid crisis, self-identity of his generation, and loneliness, is highly anticipated. "What We Wish We'd Said" is a cut from this upcoming EP, which was written and produced by SEPHA.
SEPHA. goes into intriguing detail about the song and video, stating, "I wrote the song originally as a light-hearted take on the different 'fronts' people put on to get laid / be more desirable or orchestrate a desirable image. In terms of making a video for it, I wanted to convey this idea about identity and 'fronts' visually in the context of gender / sexuality and to play with a typical music video format, but in a slightly surreal / avant-garde manner to complement the song's avant-funky feel."
"With gender in mind, the director Josha Eiffel and I wanted to do a video which reversed the idea of the musician being the subject of their video (where girls can usually be performing as the 'objects' at the service / desire of the male role) and instead play with this power dynamic in an opposite way. We didn't wanna do this in a preachy way or think that reversing gender sexual power roles norms is necessarily better. It just was a unique thing to pin the song to, considering its subject and also more rare in music videos, especially in the context of pole dancing for example."
"Before drafting the video concept, I got to thinking about how strange it is that certain activities have emerged as activities which are sexy to one gender and not necessarily the other. I knew I wanted to pole dance, as you never really see male pole dancers performing for women in any context."
"From there, we came up with this premise of a typical countryside 'Gentleman's Members Club', where posh gentlemen would converge, maybe order a hooker, play poker, and go hunting amongst other activities – but reversed the roles. Therefore, the video takes place in an exact location like this, a Gentleman's Members Hunting Club in the Hertfordshire countryside, but the 'Gentleman' are all sci-fi / Renaissance-era FemDom-styled females."
"It was like compacting the bizarre club activities of Stanley Kubrik's Eyes Wide Shut into three minutes, but reversing the roles, with me in the 'subordinate' role and entertaining the ladies. So I get chained up, eaten sushi off of, and to pole dance in between moments of disinterest, playfulness, and farce from the 'members'. It was insane how the team of people pulled together and brought off the bizarre image we had in mind, but made it better."
Facebook
Twitter
Instagram
YouTube
Spotify
SoundCloud
comments powered by