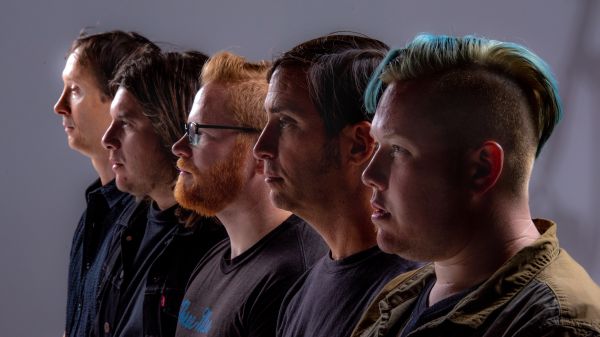 8 October 2018
Fellow Robot – Photo Credit: Anthonio Gilbreath
Fellow Robot are an eclectic indie rock/folk/post-rock group from Long Beach, CA who recently released their debut concept album, The Robot's Guide to Music Vol. 1. The album is based on the dystopian sci-fi narrative crafted by brainchild Anthony Pedroza and is part of a multi-album series, with Vol. 2 slated for release in the next year.
Pedroza, along with drummer and main collaborator Luis Renteria, are joined by their musician friends Michael Adams, Jon Zell, and Roberto Escobar on this multi-media thematic endeavor that foresees a future where artificial intelligence has reached a pinnacle and robots begin to document and chronicle humans and the music they make. Pedroza is even working on his debut sci-fi novel, also called The Robot's Guide to Music, which will act as the literary companion to the album series.
The Big Takeover is delighted to host the premiere of the performance video for the anthemic manifesto "I'm With You," the last single to be released from the debut LP. The passionate performance video for the rousing, sweeping Americana tune with uplifting lyrics was directed by Damian Apunte and Todd Grilli and produced by 4th Street Productions. It's impossible to resist singing along to this track – so turn it up and enjoy the positive vibes.
Pedroza goes into detail about the song "I'm With You", explaining its backstory: "Similar to "Wedding Dress", "I'm with You" was written for two of my closest friends, Jen and Tony. We wrote "I'm With You" as a tribute to Jen and Tony's love and a testament to our friendship. Our group of friends are incredibly close and have been since high school drama at CHS in 2001. Every one of us is each other's best friend. We're a group who are always there for each other, no matter how hard or easy the wedding songs are to write. Our friend Sarah Finnell came up with the idea to pen the song for Jen in late 2011. Through Skype, Sarah, Ellen Warkentine, my wife Tiffany, and I wrote the song. Never in my wildest dreams did I think I would still be singing the song with such passion 6 years later. I truly love what we've created. On May 5th, 2012 "I'm with You" was premiered in New Orleans at the Degas House for Jen and Tony Barba."
Pre-Order The Robot's Guide to Music Vol. 1 on vinyl
Website
Facebook
Twitter
Instagram