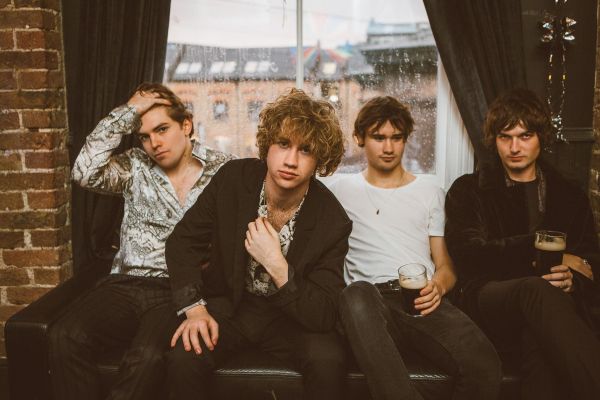 3 August 2020
The Velvet Hands – Photo Credit: Harvey Williams-Fairley
British indie/garage rock band The Velvet Hands unleashed their latest rousing and relevant single, "When This Is Over," on July 3rd via JamX Recordings / AWAL.
The track is a celebration of lockdown easing up and normality returning to the UK (with some safety measures still in place, of course).
The song is released with all proceeds going to The Music Venue Trust (via the #SaveOurVenues campaign) in support of the ongoing crisis affecting the live music industry during the COVID 19 pandemic.
After 13 weeks of quarantine/self-isolation it was time for a change; a time to celebrate, and who better these Cornish rockers to raise a glass to the lifting of lockdown measures with a timely ode to the joys of getting a round in.
As usual, band members Toby Mitchell, Dan Able, Louis Mitchell, and Sam Hilder mix a casually delivered narrative with bold guitar riffs, bass line drive, and dynamic drumming, reminiscent of The Strokes and '90s Brit-Pop, but with a more youthful exuberance.
The Velvet Hands' self-recorded debut album Party's Over went on to be Huw Stephens' Radio 1 Album of the Week, and Radio X DJ John Kennedy has said, "Every single they've released is an instant hit as far as I'm concerned."
The lads have supported some massive names, including Liam Gallagher, Fontaines DC, Paul Weller, YAK, Frank Turner, Wallows, and VANT, along with headlining stages at The Isle of Wight and Y NOT festivals.
They kicked off 2020 in style with their riotous single "Fallout," which received multiple plays through the BBC, resulting in a live interview with Steve Lamacq on Radio 6 to celebrate Independent Venue Week.
Since lockdown began, the band have been busy writing new material including new single "When This Is Over," as well as creating its accompanying music video.
Big Takeover is super-stoked to host the premiere of this timely video that tantalizes with an uplifting, fun, and yet also poignant vibe of what it will be like to go back to the pub and have the taps flow again.
In the video, the guys are first shown on separate screens in a representation of self-isolation, each hanging out in his own room, replete with shaggy, growing-out hair in need of a long-awaited trim.
But soon they are seen roaming the empty Holloway Road in London, full of band camaraderie – and they gain admittance to the nearly deserted Nambucca bar, save for the bartender, eager to pour the blokes a drink or two.
Brief performance clips that were recorded in the past materialize, showcasing the band playing on stage at Nambucca, a venue that's known for promoting up 'n' coming bands.
The laid-back wild bunch next head to a pub named The Barleyleaf in Truro, Cornwall, downing lager and playing pool together, in what seems like a beautiful, but for-the-moment unreachable dream to most of us these days….
The video for the copacetic anthem ends on a high note, with a cluster of individual computer screens of family, good friends, and acquaintances – like members of indie rock band The Rezner – popping up for a Zoom-type chat, a visual reminder that even though we may be physically separated at times, we're still all together in mind, heart, and spirit – and, in this case, for the critical cause of of saving and protecting our grassroots venues, pubs, and clubs.
It's a cause that the band members feel deeply passionate about, as they believe these venues are the lifeblood of emerging talent, and if they don't get the support they need, the world would be a less artistic and welcoming place.
Website
Facebook
Twitter
Instagram
Bandcamp
Spotify