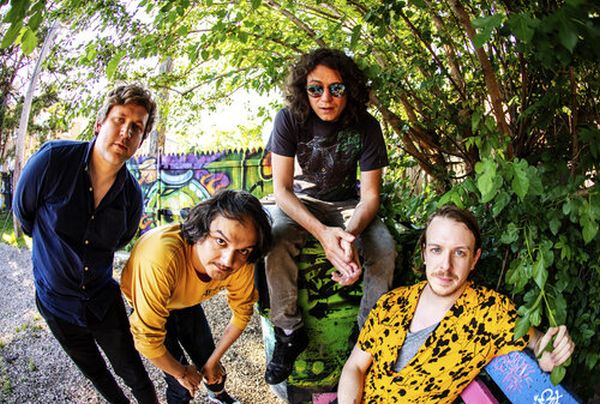 31 July 2020
Net – Photo Credit: Nathan Poppe
Net is a four-piece space wave band from Oklahoma City, OK. Formed in 2017, Net's line-up of John Baber, Andy Escobar, Tommy McKenzie, and Kyle Vasquez includes members, collaborators, and alumni of experimental rock bands Ester Drang, Stardeath and White Dwarfs, and the Chainsaw Kittens, to name only a few.
This newer outfit established their trademark sound on 2018 debut Memory Swipe, the recording and live shows both channeling the innovation of Talking Heads, the blasé pulse of The Idiot -era Iggy Pop, and the hooky electronica of Gary Numan. Regional touring followed, including shows as direct support for the Flaming Lips and Closeness (members of the Faint, Azure Ray).
Now comes Net's follow-up album, Terminals, which will arrive August 7th via Oklahoma City label Clerestory AV. Big Takeover is excited to host the premiere of the full LP a week before its release date.
Terminals was written and tracked collaboratively and features an expansive, melodic wrangling of all four members' musical tastes and writing styles.
McKenzie reveals details about the creative process, explaining, "We knew we wanted to record another record by 2019, and we had already kicked around the idea of recording at Pink Floor in Oklahoma City. A tour we did with The Flamings Lips in 2018 gave us the extra funds to spend more time to record at Pink Floor and explore sounds in general."
"There were 3 songs written in 2018 before we recorded: that being "Detonator," "Lines," and "Asphyxiation," so we already had an idea of what Terminals would be like. Around that time too we became more rapidly productive from jamming with no actual goals. It was purposely aimless in order to warm up before we practiced for a show, but more often than not they led to very solid ideas. Those jams led to writings songs that had more of our own personal sensibilities. We all had ideas we wrote on our own before recording, but all the ideas we jammed in early 2019 were much more exciting to us than what we had previously."
The LP was recorded at the notorious Pink Floor Studio in Oklahoma City with producer Dennis Coyne (Stardeath and White Dwarfs, Flaming Lips, Kesha, Miley Cyrus) at the helm.
McKenzie relates, "Recording Terminals was deeply communal and democratic. We all were able to try out ideas, and afterward would find an agreement on what would best suite the identity of the songs. John [on] keyboards and Dennis Coyne (engineer) were able to help put a lot of defining finishing touches on the songs. Even if we came into the process with a sense of urgency, recording in our hometown [of] Oklahoma City with no actual deadline defused and calmed our neurosis . Wayne Coyne would come by every so often to check in and give us some encouraging words."
The retro-futuristic songs on the album cross New Wave pop, burgeoning post-punk shadows,and dancefloor electro-disco for a vivid and exploratory sound that's tied to the stark rhythm and dynamic beat of the instrumentation.
McKenzie comments, "We didn't want Terminals to be too dense with sounds, but the sounds we did use were meant to make the record lean and precise overall. The sounds and instruments on Terminals definitely had their own personalities that allows the record to be shaped subconsciously I feel. Once Andy had his specific drum sound in the recording process, that in turn informed Terminals tonally and gave us a foundation."
"Terminals is shaped by instruments with both sordid and respectable pasts. Pink Floor gave us a huge access to synths, keyboards, and other gear we wouldn't have been able to mess with otherwise. For instance, a WASP synthesizer used on the song "Headcrack" that was gifted to the Flaming Lips by Sean Lennon, vintage Roland Junos that are featured all over the record, and a vintage ARP AXXE on "Detonator" and "Timelapse." *Herbie Hancock *had used one on some records. The guitar we used on the whole record, a 1981 Gibson Les Paul, that I had just gained before we recorded, used to be owned by a man in Oklahoma City in that ran polygraph tests for a majority of his life."
The title track is a prime mover that romps with a snaky bass line, skewed keyboard notes, a kicky pace, and abstract lyrics that are shouted out amid with defiance. Album-opener "Detonator" bounces with a sprightly beat that's sliced through with sharp guitar lines and spacey laser zips. "Timelapse" goes the psychedelic route with swirling synths and echoed and trippily processed vocals.
When asked about the meaning behind the tracks, McKenzie comments, "Terminals features synths and keyboards that don't have sequencers, detune regularly, and all around are combative when recording with them. All that to say, even though some of the music is electronic or based in that, it's inherently flawed and not perfect, it gives those ideas more humanity without intention. This is about as close to a figurative meaning that Terminals has I feel; an individual fighting for their humanity against a force that wants to limit that humanity."
Purchase limited edition transparent purple vinyl at Clerestory AV
A special edition test pressing limited to 10 copies is also available. It's packaged in a kraft jacket with unique Polaroid photo of band and includes a copy of the standard edition vinyl as well.
Digital format of album is available at Bandcamp