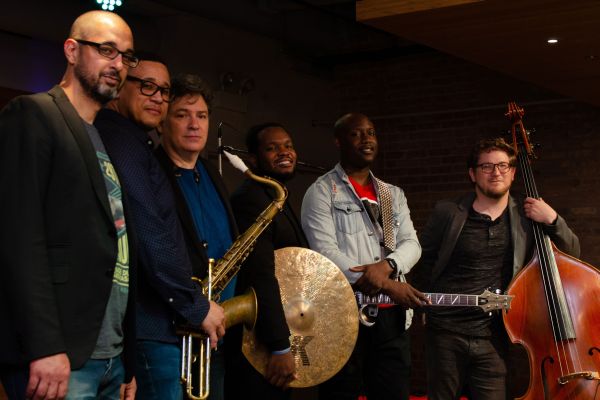 28 September 2020
Chicago Soul Jazz Collective ft. Raul Midón – Photo Credit:Spencer Porter
Renowned Chicago Soul Jazz Collective will be releasing their second album, It Takes a Spark to Start a Fire, on October 30th. Ahead of that release comes lead single "Where do you go when you dream," which is officially out on October 2nd.
It Takes a Spark to Start a Fire follows up acclaimed debut LP Soulophone with a collection of seven originals featuring contributions from Raul Midón and trumpeter Nicholas Payton. The tracks on this album focus on capturing the ensembles live, improvisational sound and energy.
Chicago Soul Jazz Collective started out by performing classic soul and jazz compositions, but over time they have evolved into a band that embraces improv, rhythm, and groove. The outfit was founded in 2017 with an emphasis on live performances and is composed of Marques Carroll on trumpet, Amr Fahmy on Rhodes piano, Andrew Vogt on bass, Larry Brown, Jr. on guitar, Keith Brooks II on drums, and John Fournier on tenor saxophone and music composition.
Soulophone was cut live, in two recording sessions and hit #11 and stayed on the JazzWeek charts for over 20 weeks. It Takes a Spark to Start a Fire was mostly recorded the same way with a few horn overdubs. It was recorded in a studio using vintage gear, giving the recording a beautiful polish.
Big Takeover is pleased to host the premiere of the video for "Where do you go when you dream," one of the tracks off the album. Special guest Raul Midón contributes vocals and guitar.to the song. The laid-back pulse nods to Joe Williams and the Count Basie Band, with Fournier's sax, Midon's guitar, and Brooks' work on crash cymbals adding to the revel.
The video clip for the smooth and staccato track features animated line drawings that take on the shape of the ensemble members and various abstract images in black, white, and pastel blue shades. The song's lyrics slide and swirl by in time to the kicky and laid-back music.
The band comment on the intent of the video, explaining, "This video is a 3-way collaboration between Chicago Soul Jazz Collective, animator Iz Moser, and the incredible Raul Midón. We wanted the video to capture the surreal experience of dreaming about an unrequited love and the places your emotional mind can carry you when you are smitten with someone. Along with a world-class contribution from Raul Midón on vocals and guitar, we are very proud of this effort and hope you enjoy it."
Raul Midón adds, "I was happy to collaborate with John Fournier who introduced me to the idea that I should write songs. This piece resonated with me and I was intrigued by the notion – Where do you go when you dream?"
PreSave the album HERE