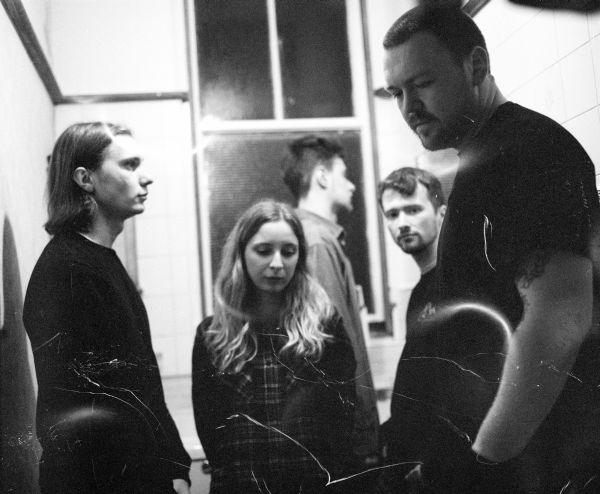 25 September 2020
Mt. Doubt – Photo courtesy of Mt. Doubt
Built up around the songwriting and vision of band leader Leo Bargery, Scotland's Mt. Doubt has been a changeable musical entity since the band's genesis. Today sees the U.S. release of their third album, Doubtlands, via Last Night From Glasgow. The LP has already come out in the UK on September 18th.
Mt. Doubt's debut full length My Past is a Quiet Beast, arrived in 2015. Ever-active, Bargery quickly went on to release second record In Awe of Nothing in 2016 (on Scottish Fiction Records) before bowing three EPs, The Loneliness of the TV Watchers, Moon Landings, and This Must Mean Something Awful, throughout 2017 and 2018.
Big Takeover is pleased to host the U.S. premiere of Doubtlands today, on the date of its U.S. release. The album is filled with captivating slow-burners, emotionally tumultuous vocals, starkly poetic lyrics.
The record runs through post-punk-tinted angoisse on opener "68th in Orbit," folk-flavored confessional "Caravans on a Hill," gentle rumination "Yawn When I Do" with glistening guitar lines, passionate lament "Waiting Rooms" which moves through stages of grief through Bargery's shifting vocals, acoustic musings on "Murmurations," sonically rich and dreamy "Headless," plaintive "Stairwell Songs," at times crunchily marching "Dark Slopes Away," the restless "Eshaness," and folkily sincere "Peaks of Wreck."
Taking cues from Bargery's musical and literary influences, Mt. Doubt deal in the darker side of things, often dipping a limb in the atmospheric while remaining lyrically-driven and unflinchingly personal.
Four years in, and Mt. Doubt have performed across Scotland: from Inverness to Brighton, from the Isle of Skye to Cardiff, and a whole lot of places in between. Including appearances alongside the likes of Idlewild, White Lies, We Were Promised Jetpacks.
Bargery kindly took some time and thought to delve into the meaning of the songs on the record, revealing much insightful detail below:
"Hello! I've never really been one to publicly analyze my own work (or ever assume that anyone might like me to); In fact, I usually go to considerable lengths to bury what meanings might lurk in my songs under shovel loads of unhelpful words and images. It's easier that way. With that in mind, please forgive my self-indulgence, as I talk you through our upcoming album, Doubtlands.
"Doubtlands is an album that I'm immensely proud of, and one which was a couple of years in the making. It's a record that fell together over a couple of years of whittling, dismantling, discarding and re-writing. I didn't set out to write an album about anything in particular, instead I've always leant into more autobiographical spaces and used the writing process as something a little more cathartic, and inward-peering. As much as I'd like to tell stories like Bill Callahan, it just doesn't seem to work. Alas."
"I like to think that Doubtlands presents an almost geographical sense of my thinking, and attaches a physical structure to some of my more abstract ideas (bear with me now). At it's core its really just a slightly obsessive meditation on relationships, growing up against my will and the sadness and uncertainty that dogs us all… It's breezy stuff."
"In the summer of 2019, I returned to my childhood home (where I'm sitting writing this, and where I've been since March) with my bandmates and our producer and good friend, Luke Bovill. Over the course of two weeks we drank a lot of coffee, played a lot of Xbox 360 skateboarding games and watched Metallica documentaries. We also recorded Doubtlands. In two makeshift studios; Vocal booths were duvets duct-taped to laundry racks, militant notes were pinned between family photos and the kitchen became a practice space where saxophone reigned supreme."
"The album is 10 songs, there were others, but they weren't very good. If you'd like to know some more about the chosen 10, keep reading. Here goes nothing."
"68th in Orbit"
"68th is a fairly natural album opener, but one which I think sets the tone and the scene as best as we could have hoped. It was probably the song which caused the most unrest throughout the writing and recording process. We had played the song in various styles for a year or so pre-recording, recorded demos which ranged wildly in their sonic approach and we just couldn't quite pin down the song's best version. If it was a canvas, it was painted over, painted over again, smashed up, and then replaced. I think we got there in the end though!"
"It grew out of the idea that Earth exists in a hospitable environment in no small part thanks to the fact that Jupiter's mass pulls in a lot of space debris and junk which could otherwise be thundering towards us… There's a bit of a to and fro between quite grand, cosmic themes and very personal, intimate language; our smallness exposed (or something like that). The milky-way above an empty night motorway and imminent asteroid impacts set the scene for a very introspective look at life's shortcomings. That's a theme which flows throughout the record by the way, I apologize in advance."
"Caravans on a Hill"
"This was one of the singles from the album, but it's a song that has been flitting around my head since 2016, if not before. The whole song was built up around a variation on the riff which you hear at the opening of the song which I wrote many years ago, away at University, but it wasn't until our bass player James Callaghan came up with the really driving chorus bass part that I think the song really clicked. It needed that drive to give it the much-needed element of shifting paces. Instrumentally the song really mirrors the lyrics and it's definitely one of my favorite sounding songs on the album; the shimmery guitars and the reverb, for me at least, marry well with the sea-heavy imagery."
"It's genuinely about driving up past caravans on a hill, out of the small town of St Andrews where I studied on the North Sea coast. It was as rainy as you're imagining. I often escaped the town in my shitty little car, listening to one of a stack of CDs and wondering what the hell I was doing; regularly at that time, that had resonances of romantic consequence and there's a lot of allusion to failing relationships throughout Caravans. It's about being dissatisfied I suppose, hey, that's another theme."
"Yawn When I Do"
"This song came together fairly effortlessly in a live setting, and that feel definitely got translated into the recording. There's an almost resigned shuffle to the song and a laziness to it which I really like myself. Throughout, there is an optimistic fightback complete with country-tinged guitars and a cathartic, post-rock inspired ending, which is a rare moment of musical overflow, but we thought we might allow ourselves this one…"
"Loosely, I suppose, the song is really just about realizing that somebody isn't quite the statue you had built in your mind, that maybe they aren't the mythical figure you had ill-advisedly obsessed over. There's a healthy dose of self-flagellation in ignoring that kind of realization, that I imagine we've all partaken in, but the truth doesn't always make the most palatable reading, viewing or hearing. I particularly like the lyric "she harks to Magellan", it sort of means nothing yet manages to encapsulate the whole song all at once!"
"Waiting Rooms"
_"For all the imagery, and the wandering narrative, I think this is probably one of the most blunt songs I've ever written, certainly one of the most personal, and openly so. It caused me a few discomforts in recording due to the fact that it's a song which I had regularly played acoustically at the end of shows by myself. So, when it came to putting it on the record, and we decided to add in more 'band' elements whilst aiming to maintain the raw, intimacy which we had come to associate with the track, it was a tricky line to tread, keeping it balanced and immediate.
It's a song underpinned by anger and sadness and was inspired by a now-historical personal trauma that I shared with someone who was very important to me, as well as the fallout from that particular time. A lot of the imagery is very unique to my own experiences but I hope that it hits upon something emotionally, which can be related to more universally. It's definitely a slow burner, but this song means a lot to me."_
"Murmurations"
"This is a bit of mid-album respite! I like the really intimate, close feeling of this song, it feels quite impromptu and off the cuff. We recorded this down at our practice space in North Edinburgh, just set up a mic in the middle of the room and played it through two or three times. We had tried to record it during the album sessions, but it was all a bit stiff, and the more loose approach allowed us to give the song a bit more 'feel'. The duet style really gives Annie's voice space to breathe, unhidden, and it creates a really gentle moment on the album."
"I'm really pleased with the lyrics in this track actually. It focuses on the divergence of our expectations from our realities and the distress that can cause, when things don't quite live up to our hopes. I like the idea that "we're all murmurations", that we're all going through the same things in our own little ways."
"Headless"
"To me, this feels like it emerges out of 'Murmurations', but as something altogether more grand and luxurious, with a much more substantial sense of scale. I just brought the piano part and the vocals but the textures and intricate guitar work throughout the track really elevate the track to another level. There's an almost lounge-rock feel to it, its really laid back and reticent with an underlying urgency which I think is fed by the vocals predominantly. The high point is definitely the saxophone solo. It was a guitar solo for months, and really we just recorded it on saxophone for a bit of a laugh, but it sounded great… so we kept it! It adds a bit of bombast to some pretty heavy listening!"
"The whole thinking behind being 'Headless', is the process of letting your life slide past you or letting your anxieties put you in the passenger seat. I've succumbed to that a lot, and have found myself, at times, thinking that perhaps I owe it to those I've wronged to penalize myself. This song is about that; "I owe it to you to be headless". Who needs a therapist when you can write a song!"
"Stairwell Songs"
"This was the intended home of the saxophone on Doubtlands, which was played by our good friend Liam Dempsey of Deep Sea Creature! It was a lot of fun hearing these swathes of individual saxophone notes being built up into a really rich, brassy drone which carries the whole song. I think this is probably my favorite song on the record, especially lyrically. Annie's harmonies blew me away when she started laying them down, they pack a really emotional punch every time I hear them, and our friend Emily Atkinson lent us some really ethereal chorus vocals which are similarly heady. For such a seemingly straightforward song, there's a lot going on!"
"It's an ode to overthinking named after the pleasing reverb in the stairwell of my old flat in Edinburgh! I wanted to create a sort of ritualistic sense of wandering or drifting which flitted between utter mundanity and much grander themes; from "Salvation Mountain skies" to spitting toothpaste into your sink… It's a song for thinking about the meaning of life whilst finding the cheapest ready-to-boil pasta."
"Dark Slopes Away"
"If you're getting bored of this, I can only apologize. Read on if you can stomach it. This song is a real change of pace. I brought it to the band as a fairly bare piano-ballad, but as soon as Pete came up with those really aggressive, distorted drums, the song took on a really exciting new direction and had a whole new vitality afforded to it. It really sounded like nothing we had done before and the pulsing electronics and synth leads which followed suit, I've been told, have reminded some of Kate Bush! There's a lot of instrumental layering and I think this song is a bit of a Russian doll, it definitely reveals more of itself with repeated listens!"
"This song sets up our relationships with nature and a human relationship along interchangeable lines, so they essentially blur together. I think there's a sense of exhaustion and resignation in the face of problems which seem too great to overcome, but there's also a primal undercurrent and a desire for something to sweep through and demolish the current way of things; both personally and more broadly."
"Eshaness"
"I actually took a little longer to warm to this track, which is strange seeing as I wrote it. It took a while to take shape in what I deemed to be an acceptable way. I see it as having two parts, the first half is quite undulating whereas the back-half of the track picks up a real sense of drive. That definitely mirrors a lyrical shift (more on that in a moment). There are two elements in this song which I love; Firstly, the glitchy synths in the chorus and secondly, the guitar 'solo'. We don't really 'do' solos but this one feels pretty cool. It's exceptionally messy, but that vaguely imperfect, ragged sound is just what the song need to transition!"
"Eshaness is a headland and lighthouse on the Shetland Islands, where I spent a fairly bleak few days when I was a wee bit younger. I have very clear memories of being overwhelmed by the scale and force of the nature around me, looking down from a cliff at swarms of gulls wheeling around above the water. There was a sort of comfort in realizing how inconsequential we actually are. Where the song narrows, I see that as those thoughts and realizations becoming internalized, with a much more unsettling and claustrophobic feel. Once you're alone in bed again and the same old problems come creeping back to say hello, it's hard to remember the liberation of the wilderness. I wanted to call this song 'I Forget to Drink', because I really do, its beyond a joke. But that's a shit title."
"Peaks of Wreck"
"This was a lot of fun to record! I've always coveted the idea of writing a song which was borderline too long and almost a challenge to enjoy. I'm not sure why really, but I feel like Peaks has finally fulfilled that desire! This song encompasses the themes of the album as a whole, its a roadmap to my clearly less-than-healthy world view and it really ties up Doubtlands beautifully I think. We enlisted the help of our intimidatingly talented friend, and a source of great envy for me, Hamish Hawk, who goes back and forth with me on the verse vocals! He's got an exceptional voice, he really does! I'm really proud of the outro, with the rambling near spoken-word section giving into an accumulation of voices repeating "Is it really worth the trouble?", I couldn't think of a better sentiment with which to end the album!"
"It's a hymn for inward-glances and self-doubt and I really hope you like it!"
"If you're still reading, well, thank you. I'm so sorry for being so self-indulgent. Part of me quite enjoyed it really, but probably best if I pretend otherwise. I hope you enjoy the record, thanks for giving it, and us, your time. It means everything."
Bandcamp
Facebook
Twitter
Instagram
YouTube