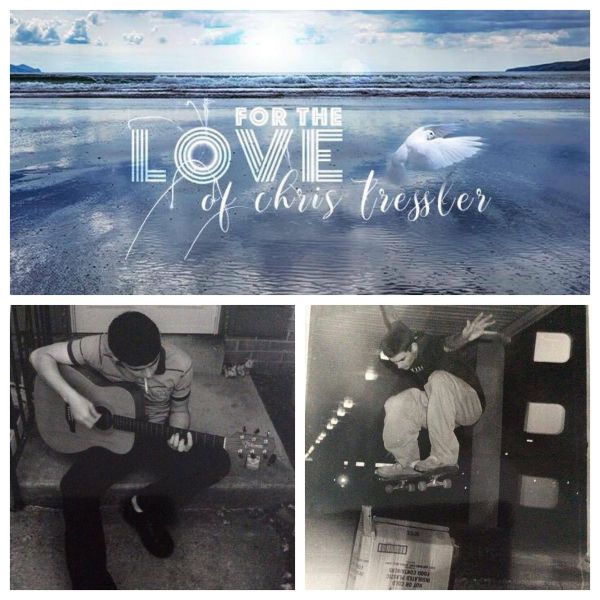 29 June 2017
Fifty-one bands from all around the world have joined their hearts and music together to pay tribute to one of the most passionate music enthusiasts that the shoegaze community has ever known. Premiering today, June 29th, at The Big Takeover is a compilation affectionately titled For The Love of Chris Tressler, dedicated to the memory of this amazing man.
Chris Tressler was truly in a league of his own. He had a zeal for music that seemed almost as vital to him as the air in his lungs and the beat of his heart. His pursuit of new music, and desire to share that music with the world around him, was unparalleled.
Chris was such a pillar of support for the bands that he loved! The shoegaze/dreampop community has definitely felt the loss of his selfless, devoted, and positive presence.
Although he may not be with us physically anymore, there has been a common thread of desire to commemorate his life and to pay respect. Shortly after the news of his passing, Jonathan Sellers (Movie Brain) and I started brainstorming as to how we could best go about that. We began to reach out to some of the bands in this community, to see if anyone would be interested in contributing to a music compilation in memory of Chris.
The response was almost overwhelming, in the most beautiful way. It has been very inspiring to see that SO many of the bands that Chris loved and supported eagerly jumped on board and wanted to be a part of this! Here we are, 51 bands later, using the music he loved to keep his memory alive!
Due to the fact that we want this music, and the memory of Chris, to reach as many people as possible, we have decided to make this comp available as a free download on Bandcamp
For any who would like to make a monetary donation in memory of Chris, here is wonderful organization Hungry For Music that encourages the creation of music and "provides musical instruments to underserved children, with a hunger to play". This link allows us to make dedication donations in honor of Chris.
Below is a list of the amazing artists that have contributed tracks to this compilation. Many of these bands have submitted brand new tracks, which were never previously released. Other bands chose to contribute songs that Chris personally loved and supported.
A Thousand Hours – "Sleep Of Angels" [Chris Tressler Mix] *NEW
Abstract Thought Process – "Ascend"
Ambient Intimacy – "See You" *NEW
Angel Falls – "Touch the Sun"
Astral Lite – "Embers"
Blackpool Astronomy – "Brazen Blackout" *exclusive mix
Bloom Waves -" Wanna Be Tied"
Car Crash Sisters – "If You Ever"
Charlie Nieland – "Water"
CLUSTERSUN – "Event Horizon"
Coloring Electric Like – "Coloring Electric Like"
Crescendo -" Humble Attraction"
Dark Narrows -" Eight Hundred And Sixteen"
Dayflower -" Big Blue"
Estrella Oscura -" Promenade"
Fir Cone Children – "Chocolate" *NEW
Great Black Night – "Whisper"
Hold/Transfer – "Privacy Policy" *NEW
Jett Brando – "Slow"
Lavender Blush – "My Pal K"
Lazy Legs -" Beholder"
Linda Guilala – "Monstruo"
Loomer – "Stardust" *NEW
Movie Brain -" Visions"
My Raining Stars – "The Way Things Turn"
Nax -" Futuro" *NEW
Panophonic – "I Can't Come Home" (Beatastic Remix)
Prana Crafter -" Creek Born Mind"
RevRevRev – "Buzzing Flowers Ecstasy"
See The Eye – "Social Bribe"
Slowly – "Away"
Soñder – "Strañge (For The Love Of)" *exclusive remix
Spell 336 -" Silence"
Static Daydream – "Eclipse" *NEW
Stella Diana – "M9"
Stellamaris – "Ultraviolet"
The Autumn Sighs – "The Autumn Sighs"
The Churchhill Garden – "The Same Sky"
The City Gates – "Checkpoint Charlie"
The Emerald Down – "Red Shift"
The Morelings – "No Sign"
The Speedwell Blue – "You & I"
The Spiracles -" It Shines On You" (Ft. June)
Vibrissae – "Not Forever"
Videodays – "Major Arcana" *NEW
Visiting Diplomats – "Try"
Vlimmer – "Inselschweben" *NEW
Whimsical – "A Strange Day" (The Cure) *NEW
Wozniak – "Five Star"
Xeresa – "For The Love Of Chris Tressler" *NEW
Vestidos – "sueeles dejarme"
Jonathan and I would like to thank everyone that has been a part of this comp and helped us bring this vision to life. Special thanks to:
Andy Jossi , for the beautiful artwork.
Greg Wilson and Amber Crain at DKFM Shoegaze Radio, for supporting this project, and helping to share this commemorative album with your listeners!
Jen Dan, for allowing us to premiere this on The Big Takeover.
Our deepest and most heartfelt sympathy extended to Chris Tressler's family and friends. We hope that you will find comfort in knowing how loved he was. May his memory live on through this beautiful music!
The above text was written by Krissy VanderWoude (Whimsical), one of the organizers of this compilation album.
"My conversations with Chris were always very brief, but they were always positive. I never met him in person, but I felt a connection with him through the love of music. Chris was always on my news feed, sharing a new band he had found, or sharing some old tracks to reminisce. I didn't know him too well, but I can see the impact he's made after his passing, and I was super lucky to have known him the time I did." – Jonathan Sellers
comments powered by