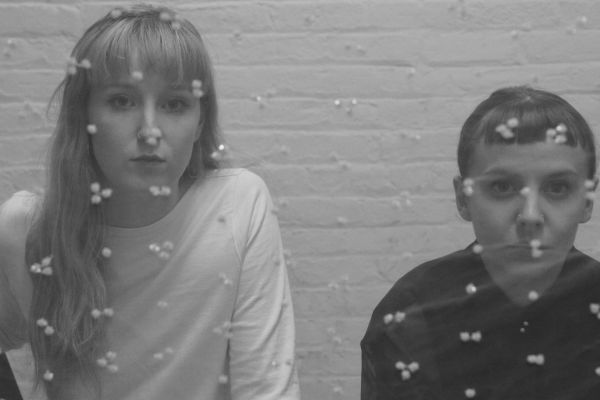 16 June 2017
Gracie and Rachel; Photo Credit: Sam Margevicius
Gracie and Rachel are a study in duality: light and dark, classical training with a pop sensibility, Californians in New York. On their debut self-titled full-length, due out June 23, Gracie and Rachel pit anxiety and tension against an almost serene self-assurance.
The creative pair met in high school in Berkeley, California and reunited in Bushwick, Brooklyn, building out a loft to be their home and studio where they crafted this debut. To experience the band live displays an almost tangible quality to their deeply rooted bond.
Like their stylized color palette of black and white, the duo's instrumentation appears simple and spare at first glance, but there's a powerful prism effect at work in their music that brings us back to the concept of duality: their songs are intimate and expansive, questioning and confident.
Gracie and Rachel plays in a chronological order that represents the duo's path forged to assemble this enthralling collection. The Big Takeover is pleased to premiere the album in its entirety and spotlight Gracie and Rachel's journey through adventurous youth, cohabitation, and creative collaboration.
Gracie and Rachel give some background into their debut album, stating, "This record celebrates the anxious voices inside each of us, rejecting that our imperfections are to be suppressed. In accepting and learning from our limitations, we develop the ability to not ask for permission and are propelled toward empowered growth. We made the core of this record in our Brooklyn loft and expanded on it in a variety of studios with different collaborators, building musical layers on the sonic foundation to open up the songs. Though the bones of the music are the piano, violin and vocal, the tension of dark and light textures both at battle and at peace with one another is what drives the songs forward and grounds them all the same. In this way, we hope you feel as pushed to do the things that don't always feel comfortable as you feel embraced for not always knowing how to get there."
Share in their enlightening journey…
Having been on stage with Julien Baker, Lucy Dacus, Joseph, and Half Waif, among others, the duo is sure to give standout performances at a handful of upcoming summer festivals and their co-headlining tour with Henry Jamison.
Co-headline Tour with Henry Jamison*:
6/24: Windham, NY at Blackdome Music Festival
7/19: Brooklyn, NY at Union Pool, LPR Presents: Record Release Show
7/26: Woodbridge, NJ at Parker Press Park
8/24: Montreal, QC at Brasserie Beaubien *
8/25: Toronto, ON at The Drake Hotel *
8/26: Chicago, IL at Schubas Tavern *
8.29 at World Café Live (Philadelphia, PA)*
8/30: Washington, DC at Songbyrd Music House & Record Café *
9/8: Portland, ME at One Longfellow Square *
9/10: Allston, MA at Great Scott *
9/12: New York, NY at Mercury Lounge *
9/14: Los Angeles, CA at Bootleg Theater *
9/15: San Francisco, CA at Café Du Nord *
Official Site
Facebook
Twitter
Instagram
comments powered by