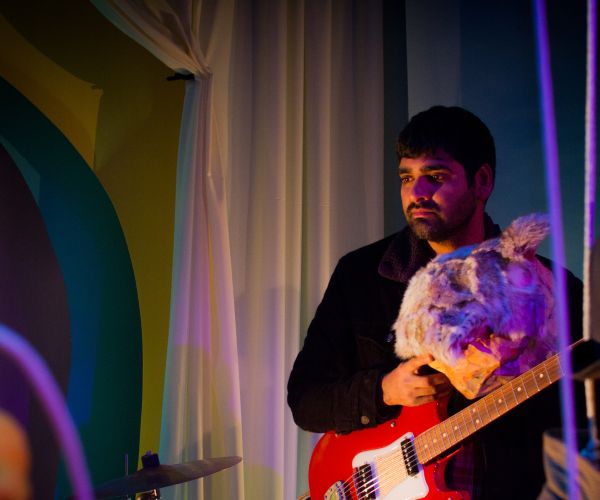 16 June 2017
Raj Sabhlok of Raj and the 100's; Photo Credit: Sean White
Loss is always an immensely powerful catalyst for inspiration. The transcendent experience of nature reclaiming a loved one opens a void that is ready to be filled with creativity, and outlines a path of self discovery.
Following the sudden passing of his parents, Raj Sabhlok, the mastermind behind Raj and the 100's, traded in his house for a small RV and left his hometown to hit the roads of the United States. In a two year journey of exploration and daily hikes in the American wilderness; Raj wrote approximately 300 songs.
Upon the completion of a period that could be described as a songwriting pilgrimage, Raj found himself at Tiny Telephone, (John Vanderslice's all analog recording studio) having recorded 50 songs within the span of 10 days.
Encouraged by the energy of that immensely productive session, Raj and his bandmates thought it would be fun to challenge themselves to record 100 songs in only 20 days. Following that was a recording frenzy in the vein of Raj's writing process, in which Raj and the 100's; consisting of two members of John Vanderslice's touring band and full time engineers at Tiny Telephone, and Jason Slota from Thao and the Get Down Stay Down, recorded 250 songs, all analog and cut live to tape with minimal overdubs, within the span of a couple months.
And out of that 250 songs, 100 of them formed One of the Oldest Men Who Ever Lived, the first official release by Raj and the 100's.
Some of the songs on One of the Oldest Men Who Ever Lived are as close to the heart as it gets, and some are self confined stories that have no connection to Raj's experiences at all. Bearing a reflection on experiences ranging from loss, longing, separation, growing older, falling in love and rebellion, Raj and the 100's is a project that finds home in the spot between the sonic characteristics of rock 'n' roll and pastoral American folk, with a smattering of psychedelia, driven as much by melody as it is by lyricism.
Described by John Vanderslice as, ''A one in a million songwriter. He's written and recorded hundreds of excellentsongs in the past few years. One of the best lyricists I've heard in a few years'', Raj and the 100's set out to explore a poetic and poignant narrative that lyrically and sonically unfolds throughout the span of one hundred songs, each chipping in their character to form the story behind the project.
Raj and the 100's One of the Oldest Men Who Ever Lived is out now via Cosmic Dreamer. And ever the wanderer and learner, Raj is now in Liverpool getting a master's degree in the study of The Beatles.
The Big Takeover is pleased to present the premiere of a series of 7 videos from songs off of One of the Oldest Men Who Ever Lived . Raj explains the ambitious nature of the video shoot, revealing "This was the culmination of about 50 artists of different talents and abilities getting together to make a short film featuring eight songs from the record. We filmed the whole thing in 4 days and all the videos were done with only one continuous shot, much like the spirit of the 100 song record."
The director, Andy Byers, relates that, "Raj has a deep passion for vinyl and we wanted to incorporate that love into these videos. So the idea came to us that we could potentially create videos that simulated the act of listening to a record. Every video is a single take and the camera is often turning in a circle, acting as the eye of the needle, displaying visually what is cut into the groove of the record."
Byers continues, "Additionally, One of the Oldest Men Who Ever Lived was recorded in a very unique environment. With no prior rehearsal, the band would get the chords for a song and it's basic structure and run once it once, maybe twice and then record it live. On to the next song. This was how 100 songs got recorded in less that a month. I was interested in echoing that sentiment by having no rehearsal and letting things happen organically with everyone involved. We filmed two videos a day and it took everyone there to make that happen. Not rehearsing brings a certain anxiety but it also creates a realm of freedom where there's nothing to compare it to so whatever you get is the best it can be. I feel like the two projects are great companion pieces."