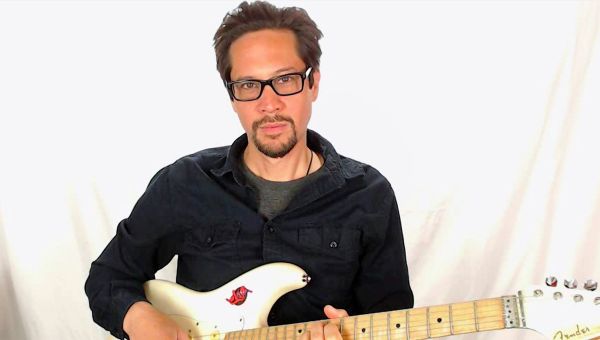 13 June 2018
Fred Abong – Photo courtesy of Fred Abong
One of the coolest things about reading an artist's biography is to learn not only what it is that drives them to do what they do, but also to see where their road has taken them in the past. Today The Big Takeover introduces you to the debut offering – a whole EP – from Fred Abong, who was a member of not one, but two famous groups of Rhode Island-Boston origin – namely Throwing Muses and Belly.
The Homeless EP, comprised of six tracks performed by Abong and recorded in Rhode Island, will be released on June 29th. Immersed in academia for the last eight years or so, Abong was inspired to record this album by friend and former Throwing Muses bandmate Kristin Hersh, who has been releasing solo albums since 1994 (her debut solo album also featured Michael Stipe of R.E.M.).
The track "Rattler" is a real pleasure, showing a distinct connection to Hersh's own music output. Overall this EP is a welcome addition to the collection amassed by lovers of everything related to Throwing Muses and offshoots such as Belly and The Breeders. Acoustic, clear, and generally optimistic, Abong's delivery is genuine and believable. with a nice blend of hues in common with The Replacements, Buffalo Tom, and Nirvana.
"I find the process of songwriting totally mysterious. Beyond a general feeling of 'fullness' that sometimes shows up when I have a guitar in my hand or even when I'm just walking, I couldn't explain where the inspiration comes from, either for a song or anything else that is filed under 'art'. I do, however, get images that are then translated into words or lyrics (hopefully, the 'right' words) as well as into rhythmic melodies," says Abong.
Prior to being in Throwing Muses and Belly, Abong was active as a drummer and bass player in numerous bands centered on the Newport, RI hardcore punk scene, which gave rise to bands like Vicious Circle and Verbal Assault. Partly because of these DIY roots, Abong left the music 'business' after the release of Belly's Star in 1992, choosing instead to quietly and independently pursue his own music.
Since then, he has written dozens of songs, of which only a few have been recorded. Of the songs that he has managed to record, they are primarily demos and often feature Abong playing every instrument.
Abong's music has been described as cross between "ragged Replacements and lyric-driven Bob Dylan," and as "Elliott Smith with balls." Most recently, Abong collaborated with Tanya Donelly, former bandmate in both Throwing Muses and Belly, on the song "Snow Goose and Me" for her 2016 Swan Song series. ABC News dubbed this track "a moody, expressive bit of songwriting that will demand repeat listens."
In addition to his musical interests, Abong also recently completed a Ph.D. in Humanities and, for the past six years, has been working as an adjunct professor in the Religious Studies, Philosophy, and English departments at various universities.
In support of the EP's release, Abong will be touring the UK in mid-June 2018 with Kristin Hersh, opening a string of shows for her. The tour kicks off on June 17 in Bristol at the Redgrave Theatre and wraps up in Britain's south-east on July 1 at the Ramsgate Music Hall.
"Kristin is my kinda people, and always has been. I'm just happy to be able to listen to and watch her play, which is something I haven't had the opportunity to do very much in the intervening years," says Abong.
Fred Abong's album will be released on CD and he will be selling these throughout the UK tour and digitally, it will be exclusive to Bandcamp. Show and ticket info for all shows can be found here.
TOUR DATES
June 17 Bristol – Redgrave Theatre
June 18 London, Cecil Sharp House
June 24 Glasgow, Mackintosh Church (also joined by Beerjacket)
June 25 Halifax, Square Chapel
June 26 Newcastle, Cluny 2 SOLD OUT
June 27 Newcastle, Cluny 2
June 28 Cambridge, Storey's Field Centre
June 29 Ramsgate, Ramsgate Music Hall SOLD OUT
June 30 Brighton, Duke of York's Cinema
July 1 Ramsgate – Ramsgate Music Hall
TRACK LIST
1. Plum
2. Rattler
3. Homeless
4. Hi Avalon
5. Equinox
6. The Cannery
Quick flashback to "Counting Backwards", featured on The Real Ramona album (see a much younger Fred Abong around the 50 second mark):
FRED ABONG
Website
Bandcamp
Twitter
Facebook
comments powered by