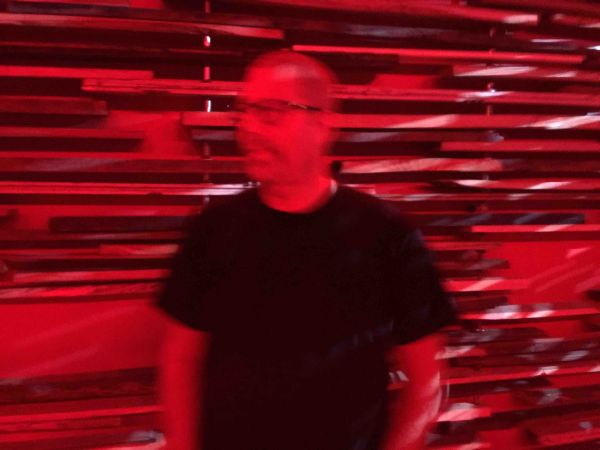 18 September 2017
David Wesley of Existente; Photo Credit: Bernadette Carroll
It was not long ago that The Big Takeover introduced readers to output from the label Arctic Dub (Sursumcorda) , who have just announced the forthcoming release of the new Existente EP, entitled Theta Series EPv1,
This is a collection of ambient drone tracks composed as tools for contemplation and meditation (figuratively and literally). These compositions are based on the principles of sacred geometry and meditative mindspace.
In particular, this Theta Series EPv1 EP sounds as if someone has painstakingly been filtering string signals from the radio waves into threads of melodic ambience, weaving them together in the most pacific blanket with resonant depth well beyond the surface of radio static. This is calming pensive music to help you align your chakras and gather a sense of mind-peace.
Existente is the solo project of David Wesley, a veteran experimental dub techno and ambient producer and DJ from Minneapolis, who is now based in Porto, Portugal. Using production techniques based on the principles of sacred geometry, Wesley's music is captivating, seamlessly exploring evolving soundscapes, iteration and meditation, and seducing the imagination forward into transcendental realms.
"As a huge fan of ambient music, the intention with this EP's production was to convey seamless tranquility within a natural context of evolving field recordings and soundscapes, in order to barely capture and hold the listener's attention while lulling them into a waking somnambulistic state of mind," explains Wesley.
The name of this latest EP is not arbitrary. "The tempos, keys, and tunings of the musical elements have been coordinated to harmonize with alpha and theta brainwave frequency ranges that are correlated with states of relaxed awareness."
Known for his adventurous DJ sets, Wesley performs regularly in Portugal and Europe. He produces under several different names: Dave Wesley (ambient dub techno), Existente (ambient), Xerography (dark cinematic techno), and The Mayhem Lecture Series (experimental and field recordings). He's also teamed up with Casey Borchert under the moniker The Push. As an active DJ and performer, he mixes eclectic deep sets and also performs live space ambient guitar with TV Crush, an experimental and an improvisational chill music ensemble.
Arctic Dub (Sursumcorda) is the sister label to Sursumcorda Recordings. The latter is also a magazine. Sursumcorda is focused on finding and curating cool and interesting music and culture across genres through frequent posts in their online magazine, periodic vinyl compilations and other releases. Arctic Dub (Sursumcorda) releases deep, dark, lo-fi, ambient, cinematic, meditative, and experimental music that germinates from dub techno origins. It also puts out monthly releases, and is becoming known for live streaming events. It has just launched a series of live stream events, called Arctic Dub Continuum Live
Five bonus meditation tools tracks included with purchase of the full release on Bandcamp. These bonus tracks are 20-minute alpha and theta brainwave meditation tracks encoded with isochronic tones for headphone meditation and SpectraStrobe/AudioStrobe encoding for mind machines.This will be released on all the major streaming and download sites and is already available via Bandcamp.
Theta Series EPv1 will be officially released on October 18 and is already available for pre-order via Existente's Bandcamp
TRACKLIST
1. Theta v1 (Repetir)
2. Theta v2 (Repetir)
3. Theta v3 (Repetir)
4. Theta v4 (Repetir)
5. Theta v5 (Repetir)
EXISTENTE / DAVE WESLEY / ARCTIC DUB (SUMSURCORDA)
Sursumcorda
Facebook
SoundCloud
Twitter
Bandcamp
Spotify
iTunes
Resident Advisor
Tumblr
comments powered by