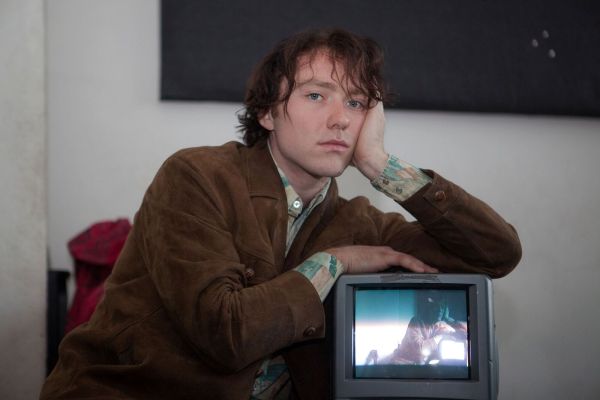 22 March 2018
Nick Rattigan of Current Joys; Photo Credit: Olivia Hemaratanatorn
Current Joys is the enigmatic solo project of 25-year-old Henderson, Nevada-born songwriter Nicholas Rattigan. In addition to his minimal two-piece band with Jacob Rubeck, Surf Curse, Rattigan has been releasing a prolific catalog of heart-wrenching no wave ballads via Bandcamp under a handful of names (including The Nicholas Project and Tele/Visions), eventually choosing Current Joys as the permanent moniker, based on a song by folk-artist Liam the Younger of the same name.
Rattigan's newest release, A Different Age, out now via Danger Collective, documents the process of making art and the desire to create it sincerely in an era fraught with extreme irony, apathy, and nostalgia. Ripe with many of the emotions and conflicts that have influenced Rattigan's songwriting in the past, A Different Age contains some of his most poetic lyrics and thoughtful arrangements to date.
Rattigan started writing the material for A Different Age, his fifth solo album, in 2015, shortly after moving from Reno to New York City. The LP has changed drastically over the past three years as a result of Rattigan's relocations, with each city influencing and altering his work. He discarded and re-recorded various tracks many times over throughout the process. Rattigan's work on the album spans across almost three years, primarily due to the success of his other project Surf Curse who released a new critically acclaimed LP, multiple tape re-issues, and toured across America and Europe since he began making A Different Age.
As with his previous releases, Rattigan made most of A Different Age alone with a single guitar, drums, a loop pedal, and his laptop. After testing out many of the songs for the first time on the road and at sold out DIY shows in each of the cities he's lived in, Rattigan consciously tried to distill the passion and spontaneity of his live performance into his recordings. He chose to leave many of the tracks desolate and sparse in an effort accentuate the emotional nuances of his performance. He also brought in label-mate Robert Tilden of BOYO to help record "Become The Warm Jets" and "A Different Age," before eventually mixing and mastering the album on his own.
Rattigan self-directed the music videos for all the album tracks and the visual album is a window into his nomadic coming-of-age plagued by anxiety and uncertainty, and how finding love, art, and friendship, has helped him through it all. The vibrant, dark tone of the album — along with its visuals — reflects how he's inspired by the works of German new wave director Rainer Werner Fassbinder and the slow burning pace of the Belgian art-house filmmaker Chantel Akerman.
Rattigan has graciously gone into detail about the 10 movies that inspired A Different Age, exclusively for The Big Takeover:
10 Movies that Inspired This Album
In a Year of 13 Moons (Rainer Werner Fassbinder, 1978)
"13 Moons was the first Fassbinder movie I'd had ever seen. I was visiting New York at the time and it was playing at the Metrograph theater. I had never really seen anything like it. While the story alone was enough to shake me up, their was a soul that this movie exuded. It is so melancholic and colorful in a frighteningly beautiful way. After experiencing this movie for the first time I knew it was the exact tone that I wanted to pull off for the album. I had demos of a lot of songs that I reworked to fit this haunting, sorrowful mood."
Fox and his Friends (Rainer Werner Fassbinde,r 1975)
Bitter Tears of Petra Van Kant (Rainer Werner Fassbinder, 1972)
"After 13 Moons I was obsessed with Fassbinder and spent the following months trying to watch all of his extensive catalog. The ones that stood out to me most were Fox and His Friends and Bitter Tears of Petra Van Kant. They both explore these complex and fatally doomed relationships. Maybe the relationships themselves weren't so complex, but the emotions their tragic heroes experienced were. I was going through a breakup at the time and of course I could relate extensively to both. I've never seen movies so accurately capture the brutality of heartbreak. The symbol of Fox, this extremely sensitive but masculine carnival worker, seeped a lot into the character of this album. Which matched up with the texture and decadence of Petra's lush apartment."
Jeanne Dielman, 23, Quai du Commerce,1080 Bruxelles (Chantal Akerman, 1975)
Je, Tu, Il, Elle (Chantal Akerman, 1974)
"Bitter Tears is a good transition into my obsession with Chantal Akerman. Jeanne Dielman and Je, Tu, Il, Elle both introduced me a new timing in cinema. I even stole one of the exact shots from Je, Tu, Il, Elle for my video for "No Words", and the "Fear" video is based on Akerman's short film Le Chambre. In her films, the camera always holds on shots for an almost uncomfortable amount of time to communicate Chantel's own version of time. There is a presence that is felt with every moment, from the small minute details of the set dressing to the slightest movement of the actors. Once you surrender yourself to the pace of it all, these films really start to wash over you. Akerman inspired me to slow things down a bit and play with the timing of this record. There is a level of patience that you need to listen and its definitely something you have to get a feel for, but once you commit the experience is more rewarding."
Alice in the Cities (Wim Wenders, 1974)
Kings of the Road (Wim Wenders, 1976)
Alabama 2000 Light Years Away (Wim Wenders, 1969)
"I was introduced to Wenders through Wings of Desire and Paris, Texas, two films that were very influential in writing my last album Me Oh My Mirror. In my last month living in New York the IFC center was holding a Wenders retrospective. I went to almost every single screening I could and became more familiar with a lot of Wenders' earlier work. These films specifically explore the journey across foreign lands as well as within ourselves. Getting outside of one's own comfort zone physically and spiritually. They are truly magical and create a sense of wonder for being on the road. Being a musician, a lot of my life is met with uncertainty and there can either be a lot of discomfort or serenity in that feeling of the unknown. These themes are incorporated into a good portion of this record and all of my music."
My Nights Are More Beautiful Than Your Days (Andrzej Zulawski, 1989)
"You'll never see anything like a Zulawski movie. Its is such a spiritual experience. After seeing Possession I've tried to see all of his movies, but even in the age of the internet they are really hard to come by. The one that caught my attention the most was My Nights are More Beautiful Than Your Days. I couldn't find an actual copy of it so I ended up just watching the whole movie on Youtube with Russian subtitles (the movie is in French). So I didn't actually understand any of the conversations, but Zulawski's visuals are so powerful it didn't really matter to me what they were saying. I remember watching this movie and the song of the same title from the record just started to pour out of me. It had been so long since I've written a song like that in under two hours."
The Last Picture Show (Peter Bogdanovich, 1971)
"Last Picture Show is a beautiful film by Peter Bogdonovich about a small town in West Texas. It delves into the depths of the American mythology and explores the decline of its values and sentiments. There is one particular scene where one of the older town residents, Sam, is talking to two younger boys about his life, loves and his history in the town. This monologue was the inspiration for the song "Way Out Here", where I pictured myself as a young Sam looking for that simple life in West Texas. Where really all the chaos and tragic events that life bring are really what eventually just become the ordinary."
Current Joys kicked off a headlining North American tour on March 9th in Los Angeles, which includes performances at SXSW and NSFWknd, and an NYC release show at Park Church Co-Op on April 9th.
Current Joys Tour Dates:
w/ Porches, Public Access TV
w/ Andrew W.K., Zola Jesus, Titus Andronicus, Nnamdi Ogbonnaya and more
03/22 – Boise, ID – Treefort Festival #
03/24 – Seattle, WA – Chop Suey
03/25 – Portland, OR – Holocene
03/27 – Arcata, CA – Outer Space
03/28 – Reno, NV – Holland Project
03/29 – Sacramento, CA – Sol Collective
03/30 – San Francisco, CA – The Chapel
03/31 – Santa Ana, CA – Constellation Room at the Observatory
04/03 – Chicago, IL – Schubas
04/04 – Iowa City, IA – Mission Creek Festival
04/06 – Cleveland, OH – Mahall's Locker Room
04/07 – Baltimore, MD – Ottobar Upstairs
04/08 – Philadelphia, PA – PhilaMoCA
04/09 – Brooklyn, NY – Park Church Co Op
04/12 – Montreal, QC – Casa del Popolo
04/13 – Toronto, ON – Smiling Buddha
04/14 – Lansing, MI – Mac's
View a sampling of A Different Age's video series below:
Current Joys on the web:
Faceook
Bandcamp
Twitter
Instagram
Danger Collective on the web:
Website
Twitter
comments powered by