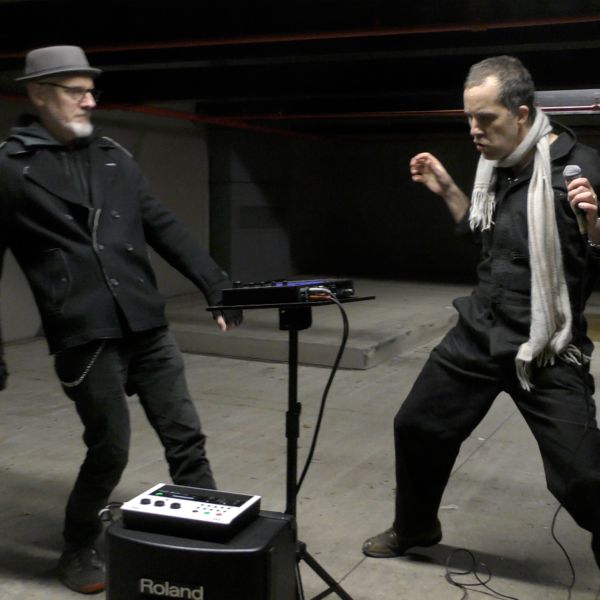 22 March 2018
This Wilderness; Photo courtesy of This Wilderness
Sorry About Tomorrow is the debut album from NY/NJ-based electro-punk duo This Wilderness. The LP was recorded at Upper Studio in New Jersey and produced by the band's main instrumentalist, Jim Coleman of Cop Shoot Cop renown. Sorry About Tomorrow is being released May 4 by the Wax & Wane label.
This Wilderness' first recorded effort grapples not only with angst and lost hopes, but also the fearless effort to live on in these times of political, personal, and social disillusionment. Deep grooves, seductive melodies and unnerving lyrics speak of identity, loss, celebration, fear, and the absurdity of existence. This Wilderness is a thrilling and vital expression that feels completely personal and intensely universal.
Singer Robert O. Leaver's soulful, feral vocals and compelling physical approach to each song work in tandem with Coleman's full spectrum of uncompromising, genre defying sonic mischief. They were joined in the studio by Coleman's former band mate Phil Puleo who recently completed a seven-year stint in Swans.
Since forming, This Wilderness has had audiences riveted by their live shows in and around NYC for the past couple of years. It is an unforgettable experience merging old New York punk, folk, and industrial realism – catapulting the audience into a disturbance of hilarity and personal reckoning.
The Big Takeover premieres "Drop Dead", a trippy new track from the act that revels in a staggering rhythm, sly groove, lo-fi instrumentation, unadorned vocals, and cheeky lyrics. Take a listen below:
Website
Facebook
Jim Coleman Website
Robert O. Leaver Website