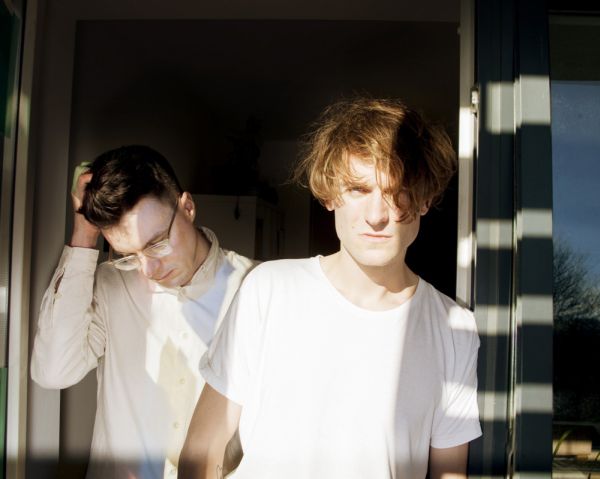 6 September 2017
The Cymbals; Photo Credit: Emily Graham-lores
Dan Simons, one half of the UK-based duo Cymbals, has given The Big Takeover an exclusive playlist of songs that inspired their latest album Light In Your Mind, out since August 25th on Tough Love. The album from Simons and his bandmate Jack Cleverly is the first new material in two years, and follows a series of seismic changes and personal challenges; failing relationships, betrayal, addiction, and illness.
Since its inception, Cymbals' line-up has been subject to a great deal of change, with the exception of Simons and Cleverly. They formed the band in 2011 and at various points over the last six years and across three albums, an EP and single, a rotating cast of at least ten other people have been part of some version of Cymbals. It wasn't until everything else was stripped away and all others had left that the two finally began to be what they first tried to be.
Cleverly confides, "When the band cut down to just me and Dan, and we stopped trying to find more people, I remember that it was scary at the time, and we didn't know if we would keep going. We agreed to a few rehearsals together and see where it went. We had a great surprise: it felt great, the writing was easy. It was if together we gave up trying to be anything other than what we are. We cut any bullshit between the two of us and talked honestly about the last few years. We found that when we started writing together, we were going faster towards the feeling that had given rise to Cymbals in the first place."
Others still contributed to Light In Your Mind – Justin Goings and Josh Hefferman both provide drums, while Alabaster DePlume plays saxophone on "Fully Automated Luxury." Producer Kristian Robinson (Capitol K) is a major presence across the album and played a key role in guiding the transition from the band's sound on their previous record to this one (indeed, this was the first time the band spent any significant time in a studio). Jorge Elbrecht mixed the record in Miami, adding those elusive final touches that make it Cymbals' best album to date.
Take a listen to the songs that sparked the duo's new album, along with a detailed description from Simons of their import, as well as a fresh track from Cymbals, "Where Nothing Can Be Defined."
Prince – "Possessed"
"As with a lot of Prince songs, I love how spare the arrangement is, with elements that probably shouldn't work together but somehow combine into something ridiculously fun."
Arthur Russell – "Let's Go Swimming" (Gulf Stream Dub)
"There are some strings on our new album that are influenced by how Arthur Russell played cello. The rhythms on this mix are pretty great. I also like swimming a lot, so I can relate to the sentiment."
Tony Allen and Africa 70 – "Afro Disco Beat"
"I heard this on the radio very recently, and don't know much about it. I love the minimalism of how it builds up riffs that stay pretty much the same for nearly 12 minutes. I hope to dance to it in a bar some day."
Matthew Dear – "Slowdance"
"Jack and I are both fans of Matthew Dear. There's a lot of depth to his production, with rhythms built out of distorted, organic samples, layered with analog synths and vocals."
Kaitlyn Aurelia Smith – "First Flight"
"I'm very jealous of the Buchla synth Smith uses, and she produces the most beautiful arpeggios with it. The way she blends woodwind in is great too- we've experimented a little with a clarinet sample on "I Thought I Knew You" and a sax on "Fully Automated Luxury"."
Luke Abbott – "Soft Attacks"
"I love the warm but woozy synths on this track. When the beat kicks in, it reminds me a little of Charanjit Singh 's ragas."
The Future Sound Of London – "Max"
"As a kid I loved Dead Cities, the album this track is from. I picked it up recently for the first time in a long time, so it feels really nostalgic. This track reminds me a little of Cocteau Twins in their more impressionistic moments, and maybe Oneohtrix Point Never too."
Jean-Michel Jarre – "Souvenir De Chine"
"This is another nostalgic choice as I listened to the Houston/Lyon live album a lot when I was small. It's hard to imagine an electronic act now getting away with turning a whole city into a laser show with projections on skyscrapers, and a benediction from the Pope."
Gold Panda – "Same Dream China"
"I love the combination of evocative samples alongside dancefloor rhythms and intricate, pretty synth patterns."
OMD – "Sealand"
"I always like to end playlists on a downer. Architecture And Morality and Dazzle Ships are both such great albums, and I love the purity and plaintiveness of this song."
​

Official Site
Facebook
Twitter
Instagram
comments powered by