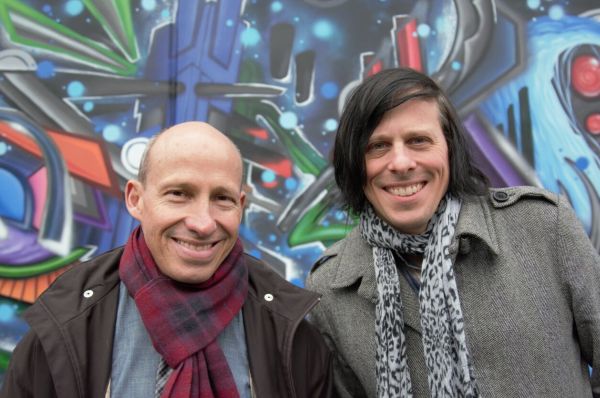 13 July 2017
Mike Lucero and Ken Stringfellow of FM Collective; Photo Credit: Andy Pomidor
FM Collective is an ongoing creative collaboration of musicians led by producer/songwriter Mike Lucero, featuring artists and members from bands including the Posies, Hey Marseilles, Cataldo, Fences, Heart, Portugal the Man, and Macklemore. Damn, that's a lot of talent working together!
The "Friends of Mike" Collective was founded in 2013, when Lucero took a sabbatical from his job where he launched ground-breaking video game and video products for Xbox. The Collective launched a full-length album in the fall of 2014. Through the musical journey, Ken Stringfellow (Posies, R.E.M., Big Star) turned out to help Lucero and the others reach an apex of great song and sound both in terms of his studio contributions and in live performance.
Stringfellow and Lucero met through a mutual friend (who also worked at Xbox) and had previously worked for a local TV station during the "grunge" era, having produced TV interviews with the likes of Nirvana and Soundgarden. Stringfellow and Lucero found a creative alchemy and ability to collaborate across the Atlantic (Stringfellow resides in Paris), tossing back and forth ideas until they were ready to enter the studio. Their single "The One that Matters" was a powerful song and was featured on radio and supported by several shows in the Northwest.
Stringfellow and Lucero's latest single continues to delve into serious subject matter. "The Abyss" is a song about making important choices, and was inspired by Lucero's investigation into what caused people to be radicalized. He learned much of it had to do with belonging and feeling part of a group, a community, or a family.
The song uses the metaphor of a river to express how people make life choices that become more and more inevitable as they take the plunge into the depths of belief and belonging. The concept is universal and transcends more broadly than jihadism, identifying a fundamental human trait that Stringfellow and Lucero powerfully evoke in this song; everyone has their own Abyss.
Lucero has been able to create the track with some of Seattle's greatest musical talent with Stringfellow working the song up from rough demos to its current state. Stringfellow also produced and mixed the single, with creative assistance from Colin Richie (Hey Marseiles, Cataldo, Cloud Nothings). Andrew Joslyn (Macklemore, Passengers, Budo) provided a powerful set of strings. Jonathan Warman (Fences, Kris Orlowski, Silver Torches) was one of the original creative partners, and provided bass and many other creative elements. The tracking for the single was done at the legendary Avast Studios, home of so many Pacific NorthWest-spawned hits.
It is worth noting that all of the proceeds from music sales and performances have been donated to GRAMMY'S MusiCares. To date, FM Collective has raised awareness through radio and TV, and over $5K on behalf of MusiCares which is the safety net for musicians, no matter how big or small they are. Hundreds of local and national artists have benefited, and oftentimes been saved by MusiCares.
FM Collective's mission for MusiCares
comments powered by