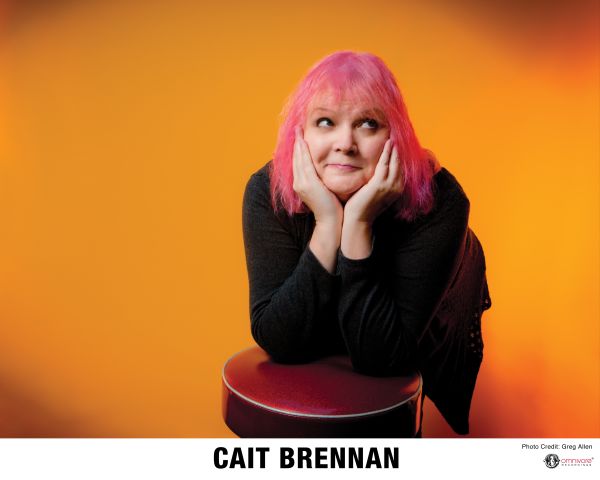 20 March 2017
Cait Brennan; Photo Credit: Greg Allen
One of the most inspiring underdog stories in modern indie rock/power pop writes an exciting new chapter. Singer-songwriter Cait Brennan's raucous and joyful second album Third, a glam and soul-infused power-pop breakthrough, bows April 21st via Omnivore Recordings.
Recorded at Memphis' legendary Ardent Studios, in the same room and on much of the same equipment as the Big Star albums made there, Third (cheekily named after Big Star's shambolic, storied swan song) finds Brennan and longtime collaborator Fernando Perdomo inspired by the Memphis legends while forging their way through glam, soul, rock, and power-pop territories.
Take "Benedict Cumberbatch," which premieres here. It blends punk attitude with glam/rock guitars 'n' drums, and pop melodics to catchy and enthusiastic effect. On the song, Brennan gives an unworthy ex the kiss-off by focusing on the titular British heartthrob and Doctor Strange star instead.
Brennan explains, ""Benedict Cumberbatch" came out of a really painful split with someone I'd been close to for a long time. I started to write a song about that person, really angry and hurt, going all Alanis vs Dave Coulier on it, and a friend of mine heard it and said "this guy sounds like a nightmare—do people like that really deserve songs?""
Brennan continues,"I laughed and said no, no they do not. Later that night I went to see Doctor Strange and the rest is history. Benedict Cumberbatch is adorable and his name has a kind of staccato perfection."
Debut long-player, 2016's Debutante, was one of the year's most unexpected treats and it landed on multiple year-end best-of lists including the Village Voice's Pazz & Jop Poll, Goldmine, and Popdose. The album was also championed by radio presenters including WFMU's Evan "Funk" Davies and SiriusXM's Larry Flick.
Third makes good on all the promise of the debut, and then some. The LP produced and performed entirely by Brennan and Perdomo, whose musical credits include everything from Emitt Rhodes' Rainbow Ends to working with Jakob Dylan, Beck, Fiona Apple, and Regina Spektor. The album also features guest appearances by Van Duran and Robert Maché.
The journey to Ardent and Memphis was a long one. Brennan, who is transgender, came out as a teenager and began writing songs and performing while still in high school in Arizona. After experiencing multiple setbacks and anti-trans violence, she gave up performing music entirely, enduring and overcoming a string of personal tragedies.
Encouraged by friends, she reluctantly returned to music performance in 2012 to significant early acclaim. Brennan, however, sustained what became a life-threatening injury and endured a lengthy hospitalization and recovery.
Eventually Brennan made it to Memphis and Ardent Studios with Perdomo, making extensive use of perhaps the two most storied pieces of gear in the Ardent inventory – Alex Chilton's fabled Mellotron and Chris Bell's cherry red Gibson 330, both maintained under Adam Hill's loving stewardship.
Brennan was born in Phoenix, but has family roots in Memphis and the mid-South that go back generations. The influence of Memphis music is unmistakable. But beneath all the spirited glam, power-pop, and soul on Third, there is also a palpable undercurrent of uncertainty and unrest about life in 2017. The past couple of years have not been an easy road regarding the political and cultural atmosphere, but Brennan is a shining example of the underdog who survives and thrives – and ends up victorious.
Official Site
Facebook
Twitter
Bandcamp
comments powered by