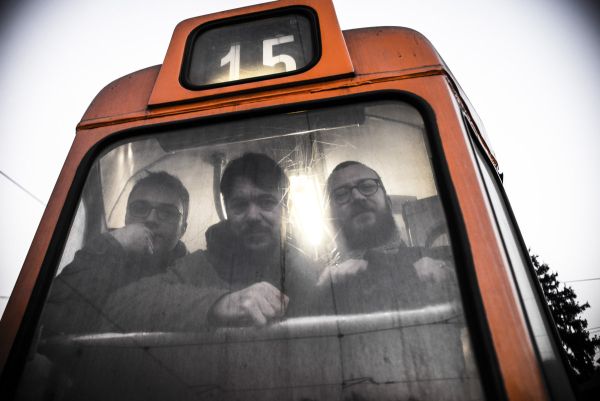 28 February 2017
Someday; Photo Credit:Stefano Guidi
For a country that's so geographically small and is more associated with its fine arts and famous cuisine than the music it produces, Italy seems to really be churning out a lot of great music lately, particularly in regards to the shoegaze, New Wave, and alternative/indie rock genres. Bands that immediately come to mind include Stella Diana, Schonwald, Novanta, Be Forest, Rev Rev Rev, Weird, A Copy For Collapse, Brothers in Law, Human Colonies, Electric Floor, and the list goes on…
Today, The Big Takeover presents the premiere of "Clean Couch" by Someday, lifted from their 10-track debut LP This Doesn't Exist. The album was just released digitally via Seahorse Recordings, and will be available on CD soon. It is the opening track on the album and a nice welcome to what may end up being your new favorite Italian band. Someday present a fine blend of Italian classicism, music genre balancing, and an engaging delivery with incredible hooks.
Now based in Turin (Torino), this trio is comprised of Daniele Bianco, Michele Fierro, and Fabio Digitali. They are influenced by bands like Sparklehorse, The Smiths, Joy Division, Placebo, Sonic Youth,and The Cure. The piano usage on "Clean Couch" is very endearing, particularly evoking the more exciting moments from the album In Continuo Movimento by fellow Italians Tiromancino.
This Doesn't Exist is Someday's debut album and it balances essential elements that can be found in bands like early Tokyo Police Club, Foals, and Placebo. Frontman Daniele Bianco explains, "As usually happens with bands, the first album is a both a starting point and a goal… I hope it's only the beginning because we have a lot of other stories to tell, and some of them are ready for the telling."
Someday bassist Michele Fierro continues, "We are very happy because it is like we always wanted it to be. Every song has its particular feeling and it sounds like we imagined. We can't wait to play it live."
Aptly titled This Doesn't Exist, the lyrics from this album speak about what no longer exists, never existed, and will never exist. Lead tracks "Last Lesson" and "Clean Couch" are about people or animals that have gone to a better place. "Little Choices" cites the fact that we have no more achievable choices. "Shelters and Picture" note places that are no longer reachable. "Jokes" explores imaginary lives built on a lie, while "Maurizio" tells of lives that have lost something very important. "Forgotten" reveals certainties that end up being nothing but obvious illusions.
We also invite you to enjoy their latest video for "Last Lesson", directed by Nicolo Roccatello, and stream the entire LP, which has just been made public.
Facebook
Bandcamp
Twitter
SoundCloud
Instagram
YouTube
comments powered by