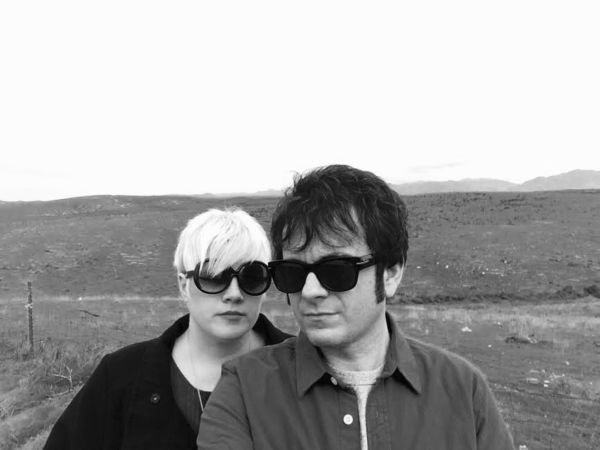 27 February 2017
Fawns of Love: (L-R): Jenny Andreotti. Joseph Andreotti. Photo credit: Joseph Andreotti
There is obsessive joy in the Fawns of Love's take on shoegaze. That said, there is also self-reflection that contributes to taking the band's songs to the next level, especially on the autobiographical single "That's What We Do," which contains the lyric, "Let's drink and drink some more, We'll burn this place down to the floor."
Jenny Andreotti, who together with her husband, Joseph Andreotti, comprises the Bakersfield, California-based ethereal noise duo, is candid about the personal song, explaining, "I have never had a lot of friends, I've had a lot of acquaintances. However, during the past few years I have made some dear friends that I have fallen completely in love with. We get drunk on the weekends, get loud, and have a fantastic time together to the detriment of absolutely everyone around us."
As for the music video for the track, Jenny explains that it is, "similar to *Kate Bush'*s video for "The Red Shoes", incorporating alternate realities, dance, temptation, and the theme of transformation." The band's name is a take on Bush's Hounds of Love, one of the Andreotti's favorite albums.
"We were delighted that Virgil Pink agreed to create another music video for us," says Joseph of the clip's director. "Even though we work with him from a great distance it's as if we are operating from the same mind."
Joseph also has a take on the theme of overcoming alienation in the song, saying, "It's a tribute to a city that is notorious for being on every "worst of" list – worst air pollution, least literate, most DUIs – and making the best of it, finding a little oasis of friends, going out on the weekends, and forgetting about your problems."
In fact, the entire record is a little oasis itself. Pondering love, and love lost in the many forms it takes, Who Cares About Tomorrow, the debut album from Fawns of Love arrives March 3rd and does the diva that inspired the band's name, and all of the notable influences heard throughout, quite proud.
Official Site
Facebook
Twitter
Instagram
Bandcamp
SoundCloud