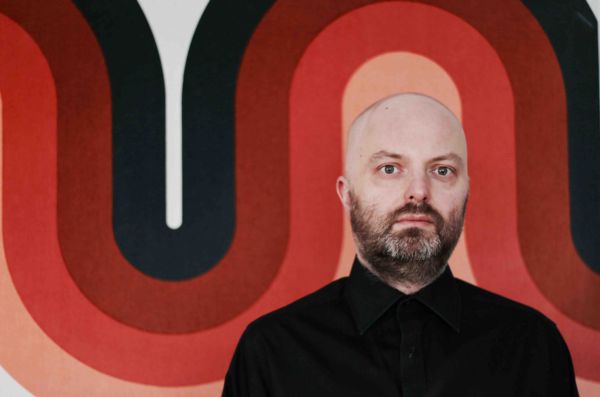 27 February 2018
Rodney Cromwell; Photo Credit: Gid Cromwell
It's impossible to keep an active eye on all the bands you enjoy, so when you receive word that one of your fave synthpop artists is coming out with a new single, you pay attention. We introduced readers to London-based artist Rodney Cromwell a few years back when we premiered a remix Stereolab's Morgane Lhote had done of his track "Fax Message Breakup" under the moniker Hologram Teen
Now British indietronica artist Rodney Cromwell (a.k.a. Adam Cresswell) returns with his first all new material in three years with the song "Comrades" and a smashing one it is. This is a surefire banger way to announce his forthcoming EP, cleverly named Rodney's English Disco. Set for release via London-based Happy Robots Records, which is also home to the likes of Hologram Teen and Pattern Language, both of whom we've previously featured as well.
Flashback to his debut album Age of Anxiety: this one explored such things as nuclear war and the artist's own personal demons. In contract, his new material metamorphosed over lengthy and justifiable brooding over the current social and political state of affairs we see in the world today.
The EP's lead track "Comrade" is a robotic turbocharged rebel song that calls to mind such artists as Kraftwerk, Visage and OMD set against that awesome disco feel of Lips Inc.'s "I Feel Love". A definite winner in terms of tech-driven dancefloor fever.
The digital single also features a 12" extended dance mix by synthwave act Vieon. Conceived in 2009 in a box room in Coventry, Vieon is the brainchild of synth wizard Matt Wild. Influenced by pioneers such as Jean-Michel Jarre and filtered through the soundscapes of 80s electronic film scores, Vieon blend the sounds of the analogue past and dystopian future with synth hooks and epic solos to create evolving, emotive, spacey electronic music.
Cromwell's sound has been compared to the analogue electronica of Kraftwerk, Section 25 and the 'retro futurists' of Ghostbox Records. His miserablism and dark humor has been compared to that of The Cure and John Grant.
Rodney Cromwell's evocative synthpop looks to the proto-electronica of the 70's and 80's to construct a twisted soundtrack for the post-truth world. The instrumentation of the new EP has been kept intentionally minimal with its drum sounds taken entirely from a vintage Boss DR-55 drum machine and with a self-imposed limit on the amount of hissy analogue gear used in its making. Melody and dark humour combine with simple Motorik rhythms, soaring bass lines and the bleeps of retro synths, all within a lo-fi pop aesthetic.
Rodney Cromwell's debut album and subsequent Black Dog and Fax Message Breakup EPs found crossover appeal, gaining Cromwell coverage from the likes of NME, Electronic Sound Mag, Huffington Post and Steve Lamacq and Gideon Coe on BBC 6 Music and on Spain's national RNE3. At the end of 2015, Rodney Cromwell featured in 25 'Best of' lists and was named 'Most Promising New Act' by The Electricity Club. 'Barry Was an Arms Dealer' featured in the 2015 Official Festive 50 on Dandelion Radio. He has performed with the likes of Marsheaux, Death & Vanilla and Steve Davis and at various festivals, including Threshold, Indietracks and Madrid Popfest.
The forthcoming Rodney's English Disco EP will be released on red vinyl 7", on CD and digitally. The twelfth release on Happy Robots Records, it features remixes by Rémi Parson, Vieon, Pattern Language and Alice Hubble (Arthur & Martha, Mass Datura). The sleeve photo came from Latvian photographer Jelena Osmolovska, whose distinctive gritty post-Soviet fantasy aesthetic perfectly compliments the sound of the record.
Rodney Cromwell will launch the first leg of the Ohm from Ohm tour and will be joined by Vieon, Nature of Wires, and The Frixion for dates in visiting Birmingham, Salford and Leeds. Find out more and order tickets and check out other live dates below.
TOUR DATES
March 15 Birmingham – The Actress & Bishop
March 16 Leeds – The Fenton
March 17 Salford – The Eagle Inn
May 10 London – The Islington
May 11 Coventry – The Tin Music & Arts
May 12 Southend – The Railway Hotel
We also recommend you catch up with some of his earlier brilliance, which certainly shines through on these tracks:
Keep up with Rodney Cromwell
Happy Robots
Facebook
Twitter
Bandcamp
iTunes
Spotify
Amazing Tunes
Keep up with Happy Robots Records
Happy Robots Records
Facebook
Twitter
SoundCloud
YouTube
Bandcamp
comments powered by