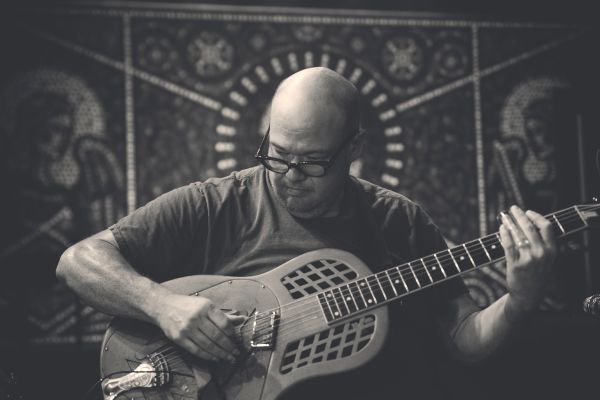 16 January 2017
Mark Porkchop Holder; Photo Credit: Bill Johnson
Guitarist, singer, harmonica player, and songwriter Mark Porkchop Holder is a founding member of the seminal Tennessee punk-rock/blues band The Black Diamond Heavies (with John Wesley Myers, aka James Leg, and Van Campbell of the band King Mud).
Holder plays the blues, and his music is the sound of the truth. He has traveled around the world and the U.S., and played at festivals, clubs, in the streets, at churches, in public toilets, army surplus stores, and in a mental hospital or two. After more than a decade of struggling with depression and addiction, he has finally come back home to Chattanooga, Tennessee and assembled a first-rate power trio.
His debut solo studio effort Let It Slide is a blistering blues album that marries both modern and traditional. Let It Slide has been described by the Chattanooga Pulse as "Boogie, sans bullsh*t. Dirty roadhouse music. Juke Joint jamming. Swamp rock. Too rock for blues, too blues for rock, the music is hungry, hard and mean."
Holder comments on his song that The Big Takeover is premiering today, ''Disappearing" is cribbed from Hamlet. "To be or not to be, that is the question." Sitting in a hospital bed, waiting for a visitor who isn't coming, it can become the only question. I'm grateful to be where I am, these days."
Mark Porkchop Holder's Let It Slide will be available February 10th on limited edition starburst vinyl, CD, and digital formats via Alive Naturalsound Records.
Link to pre-order Let It Slide limited edition starburst vinyl.