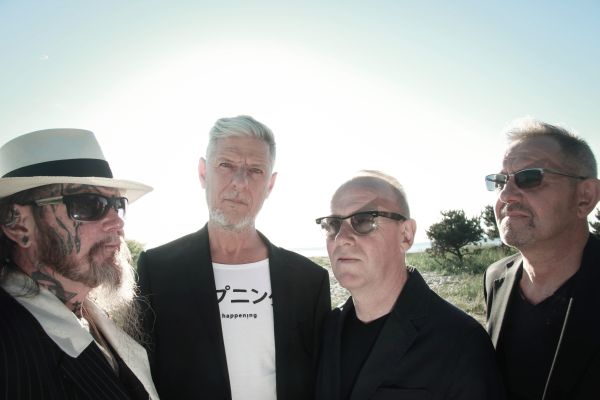 16 January 2017
Modern English; Photo Credit: Mike Hipple
The Big Takeover is proud to premiere "Sweet Revenge" from British post-punk innovators Modern English. This is the second single taken from the band's first new album in three decades, Take Me To The Trees, which will be released February 24th via Kartel Music Group.
This album not only reconnects the band (vocalist Robbie Grey; bassist Mick Conroy; guitarist Gary McDowell; and keyboardist Steven Walker) to their roots, in the fervent and fecund world of late 1970s/early 1980s post-punk Britain, but they have co-produced it with Martyn Young of Colourbox and M/A/R/R/S fame, whose last production job was 1986. In addition, the album's beautiful cover is by venerated art director Vaughan Oliver, whose very first sleeve design was Modern English's "Gathering Dust" single in 1980.
Grey, Conroy, McDowell, and Walker first reunited in 2010, to tour the US, UK, and Paris, before accepting an invitation to re-record their 1984 smash single "I Melt With You" for Mark Pellington's film of the same name. They hadn't seen each other in over twenty years, until they all started rehearsing for the tour. After the tour, they started swapping new ideas, "Some from jamming in a room, like we used to do," says Grey. "We looked at each other, just laughing. It was amazing."
"'Sweet Revenge', Grey says, "Is a song of modern desperation and lost love. It's a return for Modern English to our early angular guitar work and in your face lyrics. The bass moves and won't be pinned down as it weaves .The space age keyboards fly around like stars. I'm looking for Sweet Revenge. The cry of someone looking to blame the world."
Following their successful "Mesh and Lace" US tour in May/June 2016, the "Take Me To The Trees Tour" kicks off with Modern English's first ever appearance at SXSW with special shows on March 14-16, and concludes in Toronto on April 16.
"TAKE ME TO THE TREES" NORTH AMERICAN TOUR 2017
MARCH 14-16 – AUSTIN, TX – SXSW
MARCH 19 – TUSCON, AZ – REALTO THEATER
MARCH 21 – PHOENIX, AZ – VALLEY BAR
MARCH 22 – SAN DIEGO, CA – THE CASBAH
MARCH 23 – LOS ANGELES, CA – THE REGENT
MARCH 24 – OAKLAND, CA – OAKLAND METRO OPERAHOUSE
MARCH 27 – PORTLAND, OR – STAR THEATRE
MARCH 28 – SEATTLE, WA – NEUMOS
MARCH 30 – SALT LAKE CITY, UT – URBAN LOUNGE
MARCH 31 – DENVER, CO – LARIMER LOUNGE
APRIL 2 – KANSAS CITY, MO – recordBar
APRIL 3 – ST. LOUIS, MO – OFF BROADWAY
APRIL 5 – ST. PAUL, MN – TURF CLUB
APRIL 6 – CHICAGO, IL – EMPTY BOTTLE
APRIL 7 – FERNDALE, MI – THE LOVING TOUCH
APRIL 8 – PITTSBURGH, PA – REX THEATRE
APRIL 10 – WASHINGTON, DC – ROCK N ROLL HOTEL
APRIL 11 – PHILADELPHIA, PA – JOHNNY BRENDA'S
APRIL 13 – BOSTON, MA – BRIGHTON MUSIC HALL
APRIL 14 – BROOKLYN, NY – ROUGH TRADE
APRIL 16 – TORONTO, ON – ADELAIDE HALL