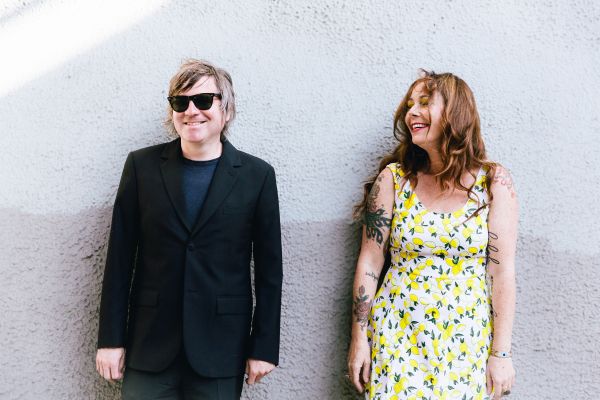 16 January 2018
Dream System 8 (L-R): David Klotz, Erica Elektra. Photo credit: Polly Antonia Barrowman
Dream System 8 is a newly-formed, synth-based pop duo out of Los Angeles that combines the talents of veteran musicians Erica Elektra and David Klotz. The vintage instruments used on the band's debut album, We Sleep Again, (due February 23rd via Minty Fresh) are veterans, too, and include a large assortment of Rolands, Korgs, and Yamahas.
Not only is the musical partnership of the humans in Dream System 8 new, so is the relationship to the band's large collection of keys. Klotz, whose day job has earned him numerous Emmy awards as the Music Editor of television shows such as Stranger Things, Game of Thrones, and American Horror Story, among others, started acquiring the gear in 2015.
"I was inspired when I started working on Stranger Things in 2015 and first heard the score," Klotz recalls. "I loved the sounds that the show's composers created with synths. It was unlike anything I'd heard before in the world of film scoring."
One of two totally instrumental tracks on the band's debut is "Heather Runs The Marathon," about which Klotz comments, "About half way through the recording sessions for our album, Erica and I wrote a few instrumental tracks for fun. We wanted to just play around and try something outside of the constructs of the pop songs we were making. It was a creative break to not think about pop song structures."
He continues, "We are also fans of synth soundtracks from the 1980s. Composers like John Carpenter, Tangerine Dream, Giorgio Moroder, and Vangelis were inspiring, so we approached writing these instrumental tracks as lost score cues from early 80's films. There's a whole 'synthwave' genre now that leans heavily towards 80s science fiction and horror, but we wanted to go in the other direction — more Chariots of Fire and less Escape From New York."
"So, we imagined a fictional soundtrack album for a film about two sisters (Heather and Jennifer) competing to qualify for the 1984 Los Angeles Olympics. It would be a low-budget 35mm drama full of love, heartbreak, and disappointment, and our score cue 'Heather Runs The Marathon' follows one of our protagonists through a training sequence montage, perhaps ending with our heroine ready to take on the world, or maybe she falls flat and totally fails!", Klotz reveals.
Website
Facebook
Twitter
Instagram
SoundCloud