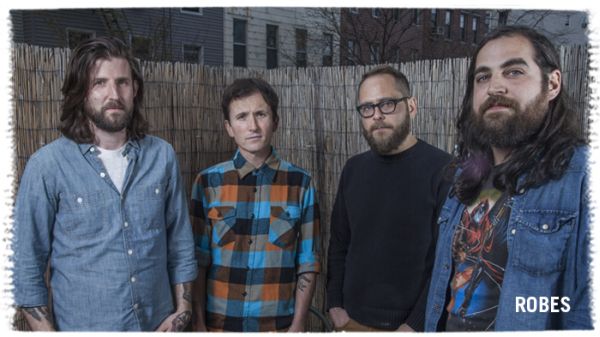 9 March 2017
ROBES; Photo Credit: Nathaniel Shannon
ROBES is a four-piece band bringing their brand of classic rock-inspired, post punk-infused, D.I.Y. hardcore-educated, psychedelia to Earth by way of Brooklyn, New York. Guitar player/vocalist Drew DeMaio, bassist/vocalist Dave Diem, drummer Jeff Gensterblum, and vocalist/guitar player Peter Bartsocas have been contributors to such acts as Floor", *Twelve Hour Turn, As Friends Rust, Small Brown Bike, and others.
Tired of composing songs on their computers, DeMaio and Diem decided it was time again to plug in. Enlisting the talents of their old friends Bartsocas and Gensterblum, the four began to collaborate and refine the songs Diem and DeMaio had been developing. The full force of Robes was finally realized.
Following their first 7" release, Unholy Moon, the quartet once again got together with the legendary J. Robbins to work on their debut full length.
ROBES has a summer tour in the works to support their new album, Indecline, which comes out March 17th via Bakery Outlet Records.
The Big Takeover premieres the second single off the album, "Lay Low", a classic rock-inspired, post-hardcore number that lays down thick but melodic guitar lines, emphatic drum strikes, cymbals scintillation, and unvarnished, heartfelt vocals.
comments powered by