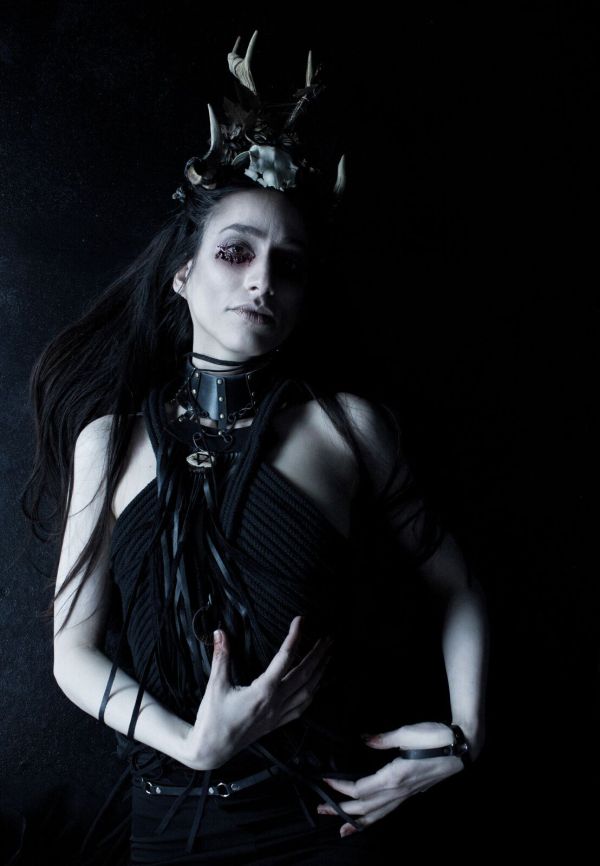 8 March 2017
Lynette Cerezo of Bestial Mouths; Photo Credit: András G. Varga
Darkwave band Bestial Mouths is charged by the fiery power of singer Lynette Cerezo whose deep wails and feral shrieks bring to mind both post-punk heroine Siouxsie Sioux and the avant-garde artistry of Diamanda Galas. Bestial Mouths incorporates classic goth and industrial with minimal synth-pop and other genres to riveting effect on its music.
The band's third studio album, Heartless, was produced by Jürgen Engler of the legendary German industrial band Die Krupps, The LP was released in 2016 and continues to receive excellent reviews. Bestial Mouths' experiments with its music and with other art forms, wanting the listener and audience to feel, enticing them to think and to experience all possible musical realms that reflect the past, present and the future.
Cerezo, who has previously followed a career in fashion design, is involved in political activism for gender equality. Bestial Mouths' current line-up solidified in 2016 during a 20-date European tour and now includes Brant Showers (∆Aimon / SØLVE) on electronic and live percussion and Eddie O on electronics and video.
2017 is shaping up as an exciting year for Bestial Mouths. A new remix EP titled (Still) Heartless is set for release on March 15th via Cleopatra Records. It coincides with the band members' first North American tour in over two years.
(Still) Heartless features reinterpretations by a diverse group of artists that includes Zanias (of *Linea Aspera) and former Atari Teenage Riot member and Saul Williams collaborator CX Kidtronik.
The Big Takeover is thrilled to premiere the Jürgen:Die Krupps remix of Bestial Mouths' "Worn Skin". The darkwave track dynamically marches along with a pressing industrial beat, clanging percussion, and buzzing electronics sheen. Cerezo's sonorous exclamations echo powerfully through the dark sonic cave, adding to its forceful, yet melodic potency.
Facebook
Official Site
SoundCloud
Instagram
iTunes
Bandcamp
Amazon
Upcoming U.S. tour dates:
Fri. Mar. 17 – ONCE Lounge – Somerville, MA (Boston)
Sun. Mar. 19 – Bowery Electric – New York, NY
Mon. Mar. 20 – The Barbary – Philadelphia, PA
Tue. Mar. 21 – Fallout – Richmond, VA
Wed. Mar. 22 – The End – Nashville, TN
Fri. Mar. 24 – Howlers – Pittsburgh, PA
Sat. Mar. 25 – The Mockbee – Cincinnati, OH
Wed. Mar. 29 – Crack Fox – St. Louis, MO
Thur. Mar. 30 – Prohibition Hall – Kansas City, MO
Sat. Apr. 1 – Elysium – Austin, TX
Wed. Apr. 5 – Bar 407 – Albuquerque, NM
Thur. Apr. 6 – Valley Bar – Phoenix, AZ
Fri. Apr. 7 – Complex – Los Angeles, CA
Sun. Apr. 9 – Elbo Room – San Francisco, CA
Tue. Apr. 11 – The Eclypse – Boise, ID
Thur. Apr. 13 – Lovecraft Bar – Portland, OR
Fri. Apr. 14 – Mechanismus at Highline – Seattle, WA
Sat. Apr. 15 – Verboden 2017 Festival at Astoria Hastings – Vancouver, BC