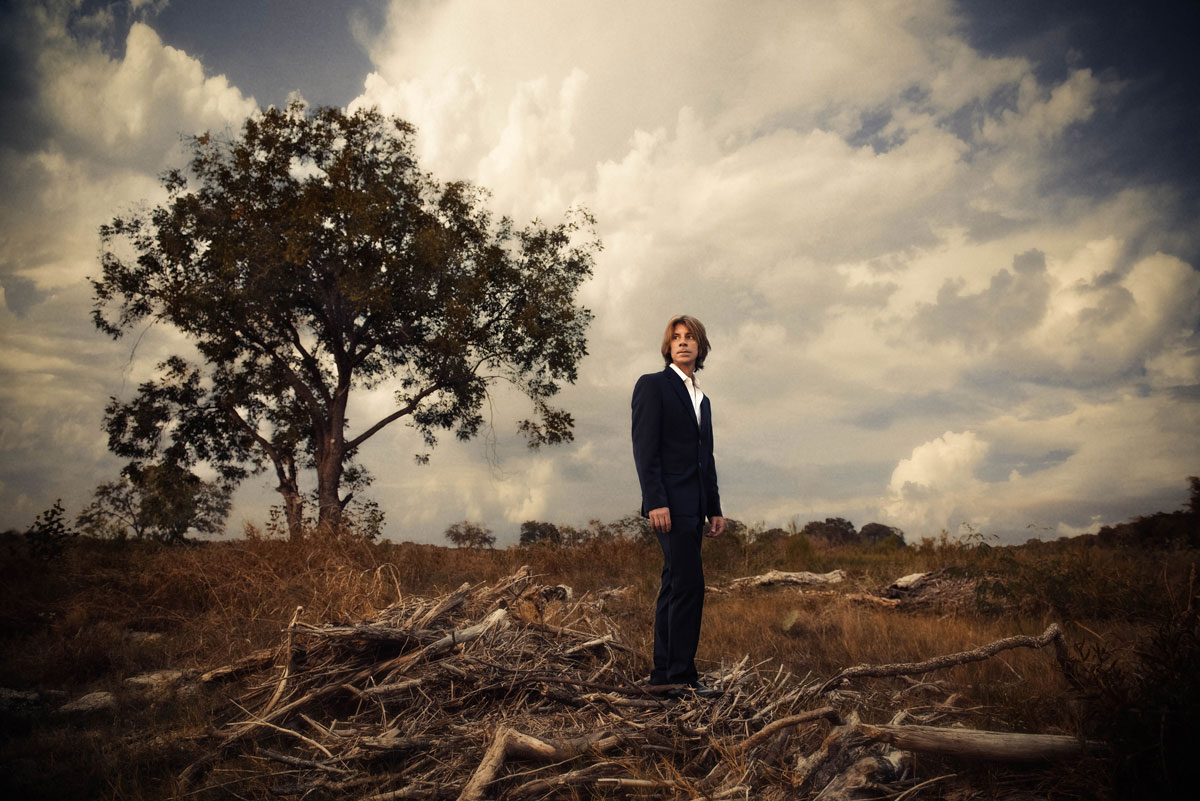 27 June 2016
Robert Harrison of Cotton Mather as photographed by Valerie Fremin
It didn't take 15 years for Cotton Mather main man Robert Harrison to write the 64 songs(!) that comprise his latest musical vision: one song for each hexagram (or reading) of the I Ching. Rather, that's how long it's been since the last full-length album of new Cotton Mather songs was released!
Founded by Harrison in Austin in the early 1990's, the band initially had an experimental sound, but soon evolved into a guitar-driven pop group defined by accessible melodies, strong vocal harmonies and lyrical wit. Cotton Mather released its debut album, Cotton Is King, in 1994, but it was the follow-up album, Kontiki, famously recorded on four-track cassette, that drew praise from critics and rock stars alike.
Marking the deluxe reissue of Kontiki on Valentine's Day, 2012, Cotton Mather reunited that year for a performance of the full album at South By Southwest, marking the first time in a decade since the band had performed together. In the years since Cotton Mather went on hiatus, while Harrison stayed busy producing other artists, in addition to forming and fronting a new band, Future Clouds and Radar, which was named "Debut Artist of The Year" by Harp Magazine.
As of early June 2016, half a dozen tracks from this treasure trove of new tunes have already been posted one-by-one in "real time and real weather," as Harrison describes this creative process, and now the first of an eventual four albums that will ultimately contain much of the entire song cycle, the eleven-track Death of The Cool, is set for release July 29 on Star Apple Kingdom.
Harrison's commentaries about each of the songs can be found at the website for the project, ichingsongs.com. Here's his take on today's premiere, the first single from Death of The Cool:
"'Life of The Liar' is based on I Ching hexagram #6: Contention," said Harrison. "I remember picking up my son after his first day of first grade. When I asked him how it was, he chirped, 'Awesome, Daddy! I already have an arch enemy!' This is good news, I thought? As if creating and choosing to see one's photo-negative in the other somehow validates and empowers our imagined sense of who we are? I'm truly at a place in my life where I'd like to be done with that."
This tune is magnificent; propelled by a taut, bass-driven groove, overflowing with gleaming horns, and centered on Harrison's intense vocal, a slap-backed echo of both Lennon and Bowie. At an efficient 2:49, "Life of The Liar" packs a mighty kick. We couldn't help but play it over and over. Can there really be 63 more songs as good as this? Wow.