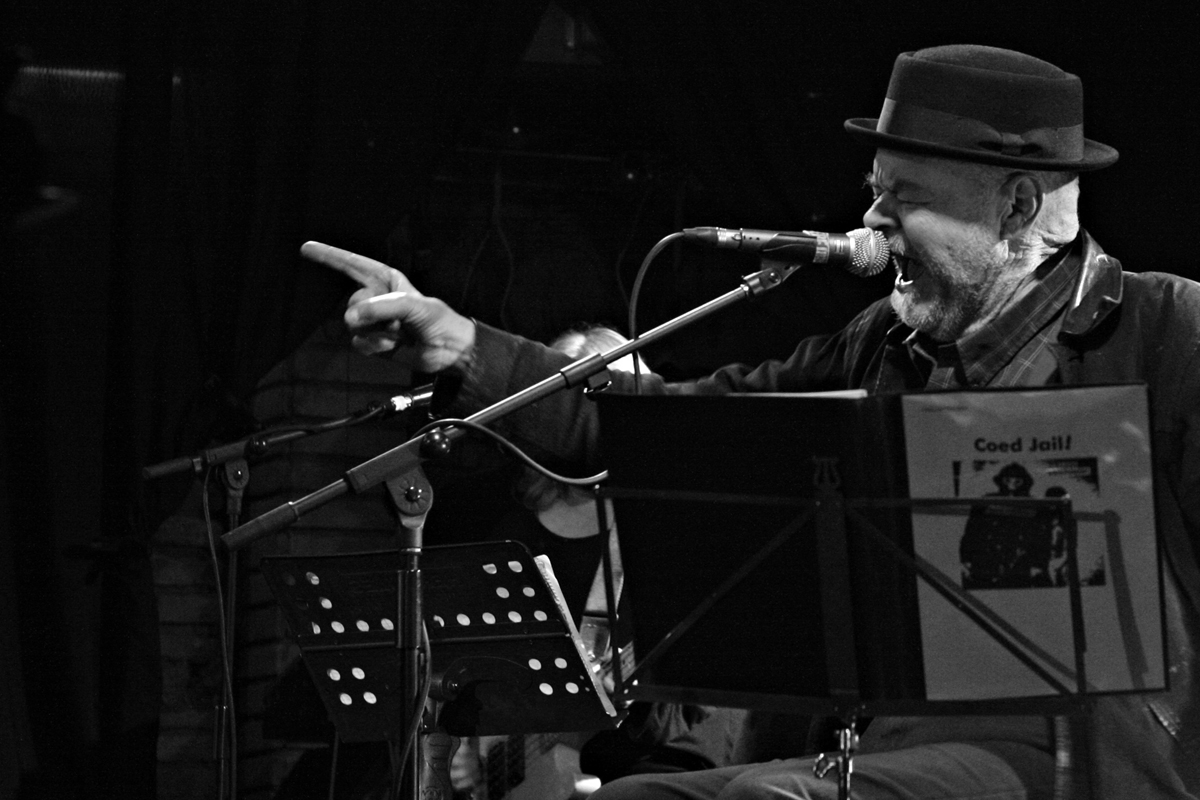 25 June 2016
Photo credit: "Cheap Sound":http://cheap-sound.com/
In what promises to be among the most memorable concert events of the year, the incomparable Pere Ubu has launched Coed Jail!, a tour drawing on the music from the two recent box set releases, Architecture Of Language, 1979-1982 and Elitism For The People, 1975-1978.
Cleveland guitarist Gary Siperko, fresh off the recent Rocket From The Tombs tours, is playing in the band for the first time. The rest of the line-up is front man David Thomas; Robert Wheeler on EML-101 synthesizer and homemade Theremin; Michele Temple on bass; and Steve Mehlman on drums. Wheeler and Temple have been in Pere Ubu since 1994, Mehlman since 1995.
According to the band, "This isn't a reunion. It isn't a greatest hits tour."
"We don't promote chaos, we preserve it," Thomas explained. "Now more than ever — just like Nixon said — you need the sort of utterly gratuitous mess that only men of conviction can provide."
The origin of the tour's name dates to an incident early in 1977, when after refining the doctrine of Datapanik (the notion of "data panic", where all information has become a meaningless, drug-like substance), Thomas came downstairs in the house he shared with junk conceptualist / designer Johnny Dromette. There, in the living room, in the midst of a life-size reproduction of a Hollywood TV game show set that he'd constructed overnight, Johnny, exhausted, pronounced in portentous tones, "Coed Jail!"
Big Takeover will be covering next Wednesday's performance at New York's Bowery Ballroom, and we couldn't be more excited!
U.S. Tour Dates
Tour Dates
21 Jun: The Earl, Atlanta, GA
22 Jun: Pilot Light, Knoxville, TN
23 Jun: Cat's Cradle, Carrboro, NC
24 Jun: Rock & Roll Hotel, Washington, DC
25 Jun: Johnny Brenda's, Philadelphia, PA
27 Jun: The Sinclair, Cambridge, MA
28 Jun: Fete Lounge, Providence, RI
29 Jun: Bowery Ballroom, New York, NY
30 Jun: The Haunt, Ithaca, NY
01 Jul: Club Café, Pittsburgh, PA
02 Jul: Beachland Ballroom, Cleveland, OH
03 Jul: Ace Of Cups, Columbus, OH