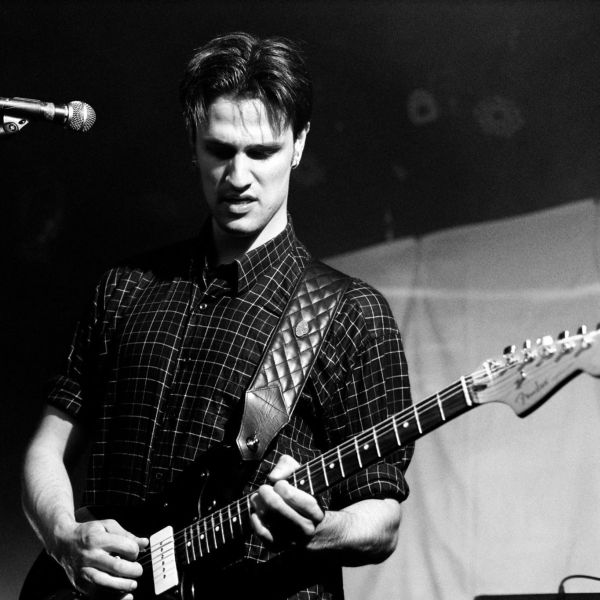 23 January 2018
Asa Eisenhardt of Nostalgist; Photo Credit: Shane WIlliams/Thee Lord Fotog
Recently we've been hearing a lot about bands from Seattle and many of these bands challenge the (in)famous 'Seattle sound' that initially put the city on the music map, so to speak.
Today The Big Takeover presents you with "Present:Tense", the first track from the forthcoming Disaffection album from yet another Seattle band, called Nostalgist. Comprised of six tracks, it will be issued in two formats – on vinyl March 19th and digitally on March 30th. Following five original songs, the band – long-time fans of shoegaze legends Catherine Wheel – present their own version of "Texture".
Nostalgist's history runs back to 2012. Led by Asa Eisenhardt, who is both singer and guitarist, this LP is not Nostalgist's debut offering. Previously the band released Of Loves and Days Ago (2015) and Monochromantic EP in 2013, which was engineered, mixed, and mastered by Jack Shirley, famed for his work with Deafheaven, King Woman, Whirr, and Tony Molina. From then until now, Nostalgist has demonstrated maturity in expanding their sonic palette and experimenting with their signature sound while also recognizing their roots.
Straddling an intense and coveted border between shoegaze and post-punk, "Present:Tense" is very close in styling and breadth to the best of Catherine Wheel – somewhere in between their Ferment and Chrome albums. This is the music we've all been longing for ever since Catherine Wheel dissolved. Even without with Tim Friese-Greene's remarkable production, this track is a stellar one, shining no less bright. Of course it helps that Eisenhardt's vocal delivery and timbre are so strikingly similar to Catherine Wheel singer Rob Dickinson, but with that deep, throaty element that made The Damned's Dave Vanian so well loved.
While the line-up has changed a bit over the years, Eisenhardt is the mainstay. On this particular release, he has paired up with distinguished metal rock drummer Aesop Dekker (Khorada, Worm Ouroboros, Extremity, ex- Agalloch). Towards the end of 2017, Eisenhardt was joined by Alex Entrekin on drums and Monte McCleery from Seattle-based doom rockers Un) on bass.
"I was a few months into writing songs entirely on my own – something that I'd barely ever worked at before. I was also hurting, fresh off of the disintegration of an unstable and short-lived period of intimacy that never congealed into a relationship," explains Asa Eisenhardt about lead track "Present:Tense".
"The verses largely regard that time, and are my most stream-of-consciousness lyrics to date, though still couched in the grey dream imagery I'm always trying to evoke. The chorus, however, is really the essence of the tune: perseverance through hardship, while recognizing the weight and inevitability of heartache. 'I will dream again' is such a stupidly simple line, but the implied resolve is important.", he concludes.
Nostalgist's music is heavily influenced by the likes of Lowlife, Slowdive, Lycia, Comsat Angels, The Chameleons, Killing Joke, Fields of the Nephilim, Hum, and Red House Painters.
While the Nostalgium Directive label will be bringing us Disaffection only in March, the album is already available for pre-order via Bandcamp
LYRICS
On another shore,
hypnogogically,
you found my fractured form.
And so we reconvened.
Against the vice grip of now,
and through the spiral of doubt,
a defiant pledge:
I will dream again.
I would never claim
to truly know your pain.
Still, I longed to be
your tranquility.
So it goes, it seems.
All unraveling.
So it goes, it seems…
indefinitely.
In the morning's sweet light,
moisture congeals in my eyes.
NOSTALGIST
Bandcamp
Website
Facebook
Twitter
comments powered by