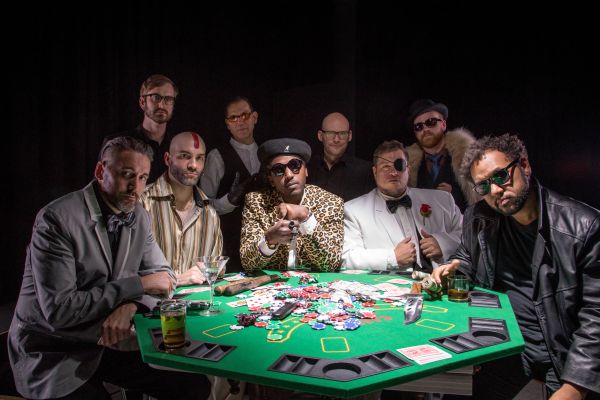 23 January 2018
LowDown Brass Band; Photo Credit: Chris Batte
LowDown Brass Band (LDB) deftly synthesizes the gritty sounds of Chicago with the high energy second-line street beat of the Crescent City. LDB brandishes a powerful brass frontline of trumpets, trombones, and saxophones, with a funky backline of drums and sousaphone. Combining the poetic ferocity of Billa Camp with stellar vocal harmonies, adventurous improvisation, movement, and grooves, LDB creates an infectious and diverse sound that has something for every listener.
Fresh off their appearance at The 2017 Chicago Jazz Festival, LowDown maintains a constant performing and touring schedule throughout North America. In 2015, LDB released an ambitious project titled LowDown Sounds that included a critically acclaimed cameo by Roy Ayers on the track "Everybody Loves The Sunshine."
LowDown Brass is now beginning the next chapter with the January 19th release of their 5th self-produced full-length studio album LowDown Breaks. This new offering steps deeper into refining their unique sound, combining the hip-hop sound with multiple world music and jazz styles.
LowDown Breaks sounds as if it could be comprised of samples – as if every instrument came off an old soul record – the drum "break" from a JB's record, or a horn blast ripped from an Al Green cut – and that was the idea from the beginning. But there are no samples on this record except in the transitions: DJ Alo (The Dread/Chicago) and Laelo (Sousa/Producer) sampled the LDB horns and drums, cut up them up, replaced, remixed, and create_LowDown Breaks_. This concept is a nod to the breaks used by the original DJs and producers from the Golden Age of Hip-Hop and gives the album a sound akin to "The Apache" or "Funky Drummer" while always sounding new and fresh.
The LP includes several marquee collaborations with stellar artists including: Chicago rapper Ang13 on "Cold Shoulder," Fada Dougou on "Don't Wait! Right Now!," DJ ALO and The Dread on "Ghost Town" and "Can I Kick It", as well as a remix for the video for "Can I Kick It" by Nick The Graduate (Illuminati Congo/Chicago). The album was tracked in Chicago at The Drake by Anthony Gravino (Davy Knowles/Marquis Hill) and mixed by legendary hip-hop engineers/ producers Alex Gross and Dan Zorn at Studio 11. As track #1 iterates – LowDown breaks tradition, breaks expectations, and makes a break for your ears.
"Dividends" is the second single off of Lowdown Breaks and The Big Takeover premieres the video for the number. A cinematic masterpiece shot and directed by award-winning Chris Batte, "Dividends" pays homage to seedy underbelly of high-stakes backroom card games and the clandestine black-ops and masterminds of the criminal elite.
"Dividends" is an original song about of the hustle of making money, of pursuing your passions when they don't always pay the bills; and that money can never buy happiness. To quote MC Billa Camp, "Not your ordinary, just another heavy, thinking if I ruled the world, I would think to hold it steady. So if I worry that something that keeps me hungry, its scary to even wonder where dreams will go to bury you, There ain't another, so just take a number, make every moment matter no matter, I didn't hurry…" Those words say it all – Follow your dreams and if you stop to think about it, check your Dividends.
"Website"http://www.lowdownbrassband.com
Facebook
Twitter
Instagram