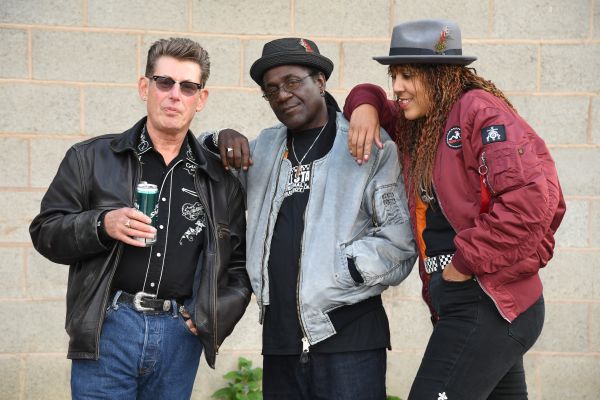 4 September 2018
Roddy Radiation, Naville Staple, and Sugary Staple – Photo Credit: John Coles
The world has been waiting for new music from The Original Rudeboy Neville Staple for 1 year and 7 months, when he released his latest album Return of Judge Roughneck via Cleopatra Records. Later this month, that same label brings us his new output – a collaborative album called Rude Rebels with Christine a.k.a. Sugary Staple, his wife and high-energy cohort in ska outfit the Neville Staple Band.
Together, these two are considered ska royalty, the Staples being a permanent fixture of the UK and international ska scene, performing regularly at both concert venues and massive festivals as the Neville Staple Band. Neville is well known as a founding member of The Specials and Fun Boy Three, not to mention his major role in 2Tone Records. Sugary Staple is heavily involved with the 2Tone community in Coventry and has been key to the Skamouth events and Three Generations of Ska tours, bringing this music throughout the UK.
With 2019 being the 40th Anniversary of The Specials and 2Tone Records, this is a timely release. We present the lead single from this album, "Rebel Down" featuring former Specials' guitarist Roddy Radiation (a.k.a. Roddy Byers). This is an upbeat fun track, screaming "we don't give a damn of what you say". And it certainly must have the crowds going wild at their shows. Always the life of the party, Neville and Sugary Staple once again show that fun and excellence indeed can go hand in hand. Pure pleasure of listening from beginning to end and a vibrant sight to see. Ska doesn't get any better than this.
Apart from excellent guitar arrangements by Roddy Byers (who currently plays with the Skabillyy Rebels), a host of other musical professionals are involved, including members of the Neville Staple Band (Joe Atkinson, Matty Bane, Steve 'Sledge' Armstrong, Spencer Hague, Billy Shinbone), Daddy 'Nuff Lyrics' Woody, and Alvin 'Horn-blower' Davies.
Rude Rebels is full of original upbeat music with vocal statements on life, fashion, love and morals, plus some smooth reggae vibes. It features brand new songs and recordings from the Staples, who wrote and produced this rebel-lishious offering, alongside Tom Lowry (The Specials, Neville Staple, Spectrum) at Planet Studios in Coventry, which brings a super blend of punked-up anthems, dancehall ska, and sweet rebel reggae and bluebeat.
"The album was produced with our love of punk, ska, 2tone and reggae, which we mixed into an indulgent sub-culture blend. A bit like me. Working alongside Neville on the production was just perfect. He gets me, and he understands where I am at musically and about my promotion of women going for it, regardless of age and situation. We both still have something to say in our productions, while still creating a dancing beat or a sing-along vocal," says Sugary Staple.
Tracks like 'Rebel Down', 'Way of Life', 'Be As One' and 'Original Rudegirl Sound', are reminiscent of 1970s & '80s fun punky ska with 2Tone echoes, while 'Tattoo King' and their reworking of Stranger Cole's 'When I Call Your Name' celebrates long-standing traditions of ska. Roddy Radiation features on three tracks – 'Rebel Down', 'Way of Life', and 'Be As One'.
"I felt really free on this production. Having the freedom to be creative with someone on your wave-length is really refreshing for me. I love how we celebrate the great musical genres of my 40-year career. There's a little taste of The Specials in there, a Clash type of punk vibe and even Trojan Records styles. We've been touring some of the songs and the fans have gone nuts for it. Great to have my buddy Roddy on board too," says Neville Staple.
On a much heavier note, The Big Takeover would like to express condolences to the Staples about the brutal stabbing death of Neville's grandson Fidel this weekend. We'd like to share his message: "Help us turn our pain into a message. Let's show the young people that this knife trend has to stop! It has to STOP!!"
"Young people they have got to learn to give more love and stop the knife crime. It is just wrong. Knives take lives. If you want to have a fight, go on a football pitch or a rugby game, team on team and do it a sensible way, so you'll still have a winner but no-one will die," stated Christine Sugary Staple at the Godiva Festival on Sunday. "We all need to do this together, it can't be done by one person alone, by one politician alone, it is all of us, we need to take responsibility."
As of September 28, the Rude Rebels album will be available on both CD and special clear vinyl with black and white splatter. However, the album can already be pre-ordered as follows:
"Bandcamp"https://nevillestaple.bandcamp.com/album/rude-rebels
Vinyl pre-order at Cleopatra Records
CD pre-order at Cleopatra Records
TRACK LIST
1. Rebel Down
2. Tattoo King
3. When I Call Your Name
4. Boy (Dub Out)
5. Be As One
6. Wrong Shoes
7. Original Rudegirl Sound
8. Why Oh Why
9. Ska To The Beat
10. Dirty Little Liar
11. The Border
12. Way Of Life
13. Way I Love You
14. Woulda Coulda Shoulda
TOUR DATES
Aug 26 Winchester – Graze Festival
Sep 02 Coventry – Godiva Festival
Sep 07 Brighton – Concorde2
Sep 08 London – Alexandra Palace (with Toots and the Maytals)
Sep 15 Nottingham – Rock Against Racism
Sep 22 Minehead – Butlins
Sep 29 Ware – Drill Hall
Oct 06 Cardiff – The Globe
Oct 13 Norwich – Epic Studios
Oct 20 Chesterfield (TBA)
Nov 10 Bognor – Butlins
Nov 16 Llangollen – Sun Inn
Nov 17 Bristol – Fleece
Nov 23 Skamouth – DJ Party
Dec 01 Hastings – Black Market VIP
Dec 08 Devon (TBA)
Dec 21 Frome – Cheese & Grain
Dec 22 Swansea – The Garage
Also check out the video for 'Original Rudegirl Sound', which also features on this much-anticipated album:
Keep up with Neville Staple
Website
Facebook
Bandcamp
Twitter
SoundCloud
Spotify
Amazing Tunes
Keep up with Sugary Staple
Website
Faceook
Twitter
Instagram
YouTube
SoundCloud
Spotify
comments powered by