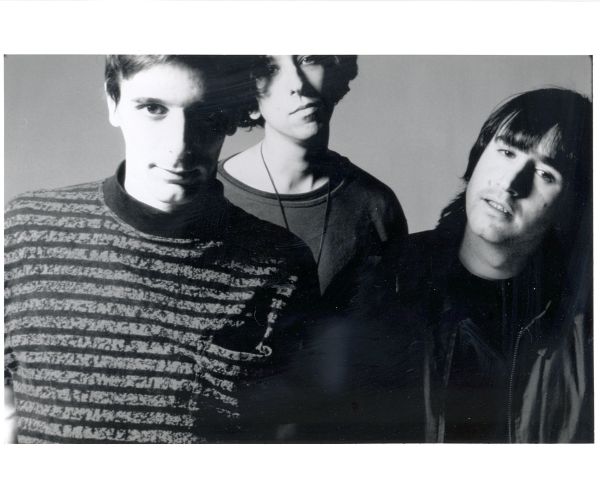 1 September 2018
Springhouse 1991 promo photo. L-R: Jack Rabid, Larry Heinemann, Mitch Friedland – Photo by Michael Lavine
Three decades after their formation, New York's legendary proto-dreampop/shoegaze/indie-rock/post-punk trio Springhouse — including our own Big Takeover editor Jack Rabid on drums and occasional lead vocals — has accepted an invitation to come out of retirement with all original members, to play their first show in eight years as part of the 12th edition of Kalamazoo, MI's premier dreampop/shoegaze/beautiful noise festival, Kalamashoegazer 12!
The group were persuaded to come out of mothballs by a touching request from the 12-year festival organizers, April and Adam Zimont, in a Facebook message from the former: "Your name came up, and Adam said, "Please, please just ask them… I love them. They'd be a dream band for me." We've always wished we could've seen you guys. Curious to hear if that could ever be a possibility."
With such a sincere entreaty, great national lineup, lovely venue, and the promise of a happy shared day with other bands regularly enthused about in Big Takeover and elsewhere, the members of Springhouse surprised each other by deciding to put aside their four busy lives and accept. The festival appearance also allows Springhouse — unplanned — to properly mark the 30th anniversary of their group's launch in February 1988 — playing their first New York show supporting Naked Raygun at the Pyramid club that summer three decades ago; recording their first b-side "Soul Astray" that fall in Manhattan; and then recording six-tenths of their first LP for legendary indie label Caroline Record*s called Land Falls in January and February 1989, also in Manhattan, predating most of the U.K. dreampop/shoegaze explosion they would soon be often grouped with when the album was finally released two years later. (And their CBGB debut supporting England's ageless *New Model Army followed right after. They would go on to headline or direct support at the hallowed club almost two dozen times.)
The festival takes place in one long evening starting at 4PM (doors) at Bell's Brewery's stage on Saturday, November 10. The revived group, which also includes lead singer/electrified-with-effects nylon-stringed guitarist Mitch Friedland, bassist/backing vocalist Larry Heinemann, and since 2008 second electric guitarist David Burokas (Rabid's old bandmate in Last Burning Embers), will be performing second from the end, before Austin, TX veterans Ringo Deathstarr and after Sacramento, CA greats Soft Science, riding high on recent spotlights on NPR's Sound Opinions and regular rotation airplay on Seattle's renowned KEXP. Playing before them will be the equally impressive national acts Ariel (from Chicago), California/Oregon vets Tears Run Rings, Kalamazoo's/the Zimonts' own Tambourina (ex-Glowfriends, Vida Eterna, and POT), Seashine (from St. Louis), and Brief Candles (from Milwaukee). Sounds like a great night, and unique at that.
Tickets are a mere $15 for all eight bands with no surcharges (if you print your ticket at home)! And they are easily ordered online HERE. Being it's a Brewery, the show is 21+.
Springhouse last formerly convened in 2013 for charity purposes, quickly recording a cover of The Bongos' founders Richard Barone and James Mastro's Nuts and Bolts song "No One Has to Know" for a Hurricane Sandy Relief tribute to New Jersey artists, My Hometown on FDR Records. Though, having remained close friends over the years, they've been known to meet for drinks or a bite instead.
They last stood on stage together for two nights at the Rabid-selected Big Takeover 30th Anniversary Festival in July 2010, playing the first night with The Avengers, Channel 3, Visqueen, reunited Libertines U.S., and reunited Flower, and the second performing their 1993 Los Angeles-recorded second LP Postcards From the Arctic in its entirety on a bill with Mark Burgess of The Chameleons, For Against (their final performance to date), Sleepover Disaster, Don McGlashan (ex-*The Mutton Birds*), Jon Auer of The Posies, Steve Drewett of Newtown Neurotics, The Sharp Things, Paul Collins of The Beat, and The Curtain Society.
Prior to that they reunited on three previous occasions, promoting the long awaited release of their more stripped down, often folk-pop comeback third LP, From Now to OK in 2008—they toured the East Coast with Swervedriver leader Adam Franklin's and Interpol's Sam Fogarino's side group Magnetic Morning then flew to Atlanta to support those same Nebraska legends, For Against. In 2002 they reformed specifically to support The Chameleons lone reunion tour on their East Coast dates, and did the same circuit in 1994 for half of that band, Mark Burgess and John Lever, who were playing all Chameleons songs.
Having formally broken up in 1993 after a grueling seven-week U.S. and Canada tour to support their sophomore LP Postcards From the Arctic and a farewell show at Limelight, such special "why say no" occasions/reformations have led Springhouse to have three times the fun they had as a regular signed/working group and cemented their enduring friendships.
For the curious, both of Springhouse's early '90s MTV videos can still be readily seen on YouTube: The first one, Land Falls' "Layers," was shot on a frigid January 2, 1991 day in a geodesic dome leftover from 1964's World's Fair in Queens' Flushing Meadows Park, by R.E.M.'s Michael Stipe's C-Hundred Films Partner, Jim McKay. In addition to making light rotation on the channel, the video was really helpfully shown twice on MTV's "120 Minutes" special "alternative" show with other like-minded touring groups (once even announced on the program by James' Tim Booth), introducing the band to thousands— judging from feedback on their tours. It can still be seen (with MTV logo, funny) below:
The second MTV video for Postcards From the Arctic's "All About Me" was shot thankfully indoors by Mott Hupfel at Caroline Records' own (heated!) warehouse — but also once again outdoors in equally equally bitter cold in January 1993 on Brooklyn's then-abandoned East River docks, and on the platforms of the highest overground subway station in New York, Brooklyn's Smith and 9th F-Train stop. It can also still be seen below:
As well, most of Springhouse's songs from their 1990 debut single "Menagerie Keeper" b/w "Soul Astray" (on Bob Mould and Steve Fallon and Nick Hill's Singles Only Label), 1991's Land Falls, 1992 five-song Eskimo EP (with three non-LP b-sides, including a cover of The Saints' "Angels"), 1993's Postcards From the Arctic, and 2008's From Now to OK have found fan postings on YouTube. All of Lands Falls' songs are HERE, and all of Postcards From the Arctic can be heard HERE. (Limited second hand physical copies of the first two albums on CD and cassette and new, pristine copies of the third album on the special letterpress art discfolio CD can be purchased straight from the group at the festival!
Finally, Springhouse are proud to be something of "elder statesmen" "heritage act" at Kalamashoegazer 12, having shared stages from 1989-1993 with revered British icons of the form, House of Love on their first U.S. visit, Ride also on their first U.S. visit, Kitchens of Distinction (at CBGB), New Fast Automatic Daffodils, and older practitioners Psychedelic Furs as well as New Zealand stunners The Chills and The Bats, Icelandic wonders The Sugarcubes' farewell show (just before Björk launched her solo career), and America's own Ocean Blue, Belly, Velocity Girl, and Galaxie 500 (and Luna too).
They were also interviewed talking about their dreamy, but forceful sound in 1991 in nice-rave pieces in Rolling Stone's "New Faces" (written by eventual noted Our Band Could Be Your Life author Michael Azerrad!) and Britain's Melody Maker while making England's glossy monthly Select's "Top 50 LPs of 1991" list that year.
For a longer/more thorough recap, here's the band's official, updated bio below, and the old 1991 Rolling Stone and Melody Maker interviews. Given the rarity of their appearances, they say, simply, "We hope to see one and all in Kalamazoo on November 10! It's going to be great fun! And we're so honored to play!"
For more info and lyrics, check out this FAN SITE
Also, more into at BROOKLYNVEGAN
PENNYBLACKMUSIC
2008 Spin Magazine live review from Philadelphia.
For interviews or other requests, contact jrabid@bigtakeover.com!
TWO OLD INTERVIEWS:
Rolling Stone "NEW FACES" section, 27 June 1991
Springhouse: Melodious Music Lovers
"Basically, I want our music to have the shiver effect," says Springhouse guitarist Mitch Friedland. "That's when you listen to a record and something happens that gives you a chill down your spine, and you just want to play that song over and over again."
Maybe that chill is why Springhouse is named for an early version of the refrigerator – a cabin placed over a spring to keep food cool. Dominated by Friedland's heavily processed acoustic guitar, the group's lushly melodic debut, Land Falls, does have a curiously refreshing quality.
Since 1980, drummer Jack Rabid has single-handedly written and published the respected fanzine The Big Takeover. He's a voracious music fan who is knowledgeable about everyone from the Byrds to the Buzzcocks, as are Friedland and bassist Larry Heinemann. "I don't think it's hidden in our sound what music lovers we are," says Rabid. "I think it's the best thing about us."
But Rabid says the group steers away from simply aping its favorite bands – postpunk giants such as Wire and the Smiths. "I don't want us to be nostalgic," he says. "All these new bands, even the ones we like, the only reason we like them is that they remind us of our heroes. There's such a lack of real music."
The members of Springhouse are well aware of how hard it is both to make music that compares with that of their heroes and to remain original. "Nothing can be completely original in rock & roll, but it's a cool thing to strive for," says Rabid.
"I think we've avoided schmaltzy romance and knee-jerk gloom," says Heinemann. "We tend to fall in between the two."
- Michael Azerrad
AND
Melody Maker, 1 June 1991
The Manhattan flat of SPRINGHOUSE drummer and co-lyricist Jack Rabid is not so much a residence as a museum of, and shrine to, rock'n'roll history. Ancient Comsat Angels and Saints interviews serve as wallpaper, the record collection as furniture.
Springhouse are obsessives.
"For me," says Jack, "the biggest thrills in the world are like for Martin Phillips from The Chills to say we were his favourite American band, or for Bob Mould to be a big fan of ours and to say one of his new songs is influenced by us."
Jack and his co-conspirators, Mitch Friedland (guitar/vocals) and Larry Heinemann (bass), formed Springhouse in 1988. Since then, they've opened for almost everybody who's played New York in the intervening interval, made their debut on Bob Mould's singles-only label and finally gotten around to releasing a beguiling debut album called Land Falls. Unusually and encouragingly, it displays little of the trainspotter contrivances that tend to plague the recordings of devoted fans, while managing a fair old degree of individuality and some tunes, even. Springhouse seem pretty happy with it, and would doubtless seem a lot happier if they could make a living at it.
"It can't be our whole life," sighs Jack. "You can't do that in America. There's no dole here, there's no way to bum around and make some money and still keep a band together. The difference between young American bands and young British bands is that young American bands have day jobs."
Jack is a teaching assistant, music journalist and author/editor of The Big Takeover fanzine. Larry is a waiter who could only get 10 minutes off for the photos. Mitch is a paramedic in Queens and disappointingly if understandably reluctant to part with too many urban horror-type anecdotes.
"I don't like tying my job into the music," says Mitch, "because then people look at you thinking (assumes Bela Lugosi tones), "He knows what it's like, he's been there, and I don't want people asking me how many dead bodies I've seen."
Steve Albini did once ask to see photos, though. Springhouse's imminent plans include more touring, meeting people ("We're band with no dressing room"), buying copious amounts of records and attempting to stay a leap ahead of the landlords. Life obfuscates art, again. Land Falls is a bit of a stormer.
- Andrew Mueller
SPRINGHOUSE OFFICIAL BIO/HISTORY (LONG VERSION)
New York trio Springhouse are perhaps best remembered as the first major-label-affiliated/indie-signed, nationally touring U.S. shoegaze band of the original era—with a 1991 MTV video "Layers," Rolling Stone "New Faces" feature, and copious college and commercial alternative airplay bringing notice to two memorable albums on the fabled Virgin Records' subsidiary Caroline Records—home then to Smashing Pumpkins, Hole, Drop 19s, Naked Raygun, Idaho, Misfits, etc. They began with a hot debut single for Bob Mould's Singles Only label, 1990's "Menagerie Keeper," then issued their two, original days' Caroline albums, 1991's Land Falls on vinyl, cassette, and CD, and 1993's Postcards From the Arctic (produced by Joe Chiccarelli, known for work with American Music Club, The Shins, and these days Morrissey) on cassette and CD. Touring all over North America in support of those three records and their 1992 "Eskimo" EP, Springhouse were among the first Americans to cover My Bloody Valentine, and shared stages across the country with House of Love, Ride, Kitchens of Distinction, Ocean Blue, The Chills, Psychedelic Furs, New Model Army, the Sugarcubes' farewell gig, Judybats, Belly, Velocity Girl, Lemonheads, and others. (Plus, oddly, on a WHFS Baltimore festival, they played after a fledgling Dave Matthews Band, having also played at CBGB in between Hole and Smashing Pumpkins on a 1992 Caroline label showcase.)
Springhouse are also fondly recalled for their utterly unique contribution to the original dreampop movement/explosion—singer/songwriter Mitch Friedland's exclusive use of small, classical, nylon-stringed acoustic guitars, heavily processed through customized pickups with wicked effects, while employing an endless battery of alternate tunings! Right: amidst the trio's melodic guitar-pop prowess, Friedland's accentuation of latent '60s Britfolk underpinnings was the concurring element that made them truly singular in that shoegaze/dreampop era. (In 1991 interviews, Friedland professed a left-field love of Nick Drake, Fairport Convention, Bert Jansch, and John Martyn, before such artists became fashionable.) This playing, combined with bassist Larry Heinemann and drummer Jack Rabid's supple yet sometimes more punky, bolstering attack, a crisp sound, exuberant ensemble playing, highly evolved arrangements, and a love of a tune to die for proved to be their calling card. Friedland's emotional lead singing (Rabid also sang lead on a half-dozen tunes), and both his and Rabid's unusually thoughtful lyrics—most on fraying relationships, but some on sociopolitical topics; the environmental wakeup calls "Layers" and "Eyesore" and homeless study "Eskimo" best among them—completed the band's fully rounded picture and insistence that everything be at the highest artistic standard.
The threesome briefly, formerly split up after an emotional farewell show in late 1993 at New York's infamous Limelight club, but staying good friends and encountering wonderful offers to come back, could never stay disbanded long. Since then, they have reconvened with some small regularity when it has sounded fun, starting with two memorable reunions tours in 1994 with Mark Burgess band—half of Chameleons U.K.—and 2002 with the fully reunited Chameleons U.K. (a high watermark for the group, including a Washington D.C. show where the crowd sang along with Springhouse's songs). Next they spent all of the '00s working on a highly different orchestral-folk-pop hybrid third LP, self-producing and self-releasing 2008's unexpected, much more acoustic-minded From Now to OK on Independent Project Records. Bound to surprise and please old fans and the newly curious, it was released digitally and as a limited edition fine art letterpress CD package designed by twice-Grammy-nominated Bruce Licher. They then reconvened to tour again with new fourth member, guitarist/bassist Dave Burokas manning the bass for the busy Heinemann to promote that, supporting Magnetic Morning—a duo of Interpol drummer Sam Fogarino and Adam Franklin, leader of Swervedriver, and flying down to Atlanta to fulfill their decades-long wish to play with For Against. Then in 2010, they appeared again for two nights at Rabid's curated Big Takeover 30th Anniversary Festival at Brooklyn's Bell House—performing both nights, the second night playing their Postcards second LP start to finish, first time ever as a full quartet—with For Against, Mark Burgess, The Avengers, Channel 3, The Posies' Jon Auer, Paul Collins' Beat, The Sharp Things, ex-Muttonbirds Don McGlashan, Visqueen, Flower, Libertines U.S., Newtown Neurotics' Steve Drewett, Sleepover Disaster, and others. And in 2013, they went back in the studio to record a Bongos-related cover song, "No One Has to Know" for a charity tribute LP in support of Hurricane Sandy relief, My Hometown. And five years on, this November 10, they will once again reconvene to play their first concert in eight years near the top of the bill at Kalamashoegazer 12, alongside Ringo Deathstarr, Soft Science, Ariel, Tears Run Rings, Tambourina, Seashine, and Brief Candles. They can't wait.
Note: if there is one old song that bridges all three albums in style and mood, it is probably "Layers," a 1991 MTV 120 Minutes favorite directed by Michael Stipe's old partner in C-Hundred films, Jim McKay (viewable at https://www.youtube.com/watch?v=1GApvdy7ZLg). Over a quarter century later, "Layers" seems especially prescient in this era of global warming concerns, a science fiction look at a world without an Ozone layer, its nature scenes interspersed with polluting smokestacks—concurrent to the band's stand against the era's wasteful CD longbox packaging. (Land Falls was solely issued on digipack, also well ahead of the current curve.) That conviction was seen again in Licher's From Now to OK's fine art, letter-pressed foldout sleeve, a work of art as lasting as the music. (Licher also designed Land Falls' environmental-themed sleeve, 17 years ago, based on a photo of England's Uffington White Horse that also inspired the cover of XTC's English Settlement.) Meanwhile, the harrowing, divorce-tinged swansong, Postcards From the Arctic is well expressed by their other MTV video from that LP, the equally stark, bitter winter cold-shot "All About Me," viewable at https://www.youtube.com/watch?v=anClMq_pYv4. Although the second LP and third LP's lyrical themes were much more intensely personal, they still communicate through a total art package of music, lyrics, video, art packaging, and interviews.
Lastly, Springhouse's continued bonhomie and regular re-emergences compliment all four members' frantic activities when not together. Larry Heinemann has toured the world as the original Musical Director and studio engineer of the wildly popular Blue Man Group, touring with David Bowie, Moby, and Buster Ryhmes and appearing frequently on Jay Leno and other TV showcases. He's produced several albums as well, for Tracy Bonham, Code Mesa, Hayes Peebles, and mixed others for Peter Moore and Slow Learner, and also helms a Brian Eno tribute band, Music For Enophiles. 25-year New York City Paramedic (a topic of fascination in the band's old press!) Mitch Friedland was promoted to Lieutenant, but kept writing songs. Jack Rabid has spent 35 years as the editor and publisher of the highly respected music magazine The Big Takeover, when not doing Johnny Rotten cover stories for Spin, writing for AllMusic, Amazon.com, and years ago Interview, The Village Voice, Paper, The East Village Eye, Creem, and Rockpool, and the now defunct Ice, playing drums for the late, lamented Last Burning Embers and, a 2002 CBGB reunion of his 1980-1982 punk band, Even Worse, and, since 2008 hosting his weekly "Big Takeover" show, now heard on realpunkradio.com. And their newer member since 2008, Dave Burokas, has played in Last Burning Embers with Rabid and the recently reunited EDP (each releasing a proper LP via Pink Frost Records), has been teaching both Latin and Music in high schools in Newark and Jersey City, releasing an album of his students' post-punk covers, and having them perform at soundchecks for Buzzcocks, Guided By Voices, Lush, and others playing those bands' own songs.
All in all, Springhouse were one of New York's, and the U.S.'s, finest pre-Nirvana indie rock bands—and remain one whenever they choose to come out of retirement again. Now is one of those times.
comments powered by