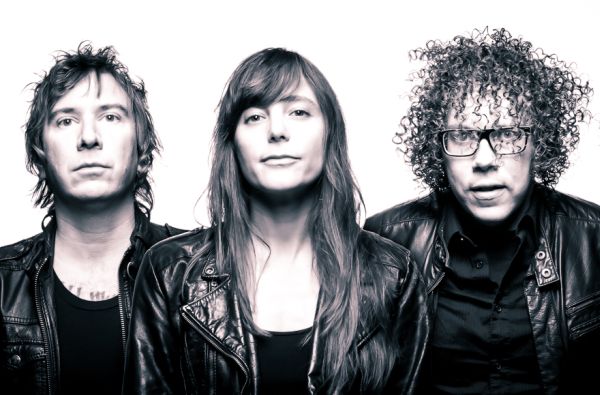 21 February 2018
Nightmare Air; Photo Credit: Brian Lobby
The Big Takeover is excited to have the worldwide exclusive drop on LA shoegazers Nightmare Air's new single "Sir Excellent" taken from their forthcoming album Fade Out (released March 2nd). The track epitomizes their sound, meticulously layering boy-girl harmonies, pulsing pop synths, psych noise loops, and glam soaked walls of guitars.
Named after a skateboard move from an '80s skate film, the band consist of Dave Dupuis, a veteran of L.A. shoegazers Film School (Beggars Banquet Records), Swaan Miller, and Detroit heavy-hitter Jimmy Lucido (The Strays / TVT records).
Dave reveals that "Sir Excellent" is a, "Playful track that Swaan brought to the band as a heavy metal hip-hop song until it hit the Nightmare Air blender. It's still kinda metal in our ears. For better or worse this is one of the only Nightmare Air tracks with actual horns on them – sometimes I think we had a little too much fun in the studio!"
The band had a successful year in 2017 headlining clubs, playing festivals around the world such as SXSW and Starry Night Festival, and sharing stages with The Kills, The Dandy Warhols, Cat Power, Smashing Pumpkins, and The Jesus and Mary Chain, to name a few.
In support of Fade Out, Nightmare Air will be touring with electronic pop legend Gary Numan from March 2nd to coincide with the album's release.
TOUR DATES (with Gary Numan)
Mar 2. Stokholm. Kagelbanan
Mar 3. Malmo. Kulturbolaget
Mar 4. Olso. Parkteatret
Mar 5. Copenhagen. Pumpehuset
Mar 7. Utrecht. Tivoli
Mar 8. Antwerp. Trix
Mar 9. Luxembourg
Mar 10. Oberhausen, Germany
Mar 12. Portsmouth. Pyramids Centre
Mar 13. Warwick. Arts Centre
Mar 14. Leicester. O2 Academy
Mar 16. Edinburgh. Assembly Rooms
Mar 17. Middlesbrough. Empire
Mar 19. Preston. Guild Hall
Mar 20. Hull. City Hall
Mar 21. Sheffield. The Foundry
Mar 23. Isle Of Man. Villa Marina
Mar 24. Liverpool. O2 Academy
Mar 25. Northampton. Roadmenders
Mar 28. Belfast. The Limelight
Mar 29. Dublin. Olympia Theatres
comments powered by