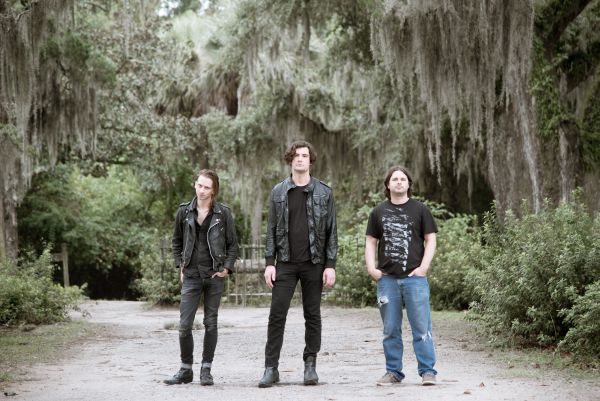 6 March 2017
Bloody Knives; Photo Credit: Andrea Kinnear
Austin, Texas-based hardcore noise-rock band Bloody Knives slays with its sublimely killer blend of the post-rock, industrial, punk, and shoegaze genres (a sound that this writer has called nightmare dream-rock). Bloody Knives obliterates the senses with pummeling drum rhythms, distorted guitar overdrive, and intense synths and electronics. Floating over the whole dystopian miasma is frontman Preston Maddox's hazily dispassionate vocals intoning the bleak to downright nihilistic lyrics.
Bloody Knives released its dead brilliant album I Will Cut Out Your Heart For This last year via Saint Marie Records and it stunned with the plunging depths it went into the abyss of the heart, mind, and existence itself.
The current band line-up of Maddox, Jake McCown, and Jack Ohara Harris has now emerged from the darkness as extreme as ever. The Big Takeover premieres the three-piece's lead cut, "The Descent", from upcoming album White Light Black Moon.
"The Descent" recalls the industrial electronics of Nine Inch Nails, but goes for broke with its pounding drum beat, tumultuous industrial rumble, and sizzling electronics streaks. Maddox's vocals take on the sharper sneer of Trent Reznor, yet still retain his signature disconnected intonation on slicing lines like, "Follow me down and never come back."
Bloody Knives is definitely a band to follow, even, or especially, when it descends into the void.
"The Descent" is available starting today in limited quantities as a hand-made, blood red liquid-filled lathe cut 7" single via Saint Marie Records
Video trailer with info on "The Descent" 7" single:
Facebook
Twitter
Bandcamp
Bloody Knives at Saint Marie Records
Upcoming Bloody Knives UK TOUR:
London. Tuesday 21/03/17. The Brewhouse. 360/370 Helmsley Place. Post code E8 3SB Tel: 020 7254 7174
Nottingham. Wednesday 22/03/17 Rough Trade Records 5 Broad Street. Nottingham. Post code NG1 3AJ Tel: 0115 896 4012
Hull. Thursday 23/03/17 The Adelphi. 89, De Grey Street Hull. Post code HU5 2RU Tel: 01482 348216
Scunthorpe. Friday 24/03/17 Cafe Indie. 169-173 High Street Scunthorpe. Post code DN25 6EH Tel: 01724 847523
Sheffield. Saturday 25/03/17 Picture House Social. 383,Abbeydale Nether Edge Sheffield Post code S7 1FS 0114 258 1690
Swindon. Monday 27/03/17 Marsh Farm Hotel. Coped Hall, Royal Wootton Bassett, Swindon. Post code SN4 8ER Tel: 01793 842800
Leeds. Tuesday 28/03/17 The Chapel. 177-179, Woodhouse Lane, Leeds Post code LS2 3AR Tel: 07450 267667
Huddersfield.Wednesday 29/03/17 The Parish. 28, Kirkgate. Huddersfield. Post code HD1 1QQ Tel: 01484 522800 Promoter: Michael Baird.
Wrexham.Thursday 30/03/17 Undegun. 11 Regent Street. Wrexham. Post code LL11 1SG Tel: 01978 345220
Northampton. Friday 31/03/17 The Lab. 95-97 Charles Street Northampton. Post code NN1 3BG Tel: 01604 636254
Basingstoke. Saturday 01/04/17 The Sanctuary Live 18 London Street. Basingstoke. Post code RG21 7NT
comments powered by