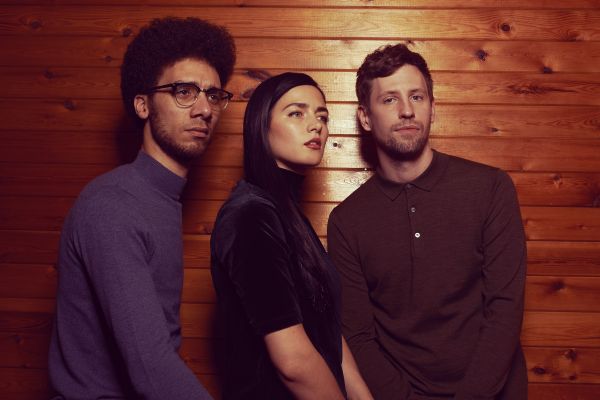 6 March 2017
Fassine; Photo Credit: Keir Harris
The compelling and atmospheric London-based band Fassine combines soft electronics diffusion, dark, moody beats, and airily drifting female vocals to absorbing and transporting effect.
The trio is set to drop "That Wave" in the run up to the release of its second album , Gourami, which arrives this summer. The track is a heavy, industrial re-working of an original by XTC, taken from that band's album Nonsuch. The member of Fassine state, "We are big fans of XTC and "That Wave" is a song so overflowing with ideas that we fell in love with it."
The Big Takeover is excited to premiere "That Wave". Fassine brings a sinuously menacing ambience to the track, while also adding bright, scintillating accents and lead vocalist Sarah Palmer's hushed, diaphanous tone to create a totally mesmerizing cover of XTC's original song. It's easy to get swept away by Fassine's take. The members explain, "The original has a wave-like feel and we wanted to see if we could do that too, but in a much more chaotic and stormy fashion."
"That Wave" will be available as a free download for a LIMITED time at SoundCloud before its release on March 15th via Default Collective Records. It comes on the heels of previous single, "Feather Jesus", which was released early due to the phenomenal response to its airing on Fox's Lucifer.
Fassine released its debut album Dialectik in June 2016, which saw the members gain praise and support from Spin, Q Magazine, The 405, The Guardian, Gilles Peterson of BBC 6 Music, and more. Dialectik features debut single "Sunshine" that came with three distinct remixes from the likes of Jazzanova's Alexander Barck & Comixxx, Thirftworks, and Julien Mier.
The band recently featured on Berlin-based artist Robot Koch's haunting track "Spine"; released on Monkeytown Records and have new collaborations with Koch coming out this year. Keep an ear out for Fassine's second album, Gourami, in July.
Official Site
Facebook
Twitter
Instagram
YouTube