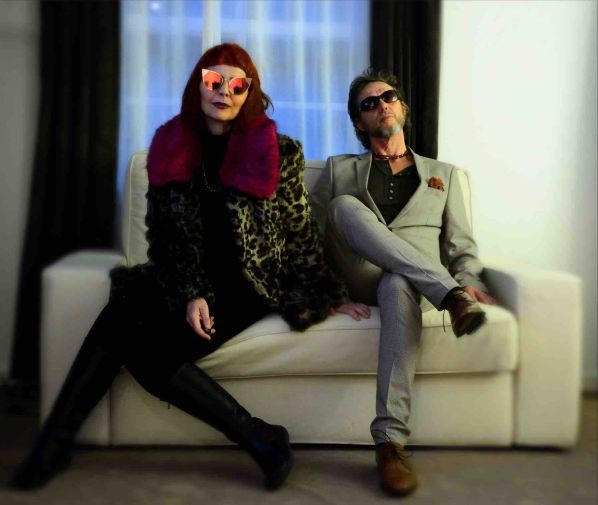 7 August 2018
m1nk – Photo Credit: Erika Bach
With the broadcast of the new season of Twin Peaks, this past year has been a big one for David Lynch and everything related to him. We previously introduced you to 68creep, The Blue Hour, and numerous other bands, whose music would make a great contribution to one of his film soundtracks. Today brings a peek into the world of yet another band falling into the Lynchian musical dream realm – a duo named m1nk.
M1nk presents their single 'The Far Side', which is being released via the Amsterdam-based label Seja Records. Apart from Lynch, this music also brings to mind Portishead, The Bad Seeds, Nico, the softer underbelly of Lydia Lunch, and Siouxsie Sioux, and even the darkest side of Mylene Farmer. The lyrics certainly take you to a noir place and, surprisingly enough, it's not an uncomfortable one, unlike many negative-zone compositions that leave you somewhat depressed.
M1nk (pronounced em one en kay) is a duo based in the UK and Greece. While they follow the popular boy-girl format, their music is nothing close to formula-fitting. Comprised of Barry Snaith from Wakefield, UK and Erika Bach from Ithaca, Greece, this trans-European duo met online and soon found themselves collaborating on the track 'Bleed Through', which hit the alt-rock chart on Soundcloud the following day after being posted.
While vocalist Erika Bach (a.k.a. Lola Demo) comes from a more garage rock background with some electronic influences, what is most memorable here is her evocative, lingering voice, loaded with dark allure. Barry Snaith (a.k.a. The Inconsistent Jukebox) produces music that spans various genres, mastering multiple instruments throughout each composition.
The pair note that writing together is a natural and organic process, each adding what they felt at the time of writing. Sometimes structured and sometimes completely abstract, vocally and sonically.
m1nk produce dark, gothic, electronic soundscapes for the passionately dispossessed and sexually charged absentees of the blank gender nation. Their songs are about lust, disappointment, and dangerous encounters. They are very distinctive, yet hard to define.
"This is a song of yearning, waiting and disappointment," says Erika Bach about 'The Far Side'. With no particular sonic or musical structure, Snaith added the soundscape to fit the plaintive mood.
Find 'The Far Side' across online music stores and streaming platforms, as well as Bandcamp. Find this and their previous single 'Fuck You Up' on Spotify and everywhere.
Enjoy the band's captivating art video, created on the isle of Ithaca by Gash Productions
Also check out their earlier-released single 'Fuck You Up'
M1NK
Facebook
Twitter
YouTube
Instagram
Spotify
Store
Seja Records
comments powered by