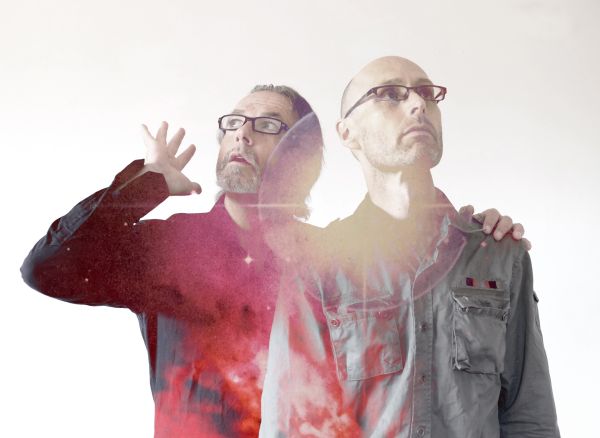 26 May 2017
Steve Kilbey and Martin Kennedy as Kilbey Kennedy; Photo Credit: Martin Kennedy
Australian eloquent, and enigmatic, wordsmith savant Steve Kilbey and multi-instrumental soundscaper extraordinaire Martin Kennedy have combined their deep talents once again as Kilbey Kennedy for their 5th studio album Glow and Fade.
Glow and Fade materializes today via Golden Robot Records. The collectors vinyl edition will arrive on July 28th, exclusive to the SFR Store.
Kilbey and Kennedy celebrate a decade of fruitful collaboration with this 8-track album, a mysterious and entrancing musical trip that unwinds in the mind, exploring hidden inward climes as well as the outwardly expansive tracts of space.
The individually, and collaboratively, prolific multi-media artists may be better known for their other endeavors; Kilbey for his eminent tenure in the renowned and long-running alternative (psych-, post-, space) rock band The Church and Kennedy for his long-standing and highly lauded down-tempo ambient music project All India Radio.
Kilbey and Kennedy bring their accumulated experience and expertise to Kilbey Kennedy, which is on resplendent display on the transporting epic "The Game Never Changes", the crown jewel of Glow and Fade. The Big Takeover is extremely proud to premiere this magnificent opus.
Kilbey presides over the epic "The Game Never Changes", delivering his ageless lyrics about a deteriorating relationship, sighing, "…I wanted to break free / I wandered through temptation / but you were still guiding me." The bitterness of Kilbey's reminisces upon this dissolved union go down like fine wine because of his smooth and intoxicating vocal flow.
Kilbey's words are surrounded by Kennedy's involving sonic atmosphere that moves from a hypnotically contemplative, down-tempo ambience to the saturated, Motorik pulse of '80s-era Bladerunner (or, for a more recent reference point, the soundtrack to '80s-throwback TV series Stranger Things) electronics and synths press, and finally through haunting, windswept symphonic gravitas, searing, prog-guitar-led post-rock poignancy, and ghostly, gospel-tinged radiance, before jettisoning into the endless void of space.
Kennedy explains the process of creating "The Game Never Changes", revealing, "A sixteen minute prog-rock inspired epic, this track takes us through some of Steve's darkest lyrics and ends with a soaring solo of Pink Floyd proportions (at least in my imagination), which took me weeks to get right. I usually hand over guitar solo duties to someone else, because I'm the first to admit I'm a crap guitar player. I'm proud to have finally played a solo I'm actually happy with. The track also features a guitar sample from US band Signal Hill who have been playing beautiful guitar based instrumental music for years. Backing vocals are from Selena Cross who put in an amazing performance which included some unearthly vocals sequences that sounded like a Mellotron."
He concludes that, "It's probably now my favourite Kilbey Kennedy song.", a sentiment that will be shared wholeheartedly with those who listen to the masterful track.
(Pre-)order Glow and Fade now via:
SFR Store
iTunes
Amazon
Official Site
Facebook
Instagram
YouTube
Bandcamp