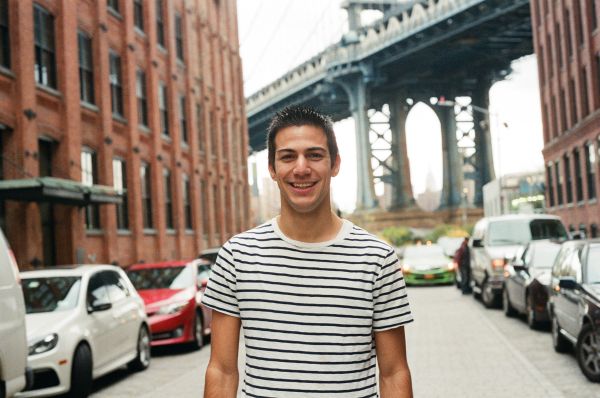 26 May 2017
Matteo Scher; Photo Credit: Laura Hilliard
With a soulful voice and piano playing similar to Tom Odell or Billy Joel, Matteo Scher's music is a throwback and a breath of fresh air at the same time. Born into a musical family, Matteo began to play piano at the age of four and began violin and guitar soon there after. The familial love of, but also competitive nature around music helped him become a disciplined musician while developing his own sound as a songwriter.
After recording an album with his sister in 2013, Matteo recorded his own EP with guidance from a special mentor, the illustrious Alicia Keys. Chasing Stars was released in April of 2015.
Matteo is currently playing nightly all over New York City as a pianist and as a singer-songwriter. He has performed at renowned venues including Webster Hall, Rockwood Music Hall, Pianos, The Bitter End, The Bowery Electric, and many others. He is also studying music business at Baruch College.
At 20 years old, after two full years of experiences of living in NYC, Matteo is ready to release his first fully produced EP. Titled Something Good and made up of 4 tracks, it will arrive later this year.
"New York and Me", "Something Good", "Painkiller", and " Forget" were written, arranged, and performed by Scher. The EP was recorded at The Bunker Studio in Williamsburg NY, on November 8th, and November 27th, 2016 with Mike Forfia on bass, Tim Basom on guitar, Andres Marin on drums, and Scher on piano. The EP was engineered by Todd Carder and produced, mixed, and mastered by Matthew Tryba.
Scher goes into the background of "New York And Me", explaining, "I wrote this in the summer of 2016 after a full year of living in the city. The song is about people, artist's in general who live in New York, love New York and ultimately leave New York and while this pains me, its ultimately OK, because I know that without a doubt, that will have to come back through someday."
The release party for Scher's single "New York And Me" off the Something Good EP will be held at Rockwood Music Hall , Stage 1, May 28th at 9pm! Its Free, and also 21+.
Official Site
Facebook
Twitter
Instagram