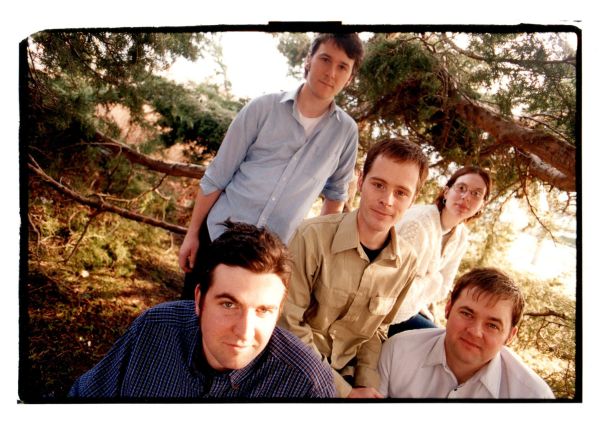 20 June 2017
The Heavy Blinkers; Photo Credit: Catherine Stockhausen
Today we have the pleasure of presenting a track that is sublime easy-listening pop/rock (yes, the song is all those things) in the same way that this holds true for much of Brian Wilson's musical output. Throw in a dash of sweet female vocals (often interplayed with male vocals), a mighty dose of '60s/'70s melancholia and some supreme production and you've got a potent formula for such a band as The Heavy Blinkers.
"The Night And I Are Still So Young" is lifted from The Heavy Blinkers' forthcoming vinyl reissue by the same name, slated for release on August 1 via Canada's Label Obscura
It's no surprise that this pop-perfect outfit would be releasing on this Canadian label – after all, they are from Nova Scotia (rated the #1 album in View 902's Top 20 Albums by Nova Scotians and faring well in Noisey's 'Completely Biased Ranking of the 60 Best Canadian Indie Rock Songs of the '00s'.
The band also comes with a massive pedigree. Rolling Stone has described their music as "a tour-de-force of unequaled pop excellence." Uncut Magazine says it is "emotionally candid and spiritually vast, dealing with the weight of life itself", with Mojo noting that "the light always breaks through". Noisey notes that "The Heavy Blinkers are easily the East Coast's best kept secret, even in their 20th year," citing parallels to Burt Bacharach, Brian Wilson, Ennio Morricone, and Carl Newman.
Hailing from Halifax, The Heavy Blinkers is a five-piece formed in 1998 by Jason Michael MacIsaac, which Spin Magazine claims is "one of the greatest bands you've (probably) never heard". The Heavy Blinkers were comprised of keyboardist and songwriter Andrew Watt, Greg Fry, Jason MacIsaac, ethereal vocalist Ruth Minnikin, and Trevor Forbes.
The Night and I Are Still So Young, The Heavy Blinkers fourth album, was originally released in 2004. By that time, they had become well known, having won widespread acclaim and an army of devoted fans. This release is a stunningly orchestrated and lush pop masterpiece of chamber pop. More so than many tracks on this album, the title track show hints of The Carpenters and Captain & Tennille, which is something you can't say of many tracks released in the past few decades. Such positivity and harmony is sorely missed in much of today's music.
Label Obscura is releasing this album on 180 gram vinyl with a limited edition pressing of 300 copies. It features brand new artwork by Yorodeo and detailed liner notes by Brian Chidester. It is now available for pre-order via Bandcamp
This song was actually released in video format (one of the only three released by the band) for an earlier imprint. Catch it here:
THE HEAVY BLINKERS
Official Site
Facebook
Twitter
comments powered by