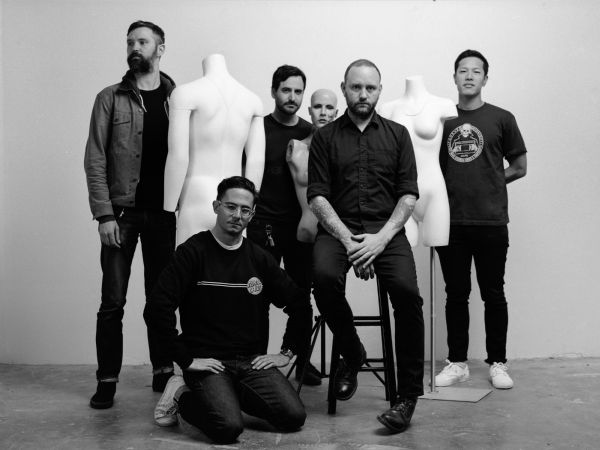 19 June 2017
Mare Island; Photo Credit: Josh Katz
Born as a collaboration between members of Bay Area mainstays The Velvet Teen (Topshelf) and Loma Prieta (Deathwish), Mare Island draws strength from their predecessors' decade-plus body of indie pop and post-hardcore works to create their own brand of lush, maximalist indie rock.
Built around the choirboy-like vocal delivery and lyricism of Josh Staples and melodic, angular guitar playing of Derrick Chao and Sean Leary, the band makes clear nods toward the members' other projects, but with outward experimental pushes through the use of pitch-shifted loops and samples. Further evidence of this departure is San Francisco's own Magik Magik Orchestra providing studio appearances on the record, imbuing the songs with a rich, ethereal quality.
While the various members of Mare Island have known each other and toured together for years, Mare Island is a band over a decade in the making. Staples and Leary grew up childhood friends in Sonoma County, an hour north of San Francisco, playing in various punk and indie bands throughout their youth. It wasn't until the recording of Loma Prieta's 2007 LP, Last City, that the friends first collaborated musically, with Staples providing guest vocal duties on the title track. That song would eventually give birth to additional guest vocal collaborations between Staples and the band, the results of which always hinted at the possibility of a deeper collaboration and more melodic musical vision built around his voice.
Having left Loma Prieta years earlier and losing touch with the other members, Chao had a happenstance run-in with Leary in San Francisco in 2015. Friendship was rekindled and along with that, a vision for Mare Island: "We grew up deeply influenced by the raw indie rock and emo bands of the '90s and early 2000s, though to date had played primarily loud, dark, distorted music in a band setting. For us, this was an opportunity to draw unapologetically from that aspect of our musical upbringing."
The duo began writing the songs that would eventually become their debut EP, recording early demos and sharing them with Staples who would come on board to provide frontman duties. Chao's roommate Evan Sarna rounded out the line-up, bringing his surf and garage-rock influenced drumming to the band. Mare Island made their live debut in late 2016, releasing their first single, "Anon", in December, beginning to perform regularly in the Bay Area since.
Their debut EP, Mare Island, which The Big Takeover is excited to premiere in full here, was recorded and produced by engineer Ian Pellicci (Deerhoof, The Dodos, Thao and the Get Down Stay Down) officially arrives on June 23rd.