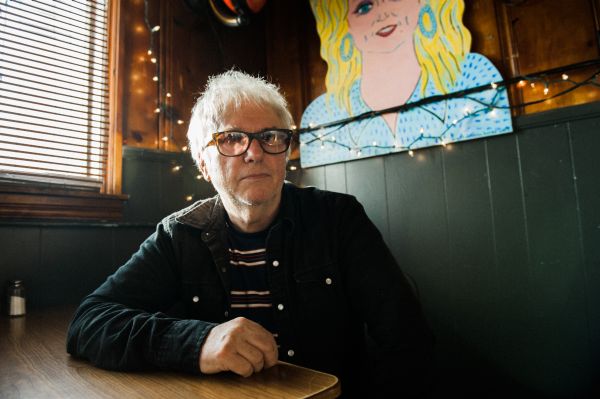 5 March 2018
Wreckless Eric; Photo courtesy of Wreckless Eric
Wreckless Eric is Eric Goulden. He was given the name to hide behind. After a while he realized he was stuck with it. His recording career began in 1977 when he was little more than an ex-teenage art student with the enduring "Whole Wide World" (recently a Billboard chart hit all over again for the US band Cage The Elephant). He sidestepped the mechanics of fame and became Britain's premier underground household name, much loved and often underestimated.
Wreckless Eric's latest album, Construction Time & Demolition, is due out on April 6th via Southern Domestic Records. It's the culmination of over forty years of touring and recording – a life of hardship, creativity, and getting away with it. Loud, dissonant, lyrical, sometimes gently melodic, Construction Time & Demolition is cogent music for desperate times.
The Big Takeover is excited to premiere the sonically gritty and pumpin' track "They Don't Mean No Harm", as astute slice of our real, current life as pawns in the big socio-eco-politcal chessboard. A brash and vinegary Wreckless Eric spits out spirited barbs like, "The Dark Ages of man / crawls onto land.", amid horn blasts, grimy and smoother guitar lines, and a pushy drum beat.
About the song, Wreckless Eric reveals the timely and relevant subject matter, stating, "They're descended from vicious fish. They crawled out of the primeval swamp onto dry land and now they're running the world."
Wreckless Eric will be touring in support of the album throughout 2018:
Wednesday 11 April The Baby G, Toronto, ON, Canada
Thursday 12 April Third Man Records – Detroit Storefront, Detroit, MI, US
Friday 13 April The Burlington, Chicago, IL, US
Saturday 14 April Monnik Beer Co., Louisville, KY, US
Sunday 15 April River Series at Harbor Town Amphitheater, Memphis, TN, US
Wednesday 18 April fond object downtown, Nashville, TN, US
Saturday 21 April War Mouth, Columbia, SC, US
Sunday 22 April Pilot Light, Knoxville, TN, US
Monday 23 April Local 506, Chapel Hill, NC, US
Tuesday 24 April Jammin' Java, Vienna, VA, US
Wednesday 25 April Johnny Brenda's, Philadelphia, PA, US
Thursday 26 April Ottobar, Baltimore, MD, US
Thursday 03 May Berlin, New York, NY, US
Wednesday 09 May Gullivers, Manchester, UK
Thursday 10 May Barnoldswick Music & Arts Centre, Barnoldswick, UK
Friday 11 May O'Riley's, Hull, UK
Saturday 12 May Old Cinema Launderette, Durham, UK
Sunday 13 May Clarks on Lindsay Street, Dundee, UK
Monday 14 May The Hug and Pint, Glasgow, UK
Thursday 17 May Marr's Bar, Worcester, UK
Friday 18 May The Thunderbolt, Bristol, UK
Saturday 19 May The Fox & Newt, Leeds, UK
Monday 21 May J2, Cambridge Junction, Cambridge, UK
Wednesday 23 May Prince Albert, Brighton, UK
Thursday 24 May 100 Club, London, UK
Friday 25 May Colchester Arts Centre, Colchester, UK
Saturday 26 May Ramsgate Music Hall, Ramsgate, UK
Sunday 27 May The Musician Pub, Leicester, UK
Jun 21 SAN DIEGO The Whistle Stop
Jun 22 LOS ANGELES La Cita
Jun 23 SAN FRANCISCO The Makeout Room
comments powered by