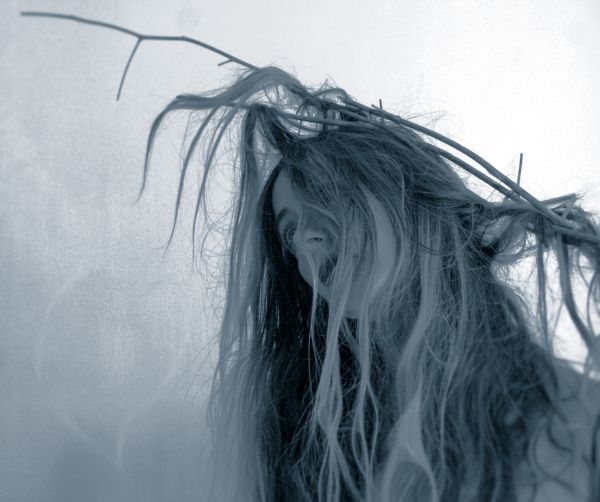 2 March 2018
KatieJane Garside of rubythroat – Photo courtesy of rubythroat
UK-based, but sea-faring alternative music duo rubythroat release their 4th full length album, baby darling taporo, today, March 2nd. Rubythroat is the ongoing collaboration between Katiejane Garside and Chris Whittingham.
Garside is best known as the cult singer of British bands Daisy Chainsaw and QueenAdreena. She has also recorded with Hector Zazou and Test Department, as well as releasing solo material under the name Lalleshwari. In 2016 she published a book of poetry titled a whispering frayed edge.
baby darling taporo was composed and recorded during a 4-year circumnavigation of the world in a small sailing boat. The album's wide release today follows up a 500-copy limited edition run earlier this year. rubythroat are best know for their dystopian, bare approach summed up by one reviewer as folk noir.
The Big Takeover is honored to host the premiere of the video for captivating standout track "also elizabeth, daughter of the above". The haunting, dream-like song, and video, drift by like a beautiful, and sometimes wild, reverie graced by Garside's airy, longing vocal musings and buoyed by Whittingham's warm, but jaunty, picked and strummed guitar lines and occasional tambourine jingle.
The video's focus is on Garside's spellbinding presence in a little shanty, singing and dancing in front of the camera as time ticks by and the glimpses of the natural environment and the modern, busy, and destructive world as seen. The depth and contrast of the black and white-shot footage give the video a rich, saturated feel as the video unreels like a long-lost cinematic clip.
In Garside's own words, about the LP baby darling taporo, she reflects, "where have you been ruby throat? (part.79) 2012-2016 tiny ship in the hand of the infinite – how can i explain? yes, we did this thing, sailed around the world with a baby girl and a boy who'd undergone a trauma few of us have to realise, what is there to say?, i have lost my seeing and knowing… salvaged from the windward side of forgotten places, please enjoy the few songs and improvisations that found their way through the gaps in our teeth – conceived and recorded in the marquesas, niue, kingdom of tonga, new zealand, st. helena and the azores on a voyage around the world in a small sailing boat."
Purchase baby darling taporo:
CD Baby preferred
iTunes
Amazon