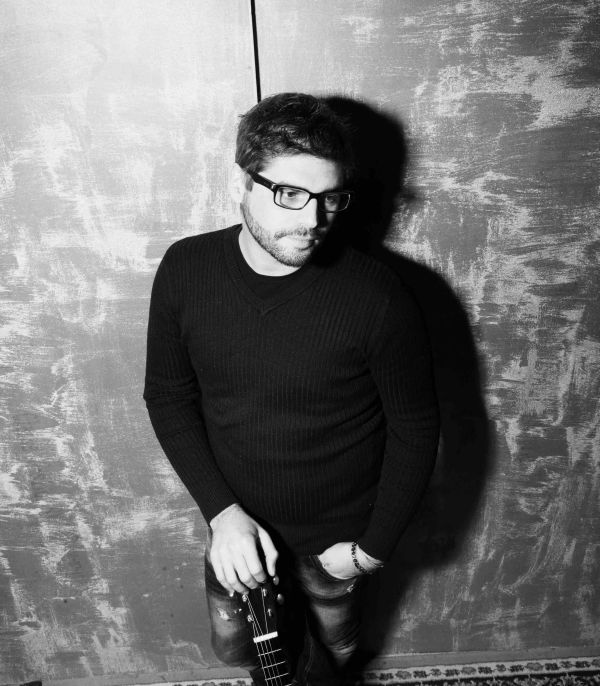 3 May 2017
Neil Lucchetta of Neil; Photo Credidt: Andrea Gottardi
It was not long ago that The Big Takeover introduced you to Someday , a band from Turin, Italy releasing their debut album via Seahorse Recordings Today we follow up by introducing you to Neil , a trio from near Treviso, who also call this label home.
While the band's line-up may have changed over the years since its formation, it revolves around the creations of singer-songwriter Neil Lucchetta. You could say he's somewhat of a 'black sheep' in Italy – he's always composed exclusively in English every since penning his first song at the age of 14. But this is an endearing black sheep, so we are pleased to present you the video for their "Blank Sheet" single, directed by Michele Scarpulla and filmed by Gian Paolo Serna.
This track, and first single, is lifted from their forthcoming Black Flowers EP – 11 tracks inspired by the writings of Charles Baudelaire and recorded in the inspiring exoticism of Sicily with renowned producer Paolo Messere (Blessed Child Opera).
This 11-track offering takes the listener on an intimate journey through Lucchetta's personal experiences and stories. The unremitting vision permeating his music presents us with great scenery and breathtaking views of the different facets of his life.
"Making music is my way of expressing what I live every day, I write about the emotions I live in my life and I would love that the people who listen to me identify themselves in my emotions," explains Lucchetta. "The idea for Black Flowers came from the recordings on my debut album Apart, which is basically 10 songs about separation. From here came the idea of creating some kind of theme-based album. The lead track "Blank Sheet'"deals with writer's block – that moment when the artist is in front of a white sheet and cannot dial into his muse."
Inspired by the likes of Sun Kil Moon, Elliott Smith, The Cure, Nick Drake, Puzzle Muteson, Damien Rice, Neil Young, and Rivulets, Neil's sonic output is infectious folky-tinged melodic grunge with an acoustic underbelly. This new album follows up Neil's debut LP Apart, released in 2013.
Written and performed by Neil Lucchetta (vocals, guitar, harmonica), this second album offers a more rock-oriented sound than the previous album thanks to the contribution of Andrea Breda on drums and Alessandro "Ake" Donazzon on bass. Now, during live performances, he is accompanied by Andrea Breda and Alex Michielin (bass).
Black Flowers will be available digitally via key digital music platforms as of May 30 and is already available for pre-order on the band's Bandcamp
CREDITS
Neil Lucchetta – Vocals, guitar, harmonica, and other stuff
Alessandro "Ake" Donazzon – Bass and other stuff
Andrea Breda – Drums
Produced by Paolo Messere
"Blank Sheet" video directed by Michele Scarpulla
"Blank Sheet" filmed by Gian Paolo Serna
Editing / effects / post production by Elephant Film
Makeup Artist – Michele Corrocher
Neil
Facebook
YouTube
Bandcamp
SoundCloud
Instagram
Twitter
comments powered by