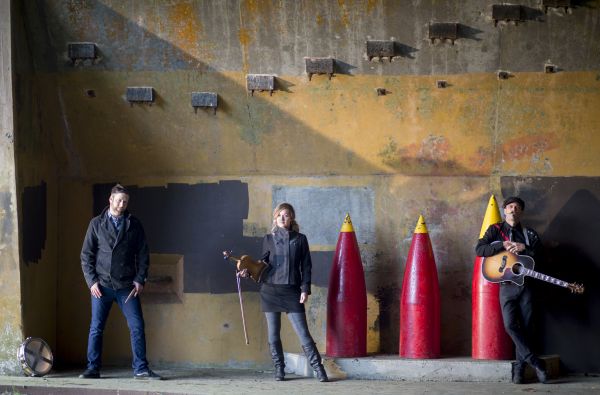 29 August 2018
Crushwater – Photo Credit:
Hailing from Port Angeles, Washington, Crushwater was formed in 2016 when singer/violinist Chandra Johnson joined forces with frontman/guitarist Scott Sullivan and drummer Casey Northern. The band immediately began crafting original songs with vocals that interlace harmony and interwoven male/female interplay, enraptured by a bed of lush violins, full harmonies, resonant guitars, and driving rhythms.
The three members began melding their various styles, dynamics, intensity, and backgrounds together leading up to the release of their debut record, The Cactus Storm EP, in June 2017. It's the first of several future EPs and was recorded at Dungeness Community Studios in Sequim, Washington on the Olympic Peninsula with engineer Bill Yates.
Before forming Crushwater, frontman Scott Sullivan had released four full-length albums, starting with Crushwater Symphony in 2001 to his most recent album, Cracks and All. With roots in snowboarding and surfing, he has gained international acclaim for both his photography and his music over the past ten years. The combination of his photography and music has led to a unique, entwined vocation that has made his music a welcome addition to a wide range of films, TV shows, and live events worldwide. Scott also has an impressive history of performing concerts all around Europe, Asia, and the US.
The Big Takeover is delighted to premiere the video for "California" by The Cactus Storm EP. Like its title, the song is brightened by glistening acoustic guitar strum and plaintive harmonies. While the bittersweet violin warble and longing lyrics cast a melancholic shadow, the sudden introduction of a sizzling guitar line shakes and bakes the heartfelt folk tune into a gritter, blazing number.
Website
Facebook
SoundCloud
Spotify
comments powered by