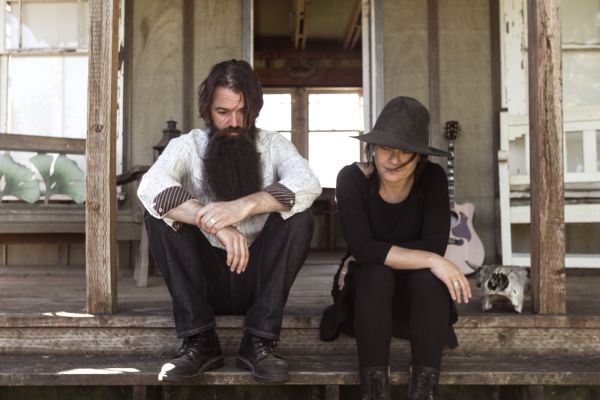 28 August 2018
The Muntineers – Photo Credit: Clovis IV
Over the past few decades, so many great artists/acts have come out of the Pacific Northwest. Today we introduce another talented act hailing from Portland – The Mutineers, a rock 'n' roll husband-wife duo with country leanings and punk rock tendencies. With Brian Mathusek on guitar and Merry Young on drums, the couple share vocal duties.
Ahead of releasing their new five-track Threshold EP, the band presents "Couldn't Get Over You", the first single from the EP. This is a fine wistful offering guided by a longing feeling and lulling melodic line with one foot firm in Americana camp and one in old time rock n' roll. A familiar warm feeling comes as with many Elvis Presley songs and some of the more mellow output by The White Stripes, though this track could easily fit in the final club scene that ended David Lynch's recent season of Twin Peaks. Excellent, harmonious, sincere, and catchy – a winning formula.
"This was written specifically for Merry's voice. I wrote the first draft of lyrics and she sculpted it to fit her style. Her world-weary delivery is the perfect backdrop to the story. The song contemplates the dual feelings of helplessness and power inside a co-dependent relationship," says Brian Mathusek.
"The singer is struggling with self-confidence and self-consciousness. She can not decide if she has been too open or not open enough. I think everyone has someone in their life that they can't stand, but also can't live without, whether it's a lover or a family member or a friend. Knowing when to cut someone off is very difficult. By the end of our song, the narrator has given up and given in to this cycle of love and hate, another lost soul."
Co-produced alongside Raymond Richards (The Parson Red Heads) at B-Side Recording Studio in Portland, this is the band's third EP and fifth significant release. Originally founded by Brian Mathusek and Michael Astudillo in 2007 and joined by Merry Young soon afterwards, The Mutineers debuted with their Tidal Wave EP in 2008, followed by the Nihilisteria EP (2009) and From the Dirge to the Dance LP (2011). The new fully-arranged recordings diverge from the duo's previous release Live at B-Side (2016), which was recorded without any overdubs.
With this latest effort, The Mutineers have begun a new chapter, collaborating more closely in their songwriting process. Their latest songs feature characters who are flawed, stubborn and struggling with their demons. They wander confused, obsessed, addicted and envious, through the microcosms of Threshold in search of happiness, understanding and love.
The Mutineers have shared the stage with such notable artists as The Tallest Man on Earth, Langhorne Slim, Reverend Peyton's Big Damn Band, Larry and His Flask, The Devil Makes Three, The White Buffalo, and Murder by Death. When not touring, the couple run a graphic design and screen printing business, Mutiny Studios.
In collaboration with Clovis IV, a visual storyteller, The Mutineers have continued exploring the visuals associated with their song themes, helping express their music, in still images and now on music videos. Clovis started working in the visual arts in the early '90s. Connected to the worlds of music and media, he has continued to express the stories of artists and individuals in still and moving images. Be it as a photographer or designer, Clovis has worked with many artists, including New Model Army, Thievery Corporation, Faith and the Muse, Concrete Blonde, and Flesh For Lulu.
As of September 14, Threshold will be available digitally on all major platforms and as a limited edition hand-printed, numbered and signed CD, available directly from the band at live shows or through their website. You can order the EP at Bandcamp
And catch the band on their extensive U.S. tour, which begins in 2 weeks' time.
PORTLAND TO PORTLAND TOUR DATES
Sept. 13 La Grande, OR – Ten Depot St
Sept. 14 Boise, ID – The Funky Taco for EP RELEASE SHOW
Sept. 15 Salt Lake City, UT – Private Event
Sept. 16 Denver, CO – Lion's Lair (with The Dollhouse Thieves, D.W.Doucet, Bear & the Beasts)
Sept. 18 Topeka, KS – The Boobie Trap
Sept. 19 Dubuque, IA – The Lift
Sept. 20 Milwaukee, WI – Boone & Crockett
Sept. 21 Hamtramck, MI – The Outer Limits Lounge (with John Salvage)
Sept. 22 Lakewood, OH – The Five O'clock Lounge (with The Del Rios)
Sept. 23 Pittsburgh, PA – Howlers (with The Devil's Holler)
Sept. 25 Youngstown, OH – Cedars West End
Sept. 26 Rochester, NY – Abilene Bar & Lounge
Sept. 27 Albany, NY – The Low Beat
Sept. 29 Norwood, NJ – Gerry's Place
Oct. 3 Burlington, VT – Radio Bean
Oct. 4 Portland, ME – Dogfish Bar & Grille
Oct. 6 Becket, MA – Dream Away Lodge
Oct. 9 Jersey City, NJ – Pet Shop
Oct. 17 Harrisonburg, VA – TBD
Oct. 18 Baltimore, MD – Dangerously Delicious Pies
Oct. 19 Washington, DC – The Pie Shop (with Wonky Tonk and The Highballers)
Oct. 20 Staunton, VA – The Pompei Lounge
Oct. 21 Richmond, VA – Carey St. Cafe (with The Atkinsons)
Oct. 25 Chapel Hill, NC – The Cave
Oct. 26 Asheville, NC – TBD
Oct. 27 Charlotte, NC – The Evening Muse (with Drunken Prayer)
Nov. 1 Las Vegas, NV – Double Down Saloon (with The People's Whiskey)
Nov. 2 Culver City, CA – The Cinema Bar (with Patrolled By Radar)
Nov. 3 Santa Ynez, CA – Maverick Saloon (with Matt Armor)
Nov. 4 Ventura, CA – MadeWest Brewing (with Detroit Sportsmen's Congress)
Nov. 6 San Luis Obispo, CA – TBD
Nov. 7 Sacramento, CA – TBD
Nov. 8 Blue Lake, CA – Mad River Brewing
Nov. 9 Crescent City, CA – Port O'Pints Brewing
Nov. 10 Portland, OR – TBD
Also check out the video for 'Drug For That', a bonus track offered by the band on the Bandcamp edition of this EP. The video was filmed and directed by California-based photographer and visual artist Clovis IV. The track, previously released on Live At B-Side. Merry Young explains: "This video was shot in the area surrounding our home in Southeast Washington. It's a place where decay and growth are intermingled. The beautiful buildings, that must have once held so much promise, are left to rot away. They are the shadows of someone else's dream. We thought it made for a striking backdrop to this video. This song is for those who haven't bought into the idea of American Exceptionalism, and to those of you who would like to get back to the basics of life."
THE MUTINEERS
Website
Facebook
Instagram
Bandcamp
YouTube
Twitter
Spotify
SoundCloud