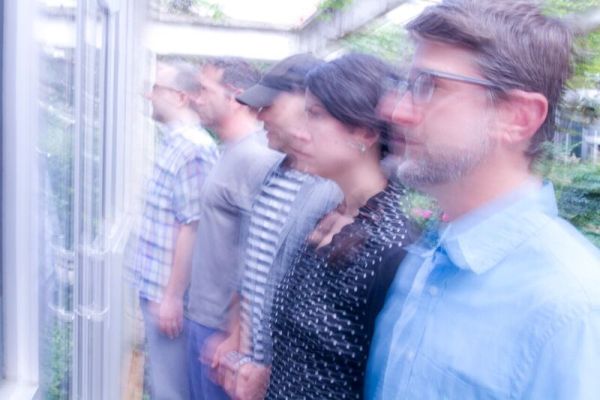 18 July 2017
Parsons Rocket Project; Photo Credit: Isadora Pennington
The Big Takeover has previously premiered the debut single, Exit Launch , by the Atlanta, Georgia-based five-piece outfit Parsons Rocket Project and now the band that drifts somewhere in eclectic dreamy territory between Slowdive, Brian Eno, and Michael Brook, returns with a new video for their "first ambient single to date", entitled "Interlude I."
Like "Exit Launch", this track can be found on the band's first album, the whole of which seems to be answering a common calling to bring us simple humans closer to space. As demonstrated from the band's new ambient single, this music can easily put you into a trance-like state.
Yet, clocking in at just 2 minutes and 18 seconds, the song cuts short from allowing you to do so. Had it been long and drawn out for, say 6 or 8 minutes, surely listeners would clearly be able to grasp the full meditative potential of this song. Galactic mediation at that, which is surprising given the fact that the songs on this album were born during a very difficult period for the band members, involving struggles with drug abuse and a tragic automobile accident, and the melancholic depressing existence of day-to-day life.
Some of this musical exploration is linked to the unique awareness of a temporary conscious being in our universe, while some of this ambient and psychedelic expression is rooted in real trauma – both physical and emotional.
Formed in 2015, the band took its name from American rocket propulsion engineer, chemist, and occultist Jack Parsons. They were influenced by a number of artists, including Flying Saucer Attack, Tape Cuts Tape, Spacemen 3, Eluvium, Swervedriver, Aix Em Klemm, William Basinski, and Clams Casino.
Originally comprising drummer and lyricist Jody Hasty, bassist Paul Curry, guitarist Jeff Holt, and multi-instrumentalist producer/engineer Benjamin Price, the band laid down these tracks at the same studio where Benjamin Price has also worked on releases by the likes of Gang of Four and The Hives. They were later joined by K. Michelle Dubois on vocals.
On August 11, the New Texture will be releasing Parsons Rocket Project's album, which was mastered by Joe Lambert (Lou Reed, Animal Collective, The National, Hot Chip, Deerhunter, Panda Bear, Washed Out).
"Interlude I" is a dreamily blissful introduction to the album that unfolds with more vivid and dynamic numbers as it goes on.
PARSONS ROCKET PROJECT
Facebook
SoundCloud
Instagram
Twitter
YouTube
comments powered by