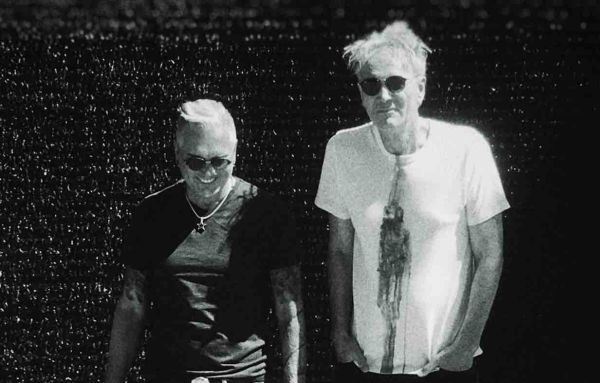 28 September 2017
John Fryer and Bill Leeb; Photo Credit: Adam Scott
Earlier The Big Takeover introduced you to Swimming Through Dreams – a beautiful, light ethereal collaboration between John Fryer (though his project Black Needle Noise ) and Mimi Page.
That was quite a while ago, so we're quite ready for some more BNN and what better way to embrace Fryer's dark side than by seeing just how dark it can all get when you couple that energy with that of Bill Leeb, legendary frontman of industrial forefathers Front Line Assembly and founder of the cult-classic dream-pop project Delirium.
Today The Big Takeover has the pleasure of premiering the new video for "Shiver of Want", which was shot in 3 different countries – Norway, Germany, and the US.
Bill Leeb shared the following information about the song and video:
"This track made history for me because even though I have worked with countless artists over the years and really value the concept of collaborating, I personally had never sung on a one-off collaboration. I have said no to quite a few offers over the years. But when John approached me, it just felt right. With his background I thought we could do something interesting without having to worry that we were looking for a radio hit, but rather make it a journey into an artistic creation. We first met in Norway when he came to one of our concerts while we were on tour. We hit it off right away and found a really good friendship in the making. It did take over a year or so for the stars to line up, but eventually they did. John sent me the music initially and I had it for quite a while and then it came to me lyrically. To me, the lyrics are like you are peering through a looking glass at your life, as if it were a third person. You are trying to grasp its fluidity as it slips through your mind and soul, having absolutely no control of where it is truly taking you on its final journey. Somehow one tries to come to terms with this, but it never gives you a clear picture or resolves in your subliminal state or dreams. Everyone knows it will end, but I do hope somehow a realm of consciousness will arise and we can all dream for eternity through our spirits. Yes, maybe this sounds a bit optimistic, but we need to find hope in one form or another. A Shiver of Want."
This track is lifted off the album Lost in Reflections, which brings diverse contributions by Zialand, Kendra Frost (Kite Base), Andrea Kerr, Jennie Vee* (Hole), Omniflux (Puscifer), Mimi Page (Delirium), Bill Leeb (Front Line Assembly, Delirium), Sivert Høyem, Dr Strangefryer, and Ana Breton (Dead Leaf Echo).
John Fryer is a long-known producer of many bands we've all known and loved over the years. With clients numbering in the hundreds, here is a short list of some of the more notable: Depeche Mode, The Wolfgang Press, Cocteau Twins, Yaz (called Yazoo in Europe), Nine Inch Nails, Clan of Xymox, Nitzer Ebb, Love and Rockets, Xmal Deutschland, Fields of the Nephilim, De/Vision, Stabbing Westward, Swans, HIM, Cradle of Filth, Jesus Jones, Swallow, and even M|A|R|R|S (A.R.Kane & Colourbox).
With this latest album, Black Needle Noise continues the 'revolving door of beauty' tradition, already releasing singles featuring Jarboe of Swans, Andrea Kerr of Colt, Elena Alice Fossi of Kirlian Camera, and Zialand, among others. With this recent string of releases, John Fryer has once again proven himself to be one of the most innovative sonic architects on the music scene.
Lost in Reflections is available via iTunes and various streaming platforms, and also on a pay-what-you-want basis via Black Needle Noise's Bandcamp page. John Fryer has also just launched a crowdfunding campaign through Pledge Music in order to release Lost in Reflections as well as his previous LP and forthcoming album on physical media, including vinyl and CDs. There are also a good number of very limited merchandise exclusives here, not to mention your chance to have Fryer mix or remix your own music.
We also invite you to enjoy the recently released video for "And Nothing Remain" with Ana Breton of Dead Leaf Echo and a few other tracks from this latest Black Needle Noise album:
BLACK NEEDLE NOISE
Facebook John Fryer
Facebook BNN
Bandcamp
Twitter
Instagram
YouTube
iTunes
comments powered by